Best of 2018 – Orchestral CDs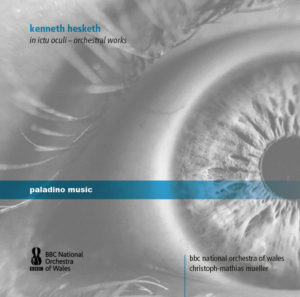 In ictu oculi
Kenneth Hesketh
BBC Orchestra of Wales, conducted by Christoph Mathias Mueller
Paladino
Three large orchestra works by British composer Kenneth Hesketh are attractively scored in multifaceted, often muscular, fashion. Hesketh's unabashed exploration of emotionality, imbued with strongly etched motives and intricate formal designs, provides a cathartic journey for listeners.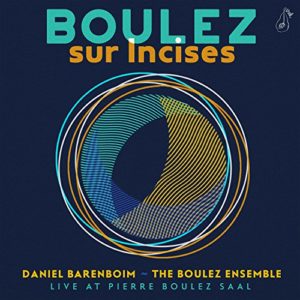 Sur Incises
Pierre Boulez
The Boulez Ensemble, conducted by Daniel Barenboim
Deutsche-Grammophon
There is a previous, much vaunted, studio recording of Pierre Boulez's composition  Sur Incises (1998), one of the composer's most highly regarded late works (in the year of its premiere, Sur Incises won the Grawemeyer Prize). This 2018 rendition of the work was performed live at a new space dedicated to Boulez, the Pierre Boulez Saal in Berlin. Acoustically marvelous, it is perhaps the ideal location in which to hear the composer's music. Barenboim is one of Boulez's great champions, and the ensemble gathered here play it with supple rhythms (slightly less 'incisive' than the studio version, but warmer in affect). They also deftly shape Sur Incises' labyrinthine form to provide musical "bread crumbs" along its myriad pathways.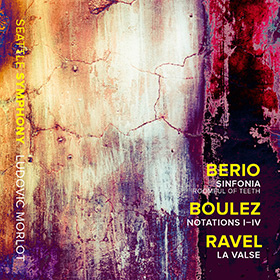 Berio: Sinfonia – Boulez: Notations I-IV – Ravel: La Valse
Roomful of Teeth, Seattle Symphony, Ludovic Morlot, conductor
Seattle Symphony Media
Composed in 1968-'69 for the New York Philharmonic and the Swingle Singers, Luciano Berio's Sinfonia helped to herald postmodernism in music. Roomful of Teeth has now done the piece with the Philharmonic, providing a new generation of performance history for Berio. It is excellent to have Roomful of Teeth's performance of Sinfonia documented in a superlative outing with the Seattle Symphony and Ludovic Morlot. The orchestra is equally scintillating in Pierre Boulez's long gestated modernist masterpieces Notations I-IV. The disc is capped off with a rollicking rendition of Ravel's La Valse.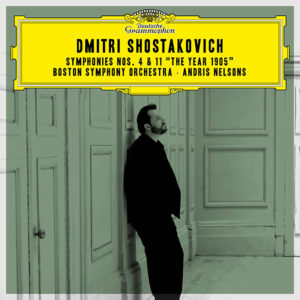 Shostakovich: Symphonies 4 and 11 ("The Year 1905") Live
Boston Symphony Orchestra, Andris Nelsons, conductor
Deutsche-Grammophon
Even with an ensemble as fine as the Boston Symphony, it is hard to believe that this is a live recording. Seamless transitions, admirable dynamic shading,  gorgeous sounding strings, and exceptional playing by the brass section. Nelsons has a great feel for Shostakovich's music.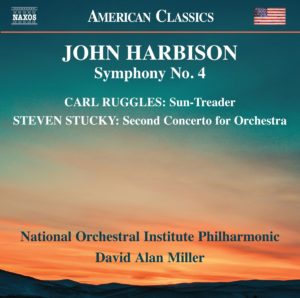 Harbison, Ruggles, Stucky: Orchestral Works
National Orchestra Institute Philharmonic, David Alan Miller, conductor
Naxos
David Alan Miller has long been a staunch advocate of contemporary music, recording a number of discs of new works with the Albany Symphony. The National Orchestra Institute Philharmonic's young players, aged 15-21, are a fantastic ensemble in their own right. Their rendition of Carl Ruggles' Sun Treader is up there with the Buffalo Philharmonic Orchestra and Michael Tilson Thomas on the complete works recording; and that's saying something.
Recently departed composer Steven Stucky created a fluently retrospective piece when composing Concerto for Orchestra No. 2 (2003); the piece won the Pulitzer Prize in 2005. It includes quotations from a host of great composers as well as ample amounts of music in Stucky's masterful contemporary voice.
Composed for the Seattle Symphony and Gerard Schwarz in 2003, John Harbison's Symphony No. 4 is one of his most compelling pieces in the genre. In the debut recording, the Boston Symphony's rendition of the symphony took a fairly edgy approach. Miller elicits something more lissome from the NOI players. Both versions make an eloquent case for Harbison's piece.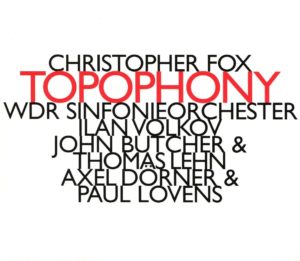 Topophony
Christopher Fox
John Butcher, Thomas Lehn, Alex Dörner, Paul Lovens, soloists
WDR Sinfonie-Orchester, Ivan Volkov, conductor
HatHut
Christopher Fox's orchestral work Tophophony accommodates both renditions for orchestra alone and with improvising soloists. The WDR Sinfonie-Orchester, led by Ivan Volkov, record three different versions of the piece. By itself, Topophony has a Feldman-like, slow-moving, and dynamically restrained surface. It provides fertile terrain for both the duos of trumpeter Alex Dörner and drummer Paul Lovens and saxophonist John Butcher with synthesizer performer Thomas Lehn. All three versions are absorbing: it's fortunate one doesn't have to choose between them.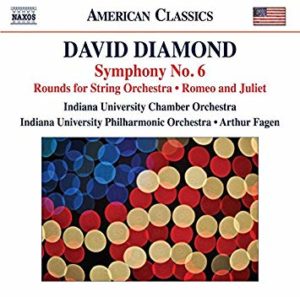 Symphony No. 6, Rounds for String Orchestra, and Music for Romeo and Juliet
David Diamond
Indiana University Chamber Orchestra, Indiana University Philharmonic Orchestra, Arthur Fagen, conductor
Naxos
This is the best recording of David Diamond's music since the iconic CDs by the Seattle Symphony under the baton of Gerard Schwarz. Indiana University has long had one of the best music departments in the country, but they outdo themselves here, with a brilliant version of Diamond's Rounds for String Orchestra and nimble phrasing in his Music for Romeo and Juliet. But it is Symphony No. 6 (1951) that is the star of this CD.
Those who relegate all of Diamond's music to American romanticism (which, admittedly, is a fair assessment of some of his work) are in for a surprise from this bold, Copland-esque work. Indeed, when I was a student at Juilliard, Diamond proudly told me that his ballet Tom predated Copland's adoption of an Americana style. With Symphony No. 6, Diamond made a strong case to have his work set alongside the "usual suspects" in the genre.