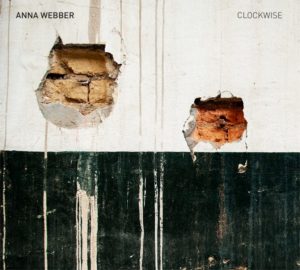 Anna Webber
Clockwise
Pi Recordings (2019)
Saxophonist/flutist/composerAnna Webber, a thirty-five-year-old who has already won a Guggenheim Fellowship and numerous other plaudits, makes her Pi Recordings debut with Clockwise.Joined by an estimable group of avant-jazz musicians – pianist Matt Mitchell, Jeremy Viner playing tenor saxophone and clarinet, trombonist Jacob Garchik, cellist Christopher Hoffman, bassist Chris Tordini, and percussionist Ches Smith-Webber plays tenor saxophone and flute on the CD. Her compositions are mostly extrapolations of pieces for percussion by twentieth century classical composers Morton Feldman(King of Denmark), Iannis Xenakis(Persephassa), Edgard Varése(Ionisation), Karlheinz Stockhausen(Zyklus), Milton Babbitt(Homily), and John Cage (Third Construction). Employing percussion music to organize musical structures yields fascinating and fertile hybridized compositions.
Array, based on Babbitt's Homily, a solo piece for snare drum, uses the score's serialized dynamics and attack points to craft a welter of overlapping arpeggiations inhabited by the entire group. King of Denmark is visited in three different incarnations on Clockwise, the first lifting off with a bracing hail of noise-inspired multiphonics before moving into an undulating groove that positions the rhythm section front and center. The second features an introduction in which Smith plays glissandos on timpani alongside chiming interjections. This is succeeded by a sultry main section, pitting walking lines from Tordini against microtonal winds. King of Denmark III is the briefest trope on Feldman, juxtaposing a roiling arco solo from Tordini against saxophones overblown.
The title track takes the modularity of Stockhausen's original as a cue for its own set of disparate, time-linked sections. Cage's Third Constructionis channeled on Hologram Best, which features angular saxophone and brass lines in ebulliently spinning motion. Idiom II is the sole track on the disc to be composed with Webber's own material. Near unison saxes, just slightly out of sync, create a loping tune that is punctuated by thrumming percussion and bass notes. Gradually, the rhythm section exerts a more intrusive presence that rivals the saxophone ostinato. Ultimately, the head is banished in favor of a saxophone-piano duet, in which Mitchell plays from an attractive palette of complex harmonies. Inexorably, the saxophones push back. Now no longer in near-unison, deployed in counterpoint, they take a break of their own that is only gradually infiltrated by the rhythm section. The final section of the piece features ostinatos again, this time with blocks of reeds, harmonizing the original tune, taking the front line in the proceedings while the rhythm sections positively roars its propulsive support. A brief reappearance of the head ensues, and then the door slams shut on the most compelling music of the recording.
Varése and Xenakis inspire the works Kore I and Kore II. The latter opens the disc with undulating pizzicato strings that are eventually joined successively by flute, piano, and the rest of the ensemble in an off-kilter, post-tonal dance. Kore I closes the recording with another pileup of material, starting from pianissimo feints from the rhythm section and eventually building to a portentous moto perpetuo in which solos from Tordini, Webber, and Garchik are finally subsumed into a furious tutti coda.
Whether Webber is exploring avant-garde classical masters or paving her own pathways, she proves to be a compelling creator. Her collaborators, to a person, are stellar. Clockwise is heartily recommended.