Destruction and reclamation, gimmick and avant-garde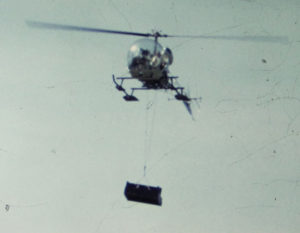 One of the odder fads bequeathed to us by the 1960s is the ritual destruction of musical instruments. It's a custom most famously associated with the likes of Jimi Hendrix and Pete Townshend. But what bursts out in popular culture often has precedents in the avant-garde, and the origins of this particular brand of onstage iconoclasm can be traced to the Fluxus movement, specifically its founder George Maciunas. In a nod to classical tradition Maciunas chose the piano, rather than the upstart electric guitar, as the foil for his aggression, directing performers of his 1962 Piano Piece #13 to nail down the keys of the chosen target (Sonic Youth famously performed the piece in 1999). Maciunas's legacy was continued by fellow haute culture exponents Raphael Montañez Ortiz and Annea Lockwood, the former using an ax, the latter using an array of execution methods that included burning, burying and drowning.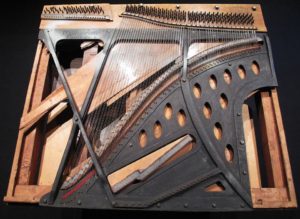 It was Ortiz that provided the inspiration for the Pacific Northwest's most famous entry in the klavierzerstörungen tradition. To help gin up publicity for a 1968 outdoor concert benefitting two local arts organizations (including the now defunct KRAB-FM radio), promoters arranged for a secondhand upright piano (purchased for $25) to be dropped from a helicopter. The stunt succeeded in its goal, with a few thousand young attendees journeying to a rural farm in Duvall (25 miles outside Seattle) for a day of folk, rock and choreographed demolition. In the event, safety concerns limited the plummet to a modest 50 feet, producing more of a dull thud than a thunderous clang. But it was still enough to obliterate the case, keyboard, hammers and dampers, leaving only the frame, soundboard and the top five octaves of strings.
The addled contraption lay half-buried in its grade-level tomb for 50 years before being exhumed by Jack Straw Cultural Center, the successor organization to KRAB-FM and a Northwest counterpart to New York's Harvestworks and Roulette. The carcass was deposited on an exhibition table in Jack Straw's New Media Gallery, where it was made available for the explorations of several West Coast musicians. The missing bass strings precluded performances of "under the lid" standards by such early masters as Cowell and Crumb, and the missing keyboard ruled out what could have been an intriguing variation on Lachenmann's Guero. So the invited artists set out to create new works for this unique instrument, working under few restrictions other than an appeal to accept its deformed intonation and to limit the duration to a Cagean 4'33".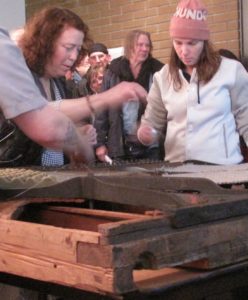 Thus it happened that on February 23, 2019 a standing audience assembled around the beleaguered corpse to watch 16 composers and ensembles strike, stroke and probe its innards. The acts included a folk band and an oral history reminiscence (both evoking the hippie spirit of the 1968 event), but most of the new works were composed miniatures in the American experimental tradition. Many of them emphasized standard Cowell/Crumb on-string playing techniques, occasionally aided by digital effects or EBows. But Music for a Dropped Piano by Seattle's ubiquitous multi-instrumentalist Amy Denio stood out in its use of bowed piano technique. And Aaron Keyt's Piano Gusting saw four performers directing their breath through straws at clip-on contact microphones attached to the strings, the signal thence fed into small handheld loudspeakers, creating a chorus of metallic piano-like tones modulated by breath rhythms—one of the evening's most remarkable sound experiences.
Two other composers found unexpected points of reference. Luke Fitzpatrick, a violinist by trade who recently resuscitated Partch's Adapted Viola from decades of case-bound oblivion, levered his experience salvaging moribund instruments with his piece 3144. Attacking the Duvall piano with finger taps on the soundboard and plucks and strums on the strings, Fitzpatrick directly evoked the sound world of Partch's plectrum instruments. Simultaneously he intoned the piano manufacturer's stamp and serial number ("Ivers and Pond Piano Company No. 5, 3144") using the same delivery he has developed for his performances of Partch's Li Po Songs.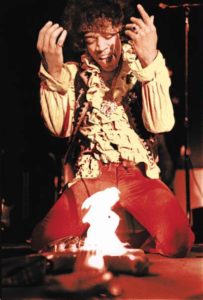 Dave Knott also found an external reference, gently laying a small guitar (that had itself been dropped and detuned) on top of the piano's remains like a vicarious empath, conjuring up images of saplings rising from the decaying nurse logs common in the nearby forests. While Knott strummed the baby guitar, his fellow Eye Music members David Stanford and Susie Kozawa played the doomed piano like a huge prepared autoharp.
The vaunted instrument destroyers of the 1960s tended to enlist their actions as anti-war agitations, or as demonstrations of the fragility of life and culture. But the performers showcased at Jack Straw embraced a different, more redemptive tradition, one closely associated with the Pacific Coast: that of reclamation. Whether it's Cage, Harrison and Partch making percussion instruments from junk, or Edward and Nancy Kienholz building sculptures and installations from society's discards, the tradition is one that regards art as a regenerative act that reminds us of the essential musicality and expressiveness in the tiredest and poorest things around us.
---
Piano Drop featured works by Jeffrey Bowen, James Borchers, Bradley Hawkins, Ski, Gust Burns, Austin Larkin, Brandon Lincoln Snyder, Bruce Greeley, Home Before Dark, Jay Hamilton, Count Constantin and Stanley Shikuma in addition to those mentioned in the review.