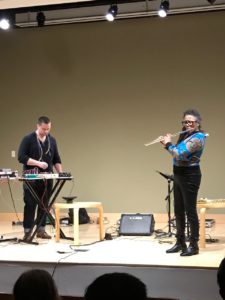 The latest installment of the Soundwaves Concert Series was heard in the Martin Luther King, Jr. auditorium at the main branch of the public library in Santa Monica on Wednesday, April 17, 2019. Flutist Nicole Mitchell, a regular winner of the Downbeat Critic's Poll, and sound artist Alex Lough were on hand for an evening of improvisation featuring several flutes and an impressive array of electronic circuitry.
Ms. Mitchell came equipped with two flutes, a piccolo and a microphone with some distortion and looping capabilities. Across the stage, Lough presided over two tables covered with circuit boards, control panels, patch boards and assorted boxes and cables. Although this looked formidable, the electronic gear was purposefully designed to be both simple and understated – there were no computers or large amplifiers. The output of all this emanated from a single six-inch speaker, specifically under-powered so that it would not overwhelm the acoustical sounds of the flutes and voicing of Ms. Mitchell. In fact, the entire setup can run on batteries and has been used in remote locations.
The concert consisted of one long, untitled improv and this began with some colorful acoustic flute lines. Ms. Mitchell is an accomplished improviser and was obviously comfortable in this role as her graceful notes floated easily out to the audience. After a minute or two, a soft rattling seemed to be coming through the electronics and this soon morphed into a series of active squeals and chirps, much like a series of bird calls. The flute went tacet as the electronics continued to emit a bright line of sounds, but these were subdued, and matched the dynamic of the previous flute passages. The electronic sounds tended to be basic oscillator tones and buzzing, more like circuit bending than sophisticated synthesis. Ms. Mitchell entered again with an alto flute and the two swapped rapid phrases back and forth, as if in conversation. The coordination and communication between the two players was excellent and much like that in a jazz ensemble with each player reacting to the other. Ms. Mitchell switched to piccolo and then voice, adding in some quiet looping and light distortion from time to time. Lough replied to her phrases in turn, with the electronics always at the same dynamic level and never overpowering.
As the session proceeded, the improv took on various characteristics and colors. In one stretch there was a rushing sound from the processed voice that evoked a windswept and remote feeling as the electronics added a deeply profound string tone. Later, an exotic, Asian feeling in the flute was complimented by sustained tones in the electronics. The vocals by Ms. Mitchell added a welcome human element in contrast to Lough, who could conjure a wide range of alien sounds. At one point Lough was producing 60 Hz buzzing noises from pressing his finger on the end of an open cable. Another time he was seen squeezing and shaking a small cassette tape player so as to bend its audio output. As the improved finished, a catchy tune that could have come from an old video game was heard with a pleasant, pulsing groove and smooth flute accompaniment that gently brought the audience back to the familiar. As the final notes faded away, there was sustained applause from an appreciative crowd.
Most combinations of acoustic instruments and electronics in new music involve a prerecorded track or computer processing of the acoustic sounds in roughly real time through the stage sound system. In this concert, however, the intention was to make the electronics an equal partner, played by a Lough in the same sense as Ms. Mitchell played the flutes and sang. As the two musicians improvised and traded phrases, there was a real sense of a dialog based on an equal partnership. The electronic sounds were naturally very different, but the interaction of the players was perfectly conventional and centered in historical musical practice. This Soundwaves concert by Lough and Mitchell explored the combination of electronic technology and acoustic music in an intentionally different and creative way.