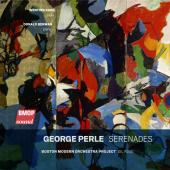 George Perle
Serenades
Boston Modern Orchestra Project
Gil Rose, conductor
BMOP Sound
Composer George Perle passed away a decade ago, but his music has remained part of the repertory. This is noteworthy in that, upon their deaths, many composers are eclipsed for a time. An excellent example of the resilience of Perle's work is a new recording on BMOP Sound. The Boston Modern Orchestra Project, conducted by Gil Rose, presents a disc of Perle's Serenades: one featuring viola soloist Wenting Kang, another featuring piano soloist Donald Berman, and another for a chamber orchestra of eleven players.
Serenade No. 1, which features Kang, is deftly scored to accommodate the tenor/alto register of the viola, allowing the other members of the ensemble to move astride the soloist in the soprano and bass registers. The violist is supplied a fair amount of virtuosity to navigate, as well as the lyricism to which the instrument frequently adheres. The piece is cast in five movements, beginning with a Rondo and traversing through Ostinato, Recitative, Scherzo, and Coda. As is customary in Perle's "12-tone tonality approach," Bergian row-types, that allow for triads to appear in the midst of post-tonal harmony, make for varied and attractive pitch structures. Kang plays with considerable fluidity and appealing tone.
Serenade for Eleven Players is like a concerto for orchestra in miniature, also configured in five movements. The first movement begins with stentorian brass pitted against staccato piano shuffles and string solos. The timpani thwacks tritones instead of fifths, and wind chords provide a piquant underpinning. Later, sinuous saxophone lines are offset by angular piano arpeggiations and countered by string solos and trills from the remaining winds. The third movement has a mournful cello solo set against pensive lines in the winds. Bustling counterpoint fills the fourth movement with a number of jump cuts between textural blocks. The finale begins stealthily with chordal stabs juxtaposed against melodies in multiple tempi that build in intensity. There is a pullback before the finish that telegraphs a gentle coda. The piece as a whole is reminiscent of Schoenberg's early post-tonal music.
Donald Berman is the piano soloist in Serenade No. 3, again a five-movement work consisting of pithy sections. Here, however, instead of Schoenberg or Berg, Perle explores a sound world akin to that of Stravinsky's 12-tone concerto Movements. Twelve-tone tonality can be deployed in a manner similar to Stravinsky's own idiosyncratic approach to serialism, rotational arrays. Both these details of pitch and the general muscularity of the gestural palette, again made up of blocks of material, allow us to hear Perle through a different lens of influence. Berman does a marvelous job with the solo part, playing incisively with rhythmic precision and precise coordination with the ensemble.
Rose leads BMOP through all three serenades with characteristic attention to detail and balance. The players prepared well for this challenging program. Better advocates would not have been the wish of the composer. Kudos to BMOP for keeping Perle's memory and music alive. This disc handily makes my Best of 2019 list.
-Christian Carey