Though our decade technically has another year to go, the marketing appeal of "Hits of the XXs" type formulations tends to overwhelm such semantic niceties. So as we leave the 2010s behind, there's more than a little Web-based generalization to be found regarding their musical character and trajectory. I'll try to keep things in perspective as I review some of the highlights of 2019 that embody the breadth and caliber of contemporary Western art music. All of the following selections are available via fixed media or on demand, and many have been featured on Radio Eclectus.
A different kind of East Meets West
In the vernacular tradition
Voices of the elders: America
John Zorn: Cat o'Nine Tails, The Dead Man, Memento Mori, Kol Nidre (Spotify)
Speaking of the Downtown scene, its dominant figure—and one of the most eclectic musicians ever—is showcased in this album from Quebec's formidable Quatuor Molinari. It's Zorn as composer that's on display here: four string quartets written between 1988 and 1996. Zorn is prolific and can also be uneven as evinced by his Kol Nidre, which sounds awfully derivative of Pärt's Fratres. Momento Mori, though, is a worthy and epic modernist survey, ending with an apparent quote from the start of Berg's Lyric Suite. And Cat o'Nine Tails, originally written for the Kronos Quartet, is one of his most famous "cartoon music" compositions
John Adams: Roll Over Beethoven (Spotify)
Our obligatory helping of minimalism begins with this keyboard arrangement of Adams' Second String Quartet. It's one of his most compelling shorter works, taking for its source material some snippets out of Beethoven's Diabelli Variations and Piano Sonata No. 31. It's not until about 7:30 into the first movement that the tableau starts to sound like typical Adams (steady repeating notes with octave displacements). As Beethoven deconstructions go it's closer to Dieter Schnebel or Shaw's Watermark (after the Piano Concerto No. 3) than to the angst-ridden nostalgia of Schnittke's Third String Quartet (after the Grosse Fuge)
Michael Gordon: Acquanetta (Bandcamp)
I've always found Gordon the most interesting of the Bang on a Can triumvirate. The ease with which he incorporates vernacular elements into his style of beat-driven postminimalism makes his voice the most distinctive, and fun, of the bunch. The title character of this one-act opera is an American B-movie actress popular in the 1940s and 1950s
Voices of the elders: Europe
Salvatore Sciarrino: Ombre nel mattino di Piero (Bandcamp)
Sciarrino's newest string quartet is exquisitely performed and recorded in this album, which features the Lassus Quartet
Horizon 9 (Spotify)
The recent performances by the Royal Concertgebouw Orchestra gathered here include works by Roukens, Rijnvos and a piccolo concerto by Tüür, but the highlight is Peter Eötvös's Multiversum, a concerto for pipe organ and Hammond organ. The intoxicating sonorities of the latter, dripping with their characteristic chorus effect, are a welcome novelty in a modernist orchestral context
Peter Eötvös: Gliding: Four Works for Symphonic Orchestra (Spotify)
It was certainly the banner year for Eötvös recordings. My favorite work here is Alle vittime senza nome (to the unnamed victims), composed in 2017 and dedicated to refugees recently killed crossing the Mediterranean Sea. It brings Henze to mind more than most Eötvös works. And then there's Dialog mit Mozart which reminds me more of The Cunning Little Vixen than Mozart, but is still enjoyable for its rhythmically graceful colorful palette. Like Saariaho, Eötvös' music seems to be taking a turn from dense, slowly-changing textures toward more open textures featuring more conventional (though still postmodern) rhythmically-articulated patterns
Tristan Murail: Portulan (Spotify)
Ensemble Cairn's new album gathers several Murail chamber works under the moniker Portulan (an archaic word referring to nautical charts). Despite the small ensemble size, Garrigue and Paludes present the range of color, the strung-together sequences, and the rhythmic and formal unpredictability we associate with this most admired of living French composers. Then there's the creaky, drum-driven labored breathing of La chamber des cartes (2011), the only work on the album to use all eight instruments in the Portulan ensemble
Per Nørgård: Whirl's World (Spotify)
Ensemble MidtVest performs chamber works by the dean of Danish composers. The title track, a wind quintet from 1970, is like Nørgård's answer to Stockhausen's Adieu (1966), while Spell, a clarinet trio from 1973, anticipates more recent postminimalist trends
Dark drones and loops
Cover your ears: noise, electronic music and sound art
Cecilia Lopez: Red/Machinic Fantasies (Bandcamp)
See my review of Lopez's brand of "precarious augmented reality" that takes after Lucier, Niblock and Gordon Monahan
Steve Layton and Sound-In: The Mind Wanders (Bandcamp)
Sound-In's music originates in online jams among musicians networked from separate continents. The results are then edited and assembled by Seattleite Steve Layton. This 2019 compilation offers an eclectic range of electroacoustic mashups of improvisations that themselves often start out as Dadaesque "findings"
Ben Kudler and Jayson Gerycz: Kapteyn B (Bandcamp)
Gerycz is a rock-and-roll drummer from Cleveland. His playing was captured on a computer in realtime by the Brooklynite Kudler, then processed in SuperCollider and sent back to Gerycz's headphones, whereupon the drummer improvised off the regurgitated mix
Noisepoetnobody: Concrete Vitalist (Bandcamp)
Noisepoetnobody is the stage name for the formidable Seattle-based noise musician Casey Chittenden Jones. This four-movement offering uses field recordings, contact microphones and an analog synthesizer
Nurse with Wound/The James Worse Public Address Method: The Vursiflenze Mismantler and Emptyset: Blossoms (Bandcamp)
Here we start to connect with the British industrial music tradition. Nurse with Wound requires no introduction. Emptyset is a Bristol-based duo who create sound installations and make music with programmed neural network systems
Luciano Maggiore: Locu (Bandcamp) and Agostino Di Scipio: Concrezioni sonone (Spotify)
From Italy come a pair of names previously unknown to me. Maggiore, a sound artist currently living in London, contributes this haunting and noisy album (it was originally a cassette) that features faint howling sounds. Di Scipio's album focuses on music for piano and live electronics, starting from the New York School's attitude of a piano as, first and foremost, a sound source. His Three silent pieces (3 Pezzi muti) borrows a concept from Larry Austin's Accidents (1967) where the pianist is directed to perform rapidly on the keyboard without trying to sound any notes. The resulting mechanical noises, along with the occasional audible "accident", are captured and transformed by computer processing. In Di Scipio's chpn3.2, written for the Chopin bicentennial, recordings of Chopin's piano music are "injected" into the strings through transducers custom built by Giorgio Klauer. As in the Maggiore album, it creates the sense of an overheard transmission from the au-delà
New composed music
New takes on departed voices
Stage to video
Among the year's video releases with particular significance to new music, three major European opera productions stand out. Not so much the Alex Ross vaunted trio of Heart Chamber, Orlando and The Snow Queen—simply because the first two have not been recorded while the third, though visually attractive and a vehicle for the justifiably glorified Barbara Hannigan, seems an overly ambitious foray into operatic spectacle for a composer whose authentic voice is fundamentally introverted and non-verbal. Instead I was more struck by the following thought-provoking productions that show how the creative standards for new music theater remain quite high.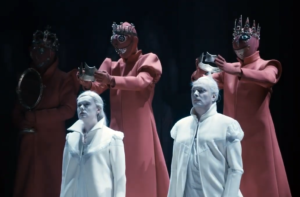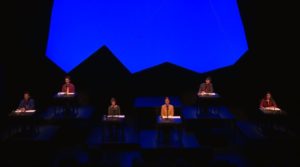 Past and present
Special mention goes to Agamemnon the opera, one of the most remarkable of the year's Web-driven "back from oblivion" discoveries. It was conceived in the late 1980s as an opera on disk by Nicole Gagné and the late David Avidor. Gagné, who adapted the libretto from Aeschylus, is best known as a music writer (among other things she compiled the Historical Dictionary of Modern and Contemporary Classical Music), while Avidor seems to be mainly remembered as a recording engineer. Both are present as musicians for most of the opera's two hours and five acts, but they're joined by an astonishing cast loaded with such Downtown superstars as Fred Frith, Pauline Oliveros, Julius Eastman (who voices Agamemnon), Sussan Deyhim, Blue Gene Tyranny, Shelley Hirsch (who voices Cassandra), Robert Ashley, David Shea, Arto Lindsay (who plays Aegisthus) and Ned Sublette (whose Texas accent reminds me of The Residents' Homer Flynn). Most of these artists contribute improvisationally to the musical texture.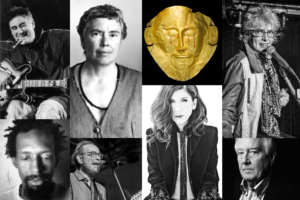 Though the opera was completed in 1992, it was never released on a commercial recording (the contributing musicians didn't even know it had been finished). So it lay forgotten for over two decades until a buzz began to circulate in social media this past year that the piece had been published on Bandcamp, to the delight of contemporary music fans intrigued by its lineup of unique musical personalities.
That this project from 30 years ago can be included here with no loss of continuity (apart from the presence of a few long-deceased voices) speaks to the stability (or stagnation if you want to be less charitable) of the current musical environment. The 2010s were not so much distinct from their predecessors as they were a prolongation of themes that have been dominant for quite some time in Western art music and its neighboring regions. One can reasonably claim (and many have) that no fundamentally new musical ideas have arisen since the 1970s spawned spectralism and hip hop. Subsequent innovations have been of the strictly recombinant variety (i.e., postminimalism and the kinds of intercultural fusion described above) or the reclamatory one (neoromanticism, the modular synth revival, etc.).
It might seem ironic that the age of globalism and the Internet has produced so much displacement in how music is mediated and commodified, yet so little evolution in its style. But if the effect of the last ontological revolution in Western art music—that of the post-WW2 avant-garde—was to expand the range of allowable musical material to include literally any reproducible sound, then it stands to reason that the only further room for radical change is in the epistemological direction. It's too soon to see what particulars that next revolution will involve. The more doomsday-oriented observers, such as Richard Taruskin, suggest that the end of Western art music is already in sight as the supremacy of written music gets overrun by modern technology. But the quantity of visionary artists dedicated to moving the music forward—artists who regard all facets of its modern praxis, whether composed, improvised or fixed-media, as belonging to an integral shared tradition—is amply displayed by the compelling work showcased in this article. It suggests that this most progressive and unpredictable of musical traditions may still have some life left in it.
---
Photo credits: Sam Shalabi via Constellation Records, Lao Dan via Family Vineyard Records, Taylor Ho Bynum 9-tette via Bynum, Zeena Parkins by Andy Newcombe, Ellen Arkbro via the artist, Michael Pisaro by Kathy Pisaro (design Matthew Revert), Cecilia Lopez by Ian Kornfeld, Žibuoklė Martinaitytė by Lina Aiduke, Martin Bliggenstorfer by Michael Schell, Frank Zappa by Jay L. Handler, Pehr Henrik Nordgren via Kai Nordgren/Wikimedia, Magdalena Kožená and Georg Nigl in Dusapin: Macbeth Underworld via La Monnaie, L'Inondation by Stefan Brion/Opéra Comique, Agamemnon: Fred Frith by Alexander Kurz, Pauline Oliveros by Linda Montano, Shelley Hirsch by Frank Schindelbeck, Julius Eastman via Wikipedia, Arto Lindsay by Carstor, Sussan Deyhim by Robert Hayman, Robert Ashley by Savio.