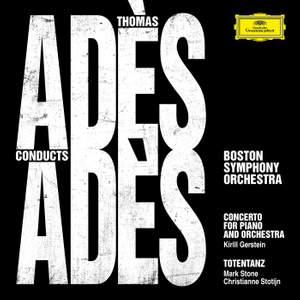 Adés Conducts Adés
Kirill Gerstein, piano; Christianne Stotijn, mezzo-soprano; Mark Stone, baritone;
Boston Symphony Orchestra, Thomas Adés, conductor
Deutsche Grammophon CD/DL 4837998

Thomas Adés is in his third year as Artistic Partner of the Boston Symphony Orchestra. It has been an extraordinarily fruitful pairing. Adés has performed with the ensemble as a conductor and pianist, contributed new pieces to its repertory, and curated events such as the Festival of Contemporary Music at Tanglewood. In the midst of this plethora of activities, the March 2019 premiere of his Concerto for Piano and Orchestra was a highlight. Both the performance of the BSO under Adés's direction and the brilliant playing of the work's soloist, Kirill Gerstein, were widely acclaimed. The DG recording of its premiere confirms the buzz — the concerto is indeed a formidable work and the performance is radiant.

Cast in the traditional three movement structure (fast-slow-fast), the concerto demonstrates Adés's encyclopedic familiarity with composers of the past, including hat-tips to Prokofiev, Ravel, Liszt, and Stravinsky. Despite revelling in touchstones of eras past, Adés ultimately distills them into a glinting, sharply contoured language with a distinctive character all its own. The first movement contrasts extensive glissandos with clock-like ostinatos. Sustained chorales create an aura of poignancy in the middle movement. The finale juxtaposes upward and downward scalar passages that provide a tilt-a-whirl of intensifying momentum that ends the piece aloft – and on a brilliantly orchestrated major triad to boot.

In these times of pandemic and social distancing, Adés Totentanz (2013) is a particularly sobering piece. It is based upon the text of a fifteenth century frieze, which depicts all walks of life, from the Pope to an infant, being invited to dance with the Grim Reaper. Baritone Mark Stone embodies Death with a muscular and menacing delivery. Mezzo-soprano Christianne Stotijn sings the parts of the various people attempting to elude his grasp as heartfelt laments. Adés creates a searing score that allows space for declamation while interpolating ominous interludes, often supplying aggressively syncopated ostinatos that suggest the inexorable dance. Bracing listening, but engaging throughout. Recommended.