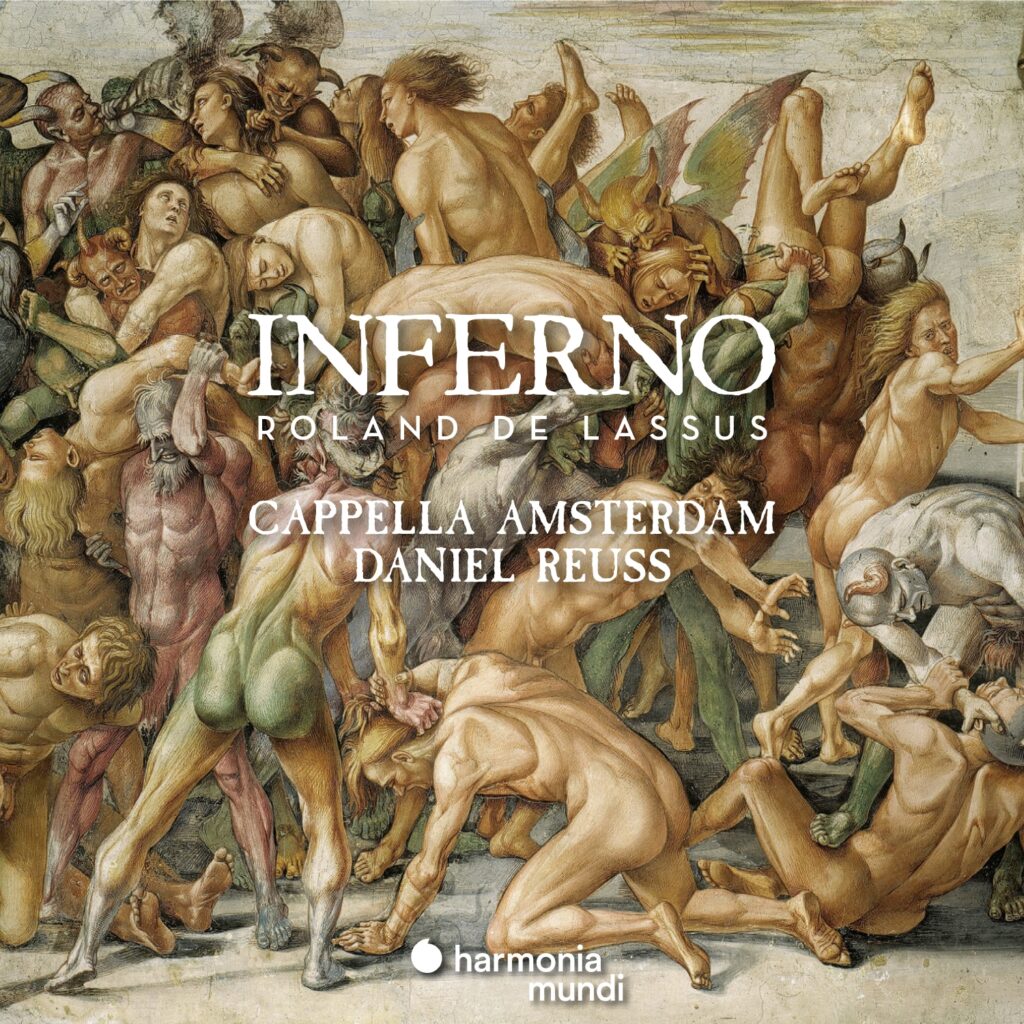 Roland de Lassus
Inferno – Motets for Six and Eight Voices
Cappella Amsterdam, Daniel Reuss, director
Harmonia Mundi CD
Roland de Lassus (1530-1594) – also known as Orlando di Lasso – was one of the most important vocal composers of the sixteenth century. His extant catalog contains more than 2,000 pieces in nearly every sacred genre as well as madrigals, chansons, and lieder. Much of his career was spent in Munich in the service of Duke Albrecht V of Prussia. The motets that appear on Inferno, a Harmonia Mundi CD of six and eight voice pieces, come from this stage of his career. They are penitential in character, the last published motets taking on a particularly melancholy demeanor that seems to impart the composer's reflections on mortality in old age.
Cappella Amsterdam, directed by Daniel Reuss, has a beautiful sound, superbly balanced with warmth in every register. Reuss shapes the programmed pieces to demonstrate clarity of counterpoint, expressivity of utterance, and, importantly, the resonance that these frequently mournful works require.
Among several standout performances, particularly affecting is Media vita in morte sumus, which is preceded by a limpidly executed rendition of its plainchant. The motet contains considerable antiphony, a technique that Lassus uses in a fashion reminiscent to Adrian Willaert's choral music for St. Mark's in Venice. In Omnia tempus habent, Lassus similarly splits up the voices, with ricocheting entrances offset by rich, tutti eight-part textures.
Lassus was also a master of word-painting. Published the year of Lassus's death, Deficiat in dolore vita mea, has a particularly plaintive cast, its text a paraphrase of Psalm 30, verse 11: "Let my life end in grief, and my years in groans, that I may find rest in the day of tribulation" – set as a moving bewailment. From the same 1594 collection of six-voice motets, Vidi Calumnias begins with staggered entrances that gradually give way to scintillating chords.
Not all of the texts are ones of mourning. Published somewhat earlier, in 1582, Cum essem parvulus sets one of the most beloved passages of Paul's First Letter to the Corinthians, "When I was a child, I spoke as a child …" with florid canonic passages offset by richly voiced harmonies. Thus, while Inferno is a solemn document, it is still one that contains glimmers of hope around its edges. Best choral release 2020.
-Christian Carey