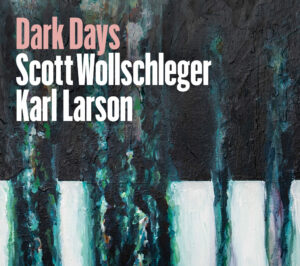 Scott Wollschleger
Dark Days
New Focus Recordings
Karl Larson, piano
Scott Wollschleger's music has great emotional range. Dark Days explores an atmospheric and lyrical side to his composing for piano. Wollschleger has collaborated with pianist Karl Larson for some time, and this collection of pieces created over a number of years attests to the felicitous nature of their work together. 
The tile piece is both the briefest and most dissonant piece. It was composed on the day of Trump's inauguration and channels Schoenberg's atonal phase, but in a subdued manner. Much of the music here emulates impressionism instead of expressionism. One can often hear the influence of Debussy's Preludes on works such as Tiny Oblivion and Brontal 2, "Holiday". Music Without Metaphor resembles Satie in its delicate modal segments and slow rhythmic underpinning. Blue Inscription and Brontal 11, "I-80," on the other hand, represent another throughline in Wollschleger's work; his affinity for the New York School, particularly the music of Morton Feldman. Wollschleger is quick to point out that his graduate instructor at the Manhattan School of Music, Nils Vigeland, was one of Feldman's prominent students and interpreters, and another influence on his music. 
It is most interesting when Wollschleger combines these two demeanors, as on Brontal 6, where frequent rests and modal figurations coexist with pointillist fragments. The last two selections, Secret Machine 4 and Secret Machine 6, are considerably charming. They mark a return to the modality, whole-tone scales,  and short motives of Debussy, with frequent ostinato repetitions. Dark Days is a well considered collection and it benefits from Larson's assured interpretations.
-Christian Carey
Performance of Dark Days at Roulette on May 6, 2021: