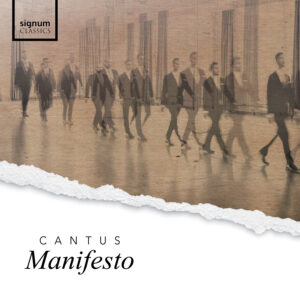 Cantus
Manifesto
Signum Classics
The all-male vocal ensemble Cantus's first full length recording in seven years, Manifesto, features pieces, all in world premiere recordings, that explore relationships and identity. The title work is a piece by David Lang, the text taken from answers to a Google Search auto-complete list of the query "I want to be with someone who…" It was originally commissioned by Cantus for a program titled "The Four Loves." Lang's piece signifies romantic love and is written in a minimal style, the textual repetitions being a hallmark of his approach. "If I Profane," by Libby Larsen, which features a tenor solo and swelling crescendos in its accompanying voices, is a setting of the love sonnet from Shakespeare's Romeo and Juliet.  
Roger Treece's Philia signifies friendly love, as does Timothy C Takach's Luceat Eis, written in commemoration of service personnel who died on 9/11. Both artfully use polychords, the Luceat Eis bifurcated into low clusters and a chant-like upper melodic line. Ysaÿe M. Barnwell explores divine love in Tango with God. Here, the ensemble's performance emphasizes exuberance rather than the suavity of the dance. To My Brother, by Joseph Gregorio, is about familial love. It begins with angular melody, gradually adding suspensions, homophonic declamation, and a few arpeggiations lending colorful cadences. 
It is not just love that resonates in this attractive program. Gagót, by Sidney Guillaume, is about dealing with life's vicissitudes. Sarah Kirkland Snider's luminous Psalm of the Soil connects nature and the divine. The longest setting on the recording, it is also the most intricate and interesting formally. 
Two song cycles complete the program. Poems by Hafiz, Rumi and Kabir are set in Paul John Rudoi's Song of Sky and Sea. "At Every Instant" features elaborate syncopations, "The Infinite Dwelling" layers a webbing of contrapuntal passages. "Two Falling Stars" uses glissandos and descending lines in elaborate word painting, and spoken word and equally declamatory singing are featured in "As One Sky." In addition to being a composer, Rudoi is a tenor vocalist, and one can hear him revel in writing the solo passages of "As One Sky." 
Dale Warland incorporates piano, played here by Andrew Fleser, in his Evening Star triptych. Warland is well known for his direction of vocal groups, including his own Singers. Evening Star demonstrates his skillful composing in a neo-romantic idiom. Sara Teasdale's poetry is about the stages of grieving that ultimately lead to acceptance of loss. Octave leaps supply "The Falling Star" with powerful resonance,"On a Winter Night," the middle movement, is particularly haunting, and Cantus impresses in its a cappella tuning between piano interludes in "Stars Over Snow." Cantus combines beautifully blended passages with strong individual voices. They are welcome to return to the recording studio ASAP. 
-Christian Carey