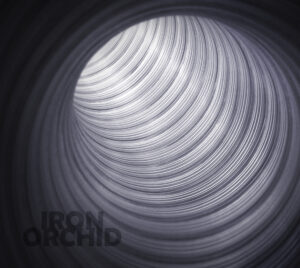 Iron Orchid
Ning Yu and David Bird
New Focus Recordings
Composer and electronic musician David Bird's work Iron Orchid enlists pianist Ning Yu as a collaborator. Bird's electronics often provide steely sounds that accord both with the title and the inside the piano work that Yu does. In fact, the second word of the title plays a role in the piece as well, indicating the organic nature of its formal design. So does the presence of live electronics against an acoustic piano, albeit one that has effects, microtones, and reverb as part of its palette. Thus in sections like "Iron," reverb-hued electronics and string noise create thorny textures; an interesting coda involves a simple piano ostinato that is distressed with quarter tones and Bird unleashing plucking noises to a quasi-electronica beat.
The shape of Iron Orchid is somewhat hollowed out, with the outer movements of sizable duration while the central movements serve as aphoristic impressions. "Interlude" includes high sine tones throughout, with an atonal introduction followed by flowing ostinatos. "Prism" features a slow build from the electronics while foregrounded piano plays an angular and rising accelerando; Bird responds in kind with analog bleeps. "A Thin War of Metal" once again juxtaposes acerbic electronic textures with clusters and extended chords that give a nod to postmodern jazz. "Between Walls" returns the proceedings to inside the piano effects, this time  against windswept electronics. 
The final movement, "Petals," brings together a number of non-metallic sounds to create a section that highlights the organic nature of Iron Orchid's concept. A submarine klaxon opens the movement, followed by granular synth textures set against Yu playing reverberant single notes. A cello sample enters to create counterpoint against the piano, while a distorted series of electronic ostinatos push against the acoustic foreground. Yu takes up a mournful chord progression that banishes the most pointed electronic interjections, with bent notes, rumbling, and periodic percussive attacks creating an affecting coda. Iron Orchid is an engaging listen throughout. At a half hour long, it seems to cry out for a sequel to fill out a duo recital program. Here's hoping. 
-Christian Carey