Sequenza 21 – Best of 2021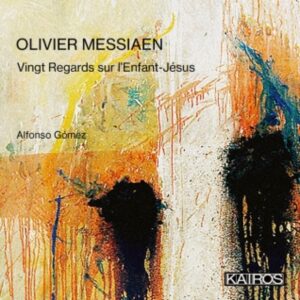 Olivier Messiaen
Vingt regards sur l'enfant-Jésus
Alfonso Gómez, piano
Kairos CD
In 1944, Olivier Messiaen wrote a recital length work (about 2 hours in duration) for pianist Yvonne Loriod, one of his proteges and, later, his spouse. Vingt regard sur l'enfant-Jésus ("Twenty Visions of the Infant Jesus") widely encompasses the techniques of Messiaen's musical language and epitomizes the importance of religious contemplation and corresponding symbolism in his work. Where some Christmas music takes a sentimental approach to regarding the infant Jesus, there is none of that here. Instead, Vingt regards explores the awe inspiring power of this event, with music that ranges from ecstatic joy (Noël) to prayerful reverence (Le Baiser de-l'Enfant Jésus) to fear of the abyss. 
Messiaen was quick to point out that, while religious symbolism and belief were intrinsic to his creativity, believers and non-believers alike could be moved by his music. However, his intimate knowledge of scriptural symbolism is intrinsic to Vingt Regards and is well explicated in Meinrad Walter's lucid booklet notes. The movements are interconnected in a number of ways. The modes of limited transposition are the building blocks of the pitch material, and the composer's characteristic birdsong is also present in many places, with great eloquence in Regards de la Vierge. Messiaen pointed out a particular chordal motif that is frequently present at pivotal points, as well as a God theme, a theme of the Star and the Cross, and a theme of Mystical Love, helping to bind Vingt Regards together. Correspondingly, his interest in syncopation and mixed meters abets the livelier sections, with complex yet exuberant dance music, as in Regard de l'esprit de joie, and in Par lui tout a été fait. In addition to Trinitarian formulations, Messiaen pays special attention to the Virgin Mary. Indeed, Première Communion de la Vierge ("First Communion of the Virgin") is one of the most moving portions of the piece.
There are a number of recordings of Vingt Regards, but Alfonso Gómez proves to be an individual and distinctive interpreter, skilful in navigating the piece's many challenges and expressive details. Aphoristic sections like L'Echange and Regard des hauteurs , are provided with incisive clarity of gesture, the latter's birdsong practically evoking a grove of avians. Where Gómez truly thrives, though, is in the longer movements, where he shapes the juxtaposition of motives to underpin vivid textures. His rendition of the piece's final movement, Regard de l'église d'amour ("Contemplation of the Church of Love")  knits together many threads of the essential material of Vingt Regards, providing a sophisticated and powerful conclusions to this towering example of 20th century pianism.