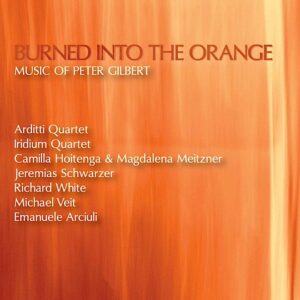 Burned into the Orange
Music of Peter Gilbert
Arditti String Quartet; Iridium Quartet, Emmanuele Arciuli, piano; et al. 
New Focus Records CD/DL
This is composer Peter Gilbert's second recording for New Focus; the first was back in 2008, The Long Arch of Undreamt Things. He is Associate Professor of Music at University of New Mexico, and has a long artistic pedigree filled with prestigious residencies, performances, and awards. There is a visceral character in Gilbert's music that distinguishes it, and in his recent music it appears that geography plays as much of a role as any of the aforementioned experiences. The searing heat of the summer sun in the Southwest, the beauty of its flora and fauna, and the changes of light against mountain streams are all analogous to the diverse array of instrumental colors that Gilbert brings to bear. 
A case in point is Intermezzo: Orange into Silver, which Gilbert synesthetically describes as depicting the oranges inspired by the New Mexico landscape moving to a metallic silver, "…a kind of astral wind that ultimately settles into another of the Rilke-inspired clouds of breath." A plethora of timbres are contained within these broad strokes, belying the piece's three-minute duration with a varied splendor of synthetic sounds. Elsewhere the approach is more distilled. Arditti String Quartet plays deconstructed double stops with furious intensity on The Voice Opens Wide to Forget That Which You Are Singing. A live recording by basset recorder player Jeremias Schwarzer with electronics by Gilbert, The Palm of Your Hand Touches My Body is the most extended piece on the album and also its most engaging, challenging the listener to locate whether particular sounds emanate from the recorder or the electronics throughout: a satisfying game of musical hide and seek. Wave Dash, Camilla Hoetenga, flute and Magdalena Meitzner, percussion, perform Channeling the Waters, which seems to encompass more whitecaps than burbling brooks. 
Standout Soon as the Sun Forsook the Eastern Main features the pianist Emmanuele Arculi in a close-miked series of corruscating arpeggios, which is succeeded by electronic interpolations of synthetic harmonic series and polytonal verticals. Thunderous bass notes are set against a shimmering upper register electronic drone, all added to the mix of verticals. Another layer, of sampled vocalize, moves the piece still further toward the ethereal. One gets a foreshadowing of the electronics, at least its approach, in Meditation upon the Awakening of the Spirit, placed earlier on the disc. Upon the Awakening, another piece for electronics and live performers, in this case the Iridium Quartet (who are saxophonists) also explores spectral series, including detuned upper partials, and disjunct yet lyrical melodic material. By the Lonely Traveller's Call for tuba with amplified mute supplies a unique palette of sounds and engaging formal design. Gilbert is a consummate craftsman with an unerring ear for textures, both electronic and acoustic. Recommended.