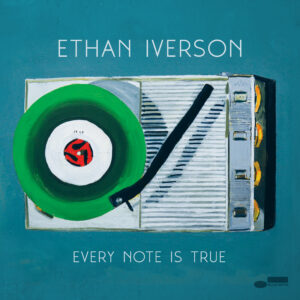 Ethan Iverson
Every Note is True
Ethan Iverson, piano; Larry Grenadier, bass; Jack DeJohnette, drums
Blue Note
Pianist Ethan Iverson received an excellent birthday present today: the release of Every Note is True, his debut recording on Blue Note Records. Since departing the Bad Plus, Iverson has worked on a number of projects as a composer, taught at New England Conservatory, written insightful criticism and pedagogical articles on his blog Do the Math and for other publications, and collaborated with musicians such as saxophonist Mark Turner, drummer Bill Hart, and trumpeter Tom Harrell. Followers of these activities will note that the pianist's encyclopedic explication of the jazz tradition in his writings has mirrored trends in his recent playing. 
Iverson, ever unpredictable, takes a different approach on Every Note is True. Apart from a single tune, "Blue," by drummer Jack DeJohnette, all of the compositions on the recording are originals by Iverson. Many resume a connection to the rock-inflected jazz he made earlier in his career. Not one to attempt to remake the past, Iverson has selected collaborators who are two of the best known players in jazz, DeJohnette and bassist Larry Grenadier. The absence of covers – a Bad Plus staple – and presence of fulsome swing from his current collaborators allows Iverson the opportunity to blend multiple approaches into a compelling amalgam distinct from his previous work. 
A couple of imaginary theme songs populate the recording. "She Won't Forget Me" is likened by Iverson to a rom-com theme, although I have never heard a rom-com theme with as zesty a solo. The album itself starts with a quirky vocal number, "The More it Changes," a commercial sounding song featuring overdubs of a number of Iverson's friends, Sarah Deming (who wrote the lyrics), Alex Ross, and Mark Padmore among them, who sang their parts remotely. Brief enough to leave a listener just enough time to scramble to their playlist and settle back in their seat, it is followed by the avowedly not soundtrack-related "The Eternal Verities," a sequential tune with a little chromatic twist as it turns around. Grenadier's playing embellishes the changes and adds countermelodies that interlock well with the spacious solo that Iverson provides. A coda brings the progression to a sideways yet satisfying conclusion. 
"For Ellen Raskin" is dedicated to one of Iverson's favorite children's authors. It is a gentle jazz waltz with bluesy inflections and deft use of hemiola – moving from 3/4  to 6/8 – to give a little Brahmsian nod to the proceedings. "Had I but Known" is an uptempo tune with sequences of dissonant intervals and polychords in the bridge that allow for a suave extrapolation of Fats Waller's language and voicings. Particularly persuasive is "Had I but Known," which is through-composed rather than primarily improvised. It combines a balladic cast with tart melodic punctuations and Ivesian verticals. 
Iverson admired DeJohnette's "Blue" when he heard it on John Abercrombie's 1978 ECM recording Gateway 2. With powerful fills from the drummer, Iverson's interpretation revels in the tune's unadorned triads, particularly the one at the close that receives an expansive arpeggiation. Whereas jazz chords usually contain more than just the triad, with 6th, 7ths, 9ths and more added to harmonies, using a bare triad in the right context buoys the connection that Iverson is making throughout Every Note is True between commercial pop, rock, and jazz.
"Merely Improbable" presents a more traditional structure, providing a chance for Iverson and company to play rhythm changes, variants on the chord structure of Gershwin's "I Got Rhythm" that populate countless standards. As with the other compositions here, at three and a half minutes the run-time is relatively lean; I would have been happy to hear the trio stretch it out. "Praise Will Travel" is an ebullient piece performed with a tight groove offsetting florid soloing. Titled after an Agatha Christie story, the album closer "At the Bells and Motley" is a jaunty blues that demonstrates the trio's simpatico interaction. Here we get the longed-for jam, with nine minutes of subtle shifts of emphasis and piano solos that build from restraint to sly quotation to gestures writ large and back again. Excellent solos from Grenadier and DeJohnette as well.
Every Note is True is an auspicious label debut that demonstrates the imagination, breadth, and wit of Iverson's playing while maintaining a spirit of enthusiastic collaboration. Highly recommended. 
-Christian Carey