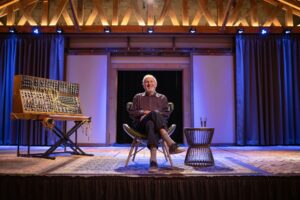 On Wednesday, February 9th, Herb Deutsch turned ninety years old. Deutsch has been an icon of sound synthesis both as a composer and hardware designer. One of the inventors of the first Moog synthesizers, he designed the keyboard interface that served as the basis for countless synths that followed. Moog Music is using this auspicious occasion to kick off GIANTS, a series of films about synth pioneers. In the video below, Deutsch describes his life, musical inspirations, and the early days of creating versatile hardware to perform and record electronic sound. 
After the film about Deutsch, you will soon be able to view a number of films that celebrate pivotal figures in electronic music on Moog's YouTube channel. Future episodes will feature Suzanne Ciani, Bernie Krause, and Daniel Miller. Alongside the recent Sisters with Transistors documentary, the documentation of electronic music's early luminaries is a welcome opportunity to reassess its legacy. 
On a personal note, as a fellow Long Islander, Deutsch's long tenure at Hofstra University and co-founding of the Long Island Composer Alliance helped to provide many events that opened my ears to the possibilities of sound, and for that I remain ever grateful.