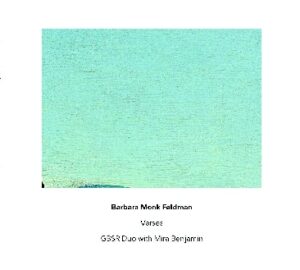 Barbara Monk Feldman
Verses
GBSR Duo with Mira Benjamin
Another Timbre CD
Given her association with Morton Feldman, both personal and professional – he was both her spouse and her instructor at Buffalo University – it is tempting to look for comparisons between their compositions. Tempting but unrewarding. Yes, Monk Feldman creates slow, quiet pieces, but so do many composers since Morton Feldman who have greatly departed from his legacy. A fundamental distinction one hears on Verses, Another Timbre's Monk Feldman recital disc, is that the composer has a cogent sense of form; the longest piece is thirty-one minutes and there are even two five minute pieces, all of which have distinct sectionalization. 
The harmonic sensibility of Duo for Piano and Percussion (1988) and piano solo The I and Thou (1988) rely upon an extended sense of triadic post-tonality, with a great fluctuation of the deployment of pitches to create asymmetrical phrases. A distinct gesture that is found in most of the pieces on the recording is a grace note leading into or out of a rest, with this punctuation creating phrase-based boundaries within the pieces. The title work, for solo vibraphone, uses microphrases, short splashes of arpeggios with the pedal down that are followed by rests. Throughout the piece these expand and contract, thicken to wide-spaced chords and reduce to intervals, creating a miniature full of information and surprises. 
The recording's centerpiece, The Northern Shore (1997) is inspired by a place where Monk Feldman, a Canadian, goes to every summer in Quebec. Like a number of the composer's pieces, nature as a touchstone, rather than as a programme, serves as a wellspring of inspiration. There is something of a ritualistic quality to the way that each player interprets the same intervals and then passes them off to the next, in a kind of call and response. In addition to nature, Monk Feldman has long been interested in theater, particularly Noh, with her most recent opera, or "non-opera" as she prefers to designate them, finished just before the beginning of the pandemic. Color is an important consideration in The Northern Shore, with different verticals and arpeggiations having distinctly scored accumulations of pitch. Like much of her work, the use of triads that never quite resolve provides an achingly beautiful ambience. GBSR Duo – percussionist George Barton and pianist Siwan Rhys – joined by violinist Mira Benjamin, are sympathetic and compelling interpreters of the music. 
One question: when will her operas be recorded?
-Christian Carey