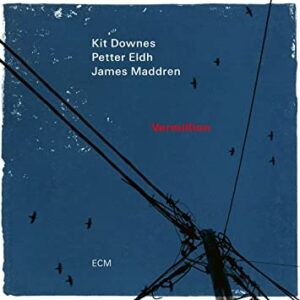 Kit Downes
Vermillion
Kit Downes, piano; Petter Eldh, double bass; James Maddren, drums
ECM Records
After listening to Obsidian, Kit Downes's debut as a leader for ECM, one might justifiably think from his considerable prowess as an organist that it was his sole specialty. Not so, as is eminently demonstrated on Vermillion, a piano trio album in a modern jazz idiom for ECM. On a set of originals by Downes and bassist Petter Eldh, along with a rendition of  "Castles of Sand" by Jimi Hendrix, these two musicians along with drummer James Maddren demonstrate a simpatico collaboration, filled with rich harmonic progressions and a well-coordinated sense of swing. 
"Minus Monks" is an homage to Thelonious Monk, with slender voicings and an angular melody adorning a circuitous set of changes. Downes plays with a silvery, legato touch, frequently locking in on polychords with Eldh playing rock solid roots. Maddren is resourceful, using the entire kit yet never overwhelming the proceedings. "Sister, Sister" has an intro that could be translated from a Debussy Prelude, and the impressionist timbres continue once he is joined by Eldh and Maddren, the bassist playing fleet countermelodies and the drummer shading the tune with cymbals shimmering. "Seceda" is a loosely articulated ballad with post-bop filigrees followed by a pastoral progression inflected with blue notes. 
Eldh's composition "Plus Puls" begins with a brief solo that sets a buoyant groove. The melody is frequently doubled in octaves by Eldh and Downes. The bassist's tune "Sandiland" sets a walking line against syncopated piano chords and a wandering keyboard solo. "Math Amager " is a showcase for Eldh's fleet soloing. Maddren's drums are featured on "Class Fails," and the change in ensemble relationship provides welcome contrast. 
The most intriguing piece on Vermillion is Downes's "Rolling Thunder,' in which dissonant arpeggios put the trio outside the pocket. Eldh fills in some of the chromatic verticals which Maddren again punctuates with cymbals and gentle syncopated fills. "Bobbi's Song" also focuses on intricate chord progressions thickly voiced with a tenor register countermelody from Eldh. "Castles Made of Sand" closes the album with Hendrix's song given bitonal treatment with parallel voicings and harp-like arpeggiations. 
Whichever instrument Downes choses to play, piano or organ, he is a formidable and imaginative musician. One hopes he keeps the trio assembled here together: they collaborate with considerable skill and sensitivity.
-Christian Carey