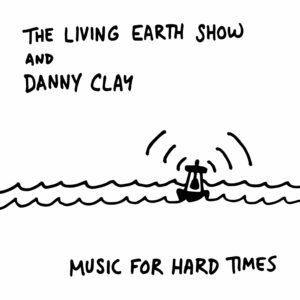 Living Earth Show and Danny Clay
Music for Hard Times
Self-released CD
It is fair to say that recent times have been hard on nearly everyone. Living Earth Show decided to create an interdisciplinary project, "Music for Hard Times," to provide a source of musical comfort. They collaborated on the project with composer and music educator Danny Clay, who created a series of open instrumentation scores to be  interpreted by the group and made available for others to play. Music for Hard Times, the CD, provides one possible, and compelling, interpretation of Clay's work.
Bell sonorities, pitched percussion, piano, and guitars are the primary instruments of Living Earth Show's recording. In places, string pads halo the proceedings, and late in the album, lyric-less singing and string solos join in. Some online music platforms have pegged Music for Hard Times as New Age, but it encompasses a number of genres, with some of the scores affording leaping intervals and chromaticism that suggest contemporary classical being a strong influence. Elsewhere, ostinatos evoke post-minimalism. Clay's scores invite a plethora of scorings, and Living Earth Show's arrangements supply abundant variety, and beauty, in response. 
The performances are lush, ambling, and soothing: just what is on order for hard times.