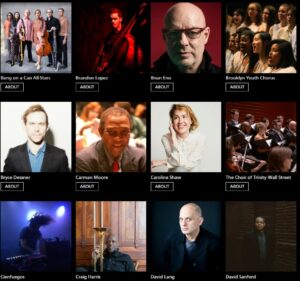 Two years ago, I was editing a 2020 interview with the composer David Lang about the new multi-day festival that Bang on a Can planned for that spring, Long Play, when I realized the significance of the festival title. The year 2020 would be Bang on a Can's 33rd anniversary. Long Play = LP = 33 rpm. Very clever! Although the festival was delayed for two years, it retains its name.
The inaugural Long Play festival takes place on April 29, April 30 and May 1, 2022 at a half-dozen venues in Brooklyn, including BAM, Roulette, Littlefield, the Center for Fiction, Mark Morris Dance Center, Public Records and the outdoor plaza at 300 Ashland. Over 60 performances are scheduled. Some are free, but most are accessed via a day pass ($95) or a three-day festival pass ($195). Over a hundred performers range from the Sun Ra Arkestra to jazz pianist Vijay Iyer to bagpiper Matthew Welsh (complete list is here).
Lang, along with the composers Julia Wolfe and Michael Gordon launched Bang on a Can in New York City in 1987 with a 12-hour concert in a downtown art gallery. The organization became known for its annual marathon concerts in New York, and later expanded to include a performance group (the Bang on a Can All-Stars), a commissioning program, education programs and festivals at MASS MoCA in the Berkshires, a record label (Cantaloupe), and an on-going extensive online series created when live concerts were cancelled during the pandemic.
Looking back on our conversation on February 25, 2020, most of what Lang and I discussed is still relevant to the rescheduled Long Play Festival. Here is the interview, edited for length and clarity.
Gail Wein Successful marathons have been your signature event for Bang on a Can for 33 years. So what prompted the creation of this differently-formatted festival, Long Play?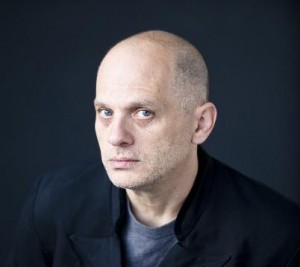 David Lang Over the last couple of marathons we have tried to expand our reach to different kinds of music and to other kinds of communities. After a while of doing that, we felt like we were inviting people on to the marathon for slots of 15 or 20 minutes that we wished were an hour or two hours. And so we got interested in a lot of other kinds of music and it just seemed like we weren't spending enough time with them.
I remember thinking – this is at the last marathon – people would come in and they would go, "That was incredible. Why am I only wanting that for fifteen minutes?" What we're hoping to do with this is to say, we've uncovered all these incredible connections between all these different kinds of music. And now we really want to let people go deeper into what those connections do and where they go.
Gail Wein Of course, it's a much bigger scope. Three days, and a bunch of venues. And instead of the marathon's free admission, this one is ticketed.
David Lang There's still going to be a bunch of free things, including some outdoor events, because we really like the idea that we have a wide doorway, that lots of different kinds of people can come through with no barriers. But it's also true that when you start working with so many hundreds of musicians and so many different kinds of venues, that it's just not possible for us to fundraise to make the entire thing free anymore. So we came up with this plan that, for essentially the price of one ticket, you get a pass which allows you to see everything and then you'll just be able to go in and out of performances and check out music from all these different communities.
Gail Wein How does the aesthetic of the performers and the programs and the repertoire differ from that of the marathons?
David Lang I don't think it differs at all.
We're still looking for people whose definition of what they do is: they wake up in the morning and tell themselves that they're innovators. They wake up and they say, there's a kind of traditional music that's involved in my world and I'm not doing that. That's always been the way we've judged people to come on to the marathon. We wanted to find people who were pushing their fields. The difference here is that we're able to go deeper into other kinds of communities like jazz and rock music and indie pop and ambient and electronica and be able to invite more people who are pushing their boundaries.
Gail Wein I was thinking about the longevity of Bang on a Can as an institution. Institutions come and go, organizations come and go, various folks have mounted series, marathons, festivals. But not that many have lasted a third of a century. To what do you attribute Bang on a Can's longevity?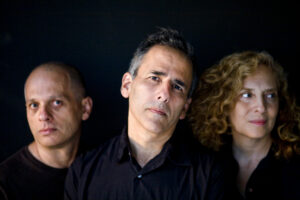 David Lang I'm sure some of it is just dumb luck. But also we have a kind of hippie mentality about what it is we do, where we want everyone involved in the organization to be as excited and passionate about it as possible. If something comes up that we are not passionate about, we don't do it. Some organizations, they just begin to think, well, we have a payroll to meet. We've got to do this, and this is what we did last year.
One of the things that we're really proudest of about this festival and also about our sister festival that we started in summer, which is the Loud Weekend Festival at Mass Moca, is that we're able to change and get excited about other kinds of things and then turn the organization so that it can take advantage of what we're all really excited about. Everyone who works at Bang on a Can is a musician; we only hire people who are musicians. And so when we talk about these things in the office, we really are sharing ideas of the things that we are all getting excited about. And so when you do something like this, when you say this is a new direction that we're going in, or this is the kind of music we want to include, or this is a new initiative for something we'd like to do, it's something that energizes everybody. That's one of the reasons why we can stay fresh, because everybody understands how committed we all are to the mission of the organization.
Gail Wein I've been thinking about this: New York City is already one big music festival every single day.
David Lang It is.
Gail Wein So why do you think New York and New Yorkers need this festival?
David Lang One of the beautiful things about this is the pass, quite honestly. In New York, there are always 500 concerts to see every single night. And you pay your money and you go see it and you stick it out, right? And then you say, I know I'm going to see this one, I don't know that other kind of music, so I'm going to go see the one I know because I have to pay the money and I have to sit there for the concert.
At Long Play, we have all of this music within a few blocks of each other, all in walking distance, in Brooklyn, all the concerts are scheduled to go on simultaneously. What I'm really hoping will happen is that people with the pass will be encouraged to check out things that they wouldn't necessarily check out because they have the right to go to that concert. So that's our thought of how to replace the thing that we loved so much about the marathon, which is to put this kind of music next to each other, so that someone would come out of watching twelve hours of the music at the marathon and having a kind of cross section of a huge swath of interesting innovative things. What we're hoping now will happen is that because I've already bought a pass, I'm going to check it out. And if I don't like it, I can get up in 10 minutes and go check something else out. I'm not obligated to spend $50 for a concert of stuff I don't know.
Gail Wein How did you choose and curate the artists and the programs and the venues as well?
David Lang We wanted to find places that were all in walking distance. And of course, that means that we started talking to everybody a year ago in order to get on their schedules. And then we just went to every single person who works in Bang on a Can and asked, what do you want to see? People just thought, what's the widest, most varied, most exciting bunch of things from a bunch of different musical directions that we can come up with?
Gail Wein What do you hope audiences will come away with after experiencing the Long Play Festival?
David Lang What I'm really hoping will happen is that people will think that the world is full of all sorts of exciting things going on right now. And and that it's full of creativity and wildness and inspiration and and that the world is very large. You know, I think sometimes when you go to a concert that's neatly packaged and everything fits and everything makes sense. You go, this is a complete experience andI don't need anything else. What I'm really hoping will happen is that people will come to this thing and they'll go. That was unbelievable. And the world is full of all sorts of things that I have to continue to check out.
I asked David Lang which of the artists and programs were his favorite. A message he sent in an email newsletter earlier this month sums up his thoughts about the 2022 festival.
April 5, 2022
LONG PLAY really reminds me of those choose-your-own-adventure books – you get to make your own musical path through each day.
That is why I am going to plot my course through the weekend, very very carefully – I want to make sure I build my schedule around the concerts that I really have to see. Such as:
Stimmung – Karlheinz Stockhausen – It is hard to imagine that a European modernist classic from the 1960's is in reality a meditation on everyone in the world having sex with each other, but that is what it is. Ekmeles sings at the Mark Morris Dance Center at 5pm on Friday, April 29.
Iva Casian-Lakos plays Joan La Barbara – Bang on a Can introduced these two to each other on one of our Pandemic Marathons last year, commissioning a new work from Joan for Iva's fiery cello playing. The result was so electrifying that they have made it into a show, and I need to hear how it has grown. At the Center for Fiction at 2pm on Sunday.
Vijay Iyer, Linda May Han Oh, Tyshawn Sorey – Their album UNEASY came out last year on ECM and it has been on heavy rotation in my studio ever since.  It's tuneful and moody and thoughtful, and I really want to hear them play together, live. At Roulette on Saturday at 8pm.
Eddy Kwon – composer, singer, violinist – their music is so beautiful and flows so smoothly across so many boundaries that is hard for me to even describe it.  The songs feel like the hit arias from the foundational music of a culture I have never experienced before.  Magic.  Sunday at 4pm at the Center for Fiction.
Ornette Coleman – The Shape of Jazz to Come – Coleman was a motivator for so much forward motion in music. This legendary album from 1959 was a big part of that, and it is still pushing musicians to move forward.  I want to be there when six composers show us how with their world premieres. At BAM's Opera House 7:30pm on Sunday, May 1.
And then I have to figure out how to run between all the other shows, trying to see as much as I can.
Nona Hendryx!  Arvo Pärt!  Sun Ra!  Éliane Radigue!  Zoë Keating!  Galina Ustvolskaya!  Pamela Z!  JG Thirlwell!  Soo-Yeon Lyuh!  Craig Harris!  The Brooklyn Youth Chorus! More!  Much more!
Plus I will try to see my own show (Death Speaks) with Shara Nova on Sunday at Mark Morris, if I can figure out how to fit it in.
Whatever the schedule ends up looking like, I have a feeling you are going to see me there with circles under my eyes, as I run from show to show to show to show to show.
But I know I am going to be super happy.
– David Lang