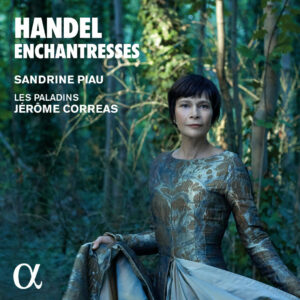 Handel: Enchantresses
Sandrine Piau, soprano
Les Paladins, Jérôme Correas, director
Alpha Classics
Soprano Sandrine Piau is a versatile artist who has compellingly performed a wide range of repertoire. Handel has remained a touchstone for Piau, and on Handel:Enchantresses, she explores a different subset of characters than the heroines and ingenues that were her bread and butter as a young singer. Handel is one of the great composers at illustrating grief, despair, and tempestuousness. The characters who inhabit these traits are given a showcase on this Alpha Classics CD. 
Piau's theatrical and expressive capabilities are on full display here. Rinaldo's "Il Vostro Maggio," a lament that is most touching, is delivered with considerable poignancy. Another lament, "Piangeró la Sorte Mia," from Giulio Cesare in Egitto, alternates between aching appoggiaturas and a slow tempo in the outer sections and a middle section with fiery sixteenths. "Alla Salma Infedel," from Lucrezia, is filled with closely spaced chromaticism, and Piau navigates her upper register with superlative control. 
The soprano's runs are fleet and clear, as evidenced on "Da Tempeste," also from  Guilio Cesare in Egitto, in which Cleopatra's exults over her union with Julius Caesar. Sung with wide-ranging cadenzas and quickly rendered coloratura, this is tailor-made for Piau. "Scherza in mar la navicella," from Lotario, is another showcase for fast-paced and wide-ranging singing that is as exciting as it is exactingly performed. "Ah! Mio cori," from Alcina, is a riveting twelve-minute scena that features Piau's singing at its most richly hued and dramatic.
Jérôme Correas leads Les Paladins with considerable flexibility, the ensemble turning on a dime to match Piau's use of rubato. The instrumental pieces they present as interludes, excerpts from Concerto Grossos and the overture to Amadigi Di Gaulo, display Les Paladins to excellent advantage, playing nimble French overture rhythms in the overture and plangent dissonances in the G-minor concerto movement. They have a well balanced sound that is lustrous while being period-informed. 
Some aria collections are grab bags or greatest hits recordings. Thoughtful curation is a welcome alternative that, happily, seems to have become more frequent. Handel: Enchantresses is ideal in this regard, in that it explores a different facet of Piau's artistry while presenting arias that are, in many cases, underserved treasures. Highly recommended. 
-Christian Carey