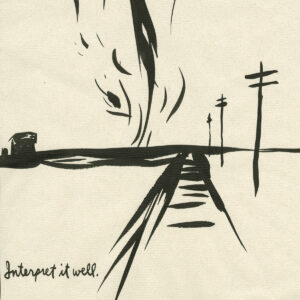 Ches Smith
Interpret it Well
Ches Smith, percussion and electronics; Bill Frisell, guitar; Mat Maneri, viola; Craig Taborn, piano
Pyroclastic Records
Percussionist Ches Smith was previously working in a trio with violist Mat Maneri and pianist Craig Taborn. In 2018, guitarist Bill Frisell heard them live and wanted in. The resulting quartet had to deal with the vicissitudes of the pandemic; their 2020 sessions weren't released until 2022. Every eighth note is worth the wait.
Smith plays drums and non-pitched percussion. He is also a talented vibraphonist. It makes a big difference that a bass player isn't part of the proceedings. Taborn, Frisell, and Maneri sometimes emphasize a bass line to fill in for this absence. For the most part, the texture they inhabit doesn't imitate a classic quartet, instead creating its own, inimitable thing. Interpret it Well is named after the 1987 drawing by Raymond Pettibon that appears on the recording's cover. The title track employs multiple rhythmic layers, with Taborn creating a steady pulse while the others polyrhythmically depart from it. There are searching solos from Frisell and Maneri and Smith creates a rollicking groove at the drum kit. Another of the extended cuts on the recording, "Mixed Metaphor," features a long instrumental introduction by Frisell, with other instruments gradually entering from the background to join him. Taborn and Maneri each take solo turns, the pianist creating intricate textures while the violist plays with particularly fiery enthusiasm. Smith urges them on with a strong backbeat.
"Clear Major," begins with Smith on vibraphone alongside the rest of the quartet, all playing just as the title suggests. Things get thornier as they progress, with the infiltration of sinuous chromatic lines played by Frisell and Maneri, clusters forcefully played by Taborn, and fast triplet percussion fills by Smith. The mid-section moves towards bluesier gestures, with Taborn playing seventh chords and Maneri inflecting his own grooves with trademark microtonality. Frisell gets in on the fun by dovetailing Maneri's riffs in the same register. The texture dissolves into arpeggiations and terse rhythmic interjections, once again outlining the home key with greater clarity, with Taborn repeating an impressionist harmony over and over. They hang out in this aphoristic atmosphere for a good portion of the piece's second half. There is a long fade that ends mirroring the beginning's tonal ambience.
"I Need More" uses a tune based on the spoken rhythm of the title, an old-fashioned technique that is deployed in anything but an old-fashioned sound world. That said, there is a thread between the playing here and more traditional – say post-bop- gestures. It is fascinating to hear how the quartet is able to encompass this change with such subtlety and skill. The climax teases going off the rails only to reassert the tune in unison riffs and end the piece with interlocking ostinatos.
"Morbid" is more chamber music than jazz, with a modal and mysterious sound world that shares more than passing references to Arnold Schoenberg and George Crumb. That "Morbid" is spontaneous, instead the careful composition of its influences, makes the expressionist result all the more stirring.
Two short pieces begin and end the recording. Taborn and Frisell create a loping groove on "Trapped" that is punctuated by repeated chiming from vibes and Maneri sneaks in with a few repeated gestures. Like an unwinding music box, the piece comes apart at the end. On "Deppart," there is instead a surface that takes time to cohere, almost like the clock winding up here into another corruscated set of repetitions.
Interpret it Well is one of the finest creative music releases thus far in 2022. Look for it on many year-end lists.
-Christian Carey