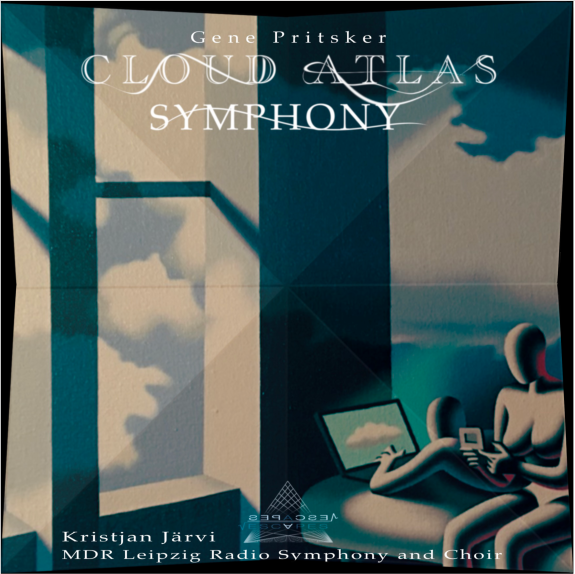 NEscapes Records has released Cloud Atlas Symphony, by Gene Pritsker, performed by the MDR Leipzig Radio Symphony and choir, conducted by Kristjan Jarvi. Some ten years in the making and based on music from the film 'Cloud Atlas' by Tom Tykwer, Jonny Klimek and Reinhold Heil, Cloud Atlas Symphony is a re-imagining of the film music into the wider context of a contemporary symphonic performance. As the composer writes in the liner notes: "I wrote this symphony because I was inspired by this story, by this movie and by a new concept of taking music, that was created specifically for film, and re-interpreting in a more abstract symphonic context. Putting some of this material into the more conceptual world of a symphony."

Gene Pritsker has been a presence on the new music scene for many years as the founder of Sound Liberation and the Co-Director of Composers Concordance. He has written over 800 compositions and has a busy performance schedule in the US and in Europe. His work is not limited by genre or category and often crosses boundaries. Pritsker is at home with mostly smaller ensembles, but has also written chamber works and pieces for larger musical forces. Cloud Atlas Symphony, although owing much to the original film score, clearly qualifies as one of his more ambitious projects.

The first movement, "Evolving", is typical of the entire symphony. All of the orchestra sections participate, often in layered phrasing and with strong dynamics. The brass and percussion are featured in an opening full of warning and premonition. As the tempo increases, great masses of sound build up, leading to a climatic cymbal crash. The woodwinds then enter with short, active cells while sustained notes in the brass echo the opening. There is a grand feeling to all of this; a majestic portrayal of nature expressed in the formation of high cloud banks. The texture ebbs and flows as different sections of the orchestra enter and exit, and this produces an active sense of evolution. Clouds are portrayed here as serious weather, never angry or menacing, but possessing a raw, untamed power. The orchestration is forthright and muscular, with gestures reminiscent of the first movement of David Diamond's Symphony No. 1.

"Meditation", the second movement, retains the same general form but is much more subdued. Soft, calming strings open with a quiet, flowing feel, followed by an expressive violin solo. Tension is introduced with a slightly dissonant clarinet passage and the theme is picked up by the horn. There is some really lovely orchestration here resulting in a sweetly introspective feel. A lush symphonic palette is liberally employed and this is also the case for many of the other movements. Pritsker happily piles up the sounds as if he is afraid of losing them for lack of use, but always with a good sense of color and balance. The playing by the Leipzig Radio Symphony is controlled and precise throughout.

"March", the sixth movement, opens with slow piano chords in foreground against sustained strings underneath. This has an introspective, nostalgic feeling and the piano leads with declarative phrases in simple, spaced chords. At 2:31 the lower brass dominates with a series of long soaring lines. Woodwinds are above in staccato counterpoint and this leads to a more purposeful feeling, as in a slow but resolute march. This piece starts quietly and builds continually into a final statement from the brass that is full of power and triumph at the finish.

Some movements betray a more experimental influence. "Groove Travelers", for example, has a distinctly percussive nature with gruff rhythms dominating in the foreground. Other movements are variously mysterious, dramatic, nostalgic or purposeful – all artfully add to the overall cloud portraiture. Capturing the variations of ever-changing cloud formations is a formidable task, both in film or in music. Cloud Atlas Symphony applies a full range of contemporary orchestral colors to create a vivid listening experience that convincingly evokes the majesty of clouds in nature.

A digital release of Cloud Atlas Symphony can be found here.