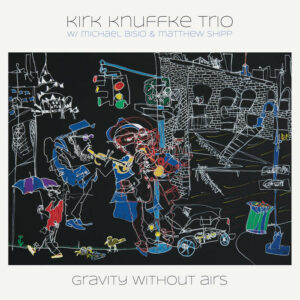 Kirk Knuffke Trio
Gravity Without Airs
Kirk Knuffke, cornet; Matthew Shipp, piano; Michael Bisio, bass
Tao Forms
Cornetist Kirk Knuffke plays his instrument with equal versatility to the more common trumpet, presenting a wide range of compass, dynamics, and articulations that leave his work continually fascinating. On Gravity Without Airs, a title taken from Marcus Aurelius, he joins with pianist Matthew Shipp and bassist Michael Bisio. Many of the compositions on the recording are Knuffke. The other pieces are spontaneous improvisations. There is a permeability between composed and improvised selections. Knuffke brought the music to the recording date without sharing it with his collaborators first. Reading from the stand provided inspiration for the subsequent free play, making Gravity Without Airs of a piece. 
The title track is an odyssey that reveals the simpatico nature of the trio. Knuffke unthreads long phrases of melody. Partway through, this is replaced by shorter motives that Shipp responds to in counterpoint. Soon things get fiery and move uptempo, with Bisio pressing forward with a walking line. Shipp supplies cascading descending chord progressions to counterbalance Knuffke's flights aloft. A syncopated repeated chord provides a little bit of space before the descending progression is resumed, this time with Knuffke following Shipp's suit and changing the direction of his own lines downward. Ostinatos from Bisio and Shipp provide accompaniment to altissimo playing from Knuffke, closing out the piece far away from its beginning. 
Another piece on which they stretch out is "Birds of Passage." It has a dramatic opening, with Bisio playing glissandos, Shipp dissonant chords that at times near clusters, and Knuffke wailing in his upper register. His facility with sixteenth notes is impressive and his soloing moves in different tempo relationships to Bisio and Shipp. All of a sudden, the storm subsides to a single repeated note from Shipp, who shortly begins to create a slow, single line solo over spacious voicings. Knuffke rejoins, channeling the early jazz tradition of the cornet with flourishes that eventually move back into greater angularity. Shipp continues to develop repeated note ideas while Bisio explores smaller ranges of sliding tones. The trio moves downward, Bisio inhabiting the bass's low register, Shipp creating whorls of harmony, and Knuffke eventually responding with a mysterious, lyrical solo. The piece ends with an enigmatic twist.
"Sun is Always Shining" takes the trio into more hard bop terrain. Knuffke plays keening lines over fifths and octaves repeated by Bisio and fluid countermelodies; tangy harmonies, and oscillations in the bass register are contributed by Shipp. "Another River" moves the trio away from bop to free playing with incisive attacks and angular overblowing from Knuffke eliciting adventurous playing from his colleagues. The group excels at intensity, but their ballads are sumptuous too. The slow sustain of "Paint Pale Silver" provides a miniature utterance akin to the Wandelweiser group. 
Knuffke, Shipp, and Bisio know each others' playing well, and it shows on Gravity Without Airs. That said, they demonstrate that they still share musical terrain to explore. Recommended.
-Christian Carey