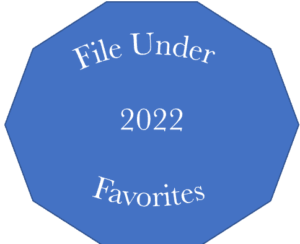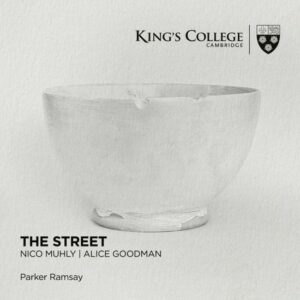 Nico Muhly – Alice Goodman
The Street
Parker Ramsay, harp; Rosie Hilal, narration;
The Choir of King's College, Cambridge, Daniel Hyde, Director of Music
King's College, Cambridge, 2xCD
The Street, Nico Muhly's first collaboration with Alice Goodman, a librettist best known for her work with John Adams, presents a modern retelling of the Stations of the Cross. The first CD sets the mood for the drama to come, with performances of the Bach C-minor Partita No. 2 and the instrumental version of The Street by harpist Parker Ramsay. Ramsay is a gifted performer – his recordings include a fluent rendition of the Goldberg Variations. His interpretation of the partita revels in glissandos and ornaments, both befitting the harp. The Sinfonia displays luxurious rubato, while the Allemande, Courante, and Rondeau jubilantly dance. The isolation of polyphony is particularly clear in the Sarabande, and the Capriccio provides a virtuosic conclusion.
Playing a solo harp version of The Street, Ramsey brings out the pathos of the Stations of the Cross in a supple emotive performance. On its own, the harp is compelling and communicative; even more so as part of the full version which follows. 
Goodman's text moves between ancient and contemporary voices who describe the barbarity of Jesus's tormentors and the varied responses of the crowd and his followers. I found this distillation of a ritualized text at the core of Lenten observances as part of a modern discourse to be affecting. It describes the capacity for good and evil that the everyday person, meaning all of us, wrestle with today. Rosie Hilal's narration is exquisitely enunciated, providing each of the stations with its own narrative resonance. Muhly's incorporation of chant melody, performed by the Choir of King's College, directed by Daniel Hyde, supplies a liturgical anchor that complements the instrumental and recited portions of the piece. The choir provides its customary sonorous delivery, allowing the chant lines to breathe and take on a gradual portentousness. 
Muhly began his musical career as a chorister and his affinity for liturgical music is on display here, as is his expert writing for the harp. It is one of the composer's most compelling works to date. 
-Christian Carey