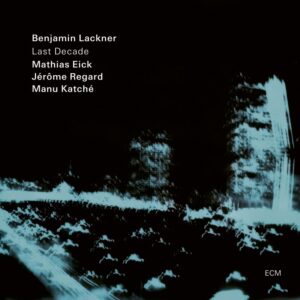 Benjamin Lackner
Last Decade
Benjamin Lackner, piano; Mathias Eick, trumpet; Jérôme Regard, bass; Manu Katche, drums
ECM Records
Pianist Benjamin Lackner makes his ECM debut with Last Decade. Joined by a stalwart group of collaborators, many of them ECM alumni who have appeared on many of the label's releases, Lackner is in an ideal situation to present his compositions, as well as one by bassist Jérôme Regard. A few of the constraints the pianist placed on himself, no electronics, a staple of his previous recordings, and the addition of trumpeter Mathias Eick to his usual piano trio format, have afforded him the chance to stretch. Lackner has described rethinking harmonic voicings and allowing space for a melodic voice as aspects that were spurred on by Eick's presence.
Lackner's originals move away from his prior post-jazz leanings back toward the modern jazz tradition. The recording's opener, the smoky "Where Do We Go from Here," begins with a slow tempo trumpet solo with a memorable melody that is then deconstructed by Lackner, with the two exchanging mid-tempo lines.Katche and Eick are well known to each other, having played on many ECM albums together, some as leaders and others as collaborators. Regard has been the bassist in Lackner's groups since 2006. The two duos combine as an acoustic quartet that is distinctive and well-attuned. Lackner's flourish-filled solo on "Circular Confidence," followed by the slow build solo that follows from Eick, who emulates the climax of the piano material, is an engrossing piece. "Hung up on that Ghost" includes prominent bass pedals and a slow intro from Lackner, followed by a mid-tempo main section in which Katche provides variety from the kit. Gerard and Lackner continue their colloquy with burnished melodic play from the bassist. Eick's belated arrival is no less welcome, his solo here angular, adding motives for the others to explore only scarcely outlined in the changes. The group ends up playing their material in counterpoint, creating a quilt of amalgamated textures.
The title track begins with a chordal presentation of the melody, with Gerard and Katche creating an undulating rhythmic canvas. Lackner's solo gradually moves through 3:2 passage work to fleetly rendered arpeggiations. As it builds, the pianist burrows into the middle of the piano, ferreting out chromatic seconds. Eick's solo instead begins with a light touch, gradually moving into the upper register but maintaining a piano dynamic. The piece ends with his solo, Katche providing a snatch of sizzle as punctuation.
Gerard's composition "Émile" finds the bassist playing a funky solo reminiscent of his work with Lackner on previous outings. It is succeeded by the album closer, "My People." Initially tried out in rehearsal in the polyrhythmic meter 11/4, the recording's introduction instead shows a free rhythmic context in which Katche guides them without a strict time. Eick's solo responds to this wayward context with free jazz lines that eventually are coaxed by the drums into a swinging post-bop essay. Lackner interposes lines with Eick, the two here playing some of the most creative music on the album. The tempo and demeanor shifts to a mournful minor-key ballad, sending the conclusion satisfyingly sideways.
-Christian Carey