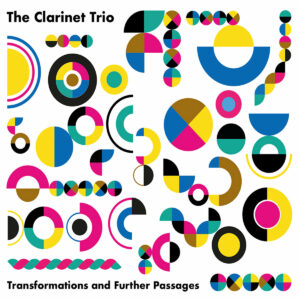 The Clarinet Trio
Transformations and Further Passages
Jürgen Kupke, clarinet; Michael Thieke, alto clarinet, clarinet; Gebhard Ullmann, bass clarinet
Leo Records LR 921
Gebhard Ullmann is celebrating his sixty-fifth birthday with the release of three albums, Transformations and Further Passages on Leo among them. The Clarinet Trio are a superb group of improvisers, Jürgen Kupke and Michael Thieke are eloquent foils for Ullmann. Unlike some other Ullmann outings, where he clearly leads the proceedings, this is a context in which everyone collaborates and gets to take solo turns. In fact, three of the tracks are solos, one for each member of the trio. While some pieces are improvised, much of the music-making here is based on compositions by European jazz composers.
"Collective #13" is one of the former, and finds the musicians exploring tone colors overlapping in a compound melody, vibrato and overblowing creating a shimmering texture. Upward glissandos and a howl from the bass clarinet punctuate the close of the piece, which concludes with a distressed unison detuned with subtle pitch bends. 
In Joki Freund's "Cleopatra," a bebop moto perpetuo with the tune overlapping dominates. Likewise, "Virtue," by Manfred Schoof, explores a swing ballad with tasty changes and a bit more tension in the solos. "Set 'em Up," by Albert Mangelsdorff, is a quicksilver bebop tune, harmonized by the trio with great suavity. Once again, when two players drop out, the remaining soloist performs in a more experimental vein. Eventually, "Set 'em Up" moves into a skronking trio before a more traditional outro. 
"Tension/Varié," also by Mangelsdorff,  initially combines free passages with a jaunty heterophonic refrain, then there are long stretches of sustained notes and mercurial flurries. The tune slowly emerges again from the texture, leading to a new section of chorale-like gestures. A loping accompaniment gives the tune, now floridly embellished with howling altissimo gestures, a Middle Eastern feel. The denouement combines the rhythmic groove with the previous chorales. "Tension/Varié" is a wide-ranging and satisfying musical journey.
There is a liveliness and puckish sense of humor, even in pieces that allow all three clarinetists to caterwaul with abandon. "Get Up, From Now On," by Karl Berger, has a bluesy riff that is explored for much of the piece. But there are free jazz breaks where the trio trade licks and howls. The juxtaposition is surprising, but left turns such as these seem to be the trio's calling card. 
"Solo 1," performed by Thieke, traverses the compass of the alto clarinet in jangling lines that are punctuated by stentorian low notes. Ullmann's "Solo 2" begins delicately with whiffs of birdsong, only to be ruptured to wakefulness with fortissimo bass notes. Microtonal interpolations close the solo, a brief essay with a bounty of material. It segues into Rolf Kühn's "Don't Run," which fleshes out the experimental gestures of Ullmann's solo. Mangelsdorff's "Theme from Vietnam" crests and subsides in waves of interactive melody and bent notes. It is followed by Kupke's "Solo 3," in which disjunct lines are delicately deployed with repeats of the head motive. It is an enigmatic close to an exploratory album. It makes one eager to hear more of Ullmann's sixty-fifth birthday celebrations.
-Christian Carey