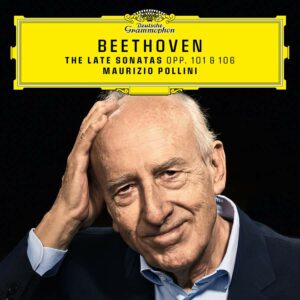 Beethoven Piano Sonatas, Opp. 101 & 106
Maurizio Pollini
Deutsche Grammophon
Maurizio Pollini turned eighty during the recording sessions for this CD in 2021 and 2022. The great pianist spent forty years doing his first recording of all thirty-two piano sonatas by Beethoven. He returned to the last three during the anniversary year of 2020. Now, Pollini has decided to document two of the late sonatas again for Deutsche Grammophon. Redundant? Hardly. These renditions are distinctive, demonstrating Pollini's assured technique and interpretive powers in recrafting these sonatas, which he has played for so many years.  
Generally here, Pollini selects tempos on the fast side. He even plays the Hammerklavier, Op. 106, up to its metronome markings, often thought impractical by previous interpreters and musicologists. In the A Major Sonata, Op. 101, this choice is rewarding as well. The second movement, Vivace alla marcia, displays a jubilant swagger, and the final movement, an Allegro marked Geschwind (quick like the wind) is lightly articulated and quickly rendered, displaying both virtuosity and delicacy. The first and third movements, an Allegretto ma non troppo and Adagio ma non troppo, pay attention to the non troppo ("not too much") designations, providing both with a lyrical, legato approach to flowing melodies. 
The supposed malfunctioning of Beethoven's metronome could be an understandable assumption at the speeds suggested in the score for the Hammerklavier Sonata. Under Pollini's hands, the tempos seem altogether natural, if quite impressive. The pianist occasionally allows the principal theme of the first movement to settle for emphasis. Apart from that, blazing virtuosity persists throughout. After a bravura opening, Pollini plays the Scherzo with mercurial grace. He delicately pulls back the dynamics for a chromatic interlude, only to attack the forte close to the section with powerful staccatos. From this miniature dance movement, the sonata then supplies a fifteen-minute long adagio movement, quite typical of the melancholy, ruminative slow movements of Beethoven's late style. Pollini adopts poignancy without undue sentimentality, shading the various sections with a variety of dynamics and articulations. The last movement begins Largo, a modulatory introduction with several recitative-like passages. It then is succeeded by an ebullient Allegro finale with fugal passages that Pollini takes clearly but at dizzying speed. There is a triumphal quality in the pianist's rendition that is glorious to hear. Not bad for an eighty year old!
Some chaff at the practice of recording and re-recording the standard repertoire. When it is done as Pollini has here, I say bring it on. 
-Christian Carey