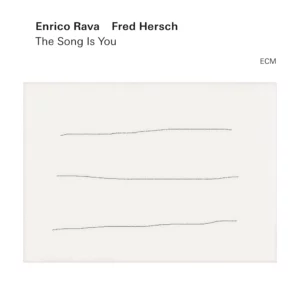 The Song is You
Enrico Rava and Fred Hersch
CD/LP
ECM Records
ECM Records has begun resuming production of their releases as vinyl LPs. This is the first I am reviewing. As one expects from ECM, its sound quality is superlative. Those who remember ECM's vinyl releases in the pre-CD era will welcome this return. In addition to production values, another aspect of ECM's curation ethos is bringing together artists from their roster to make music together. Both trumpeter Enrico Rava and pianist Fred Hersch have created memorable releases for ECM. Pairing them is an inspired choice. The Song is You features songs by each artist, improvisation, and several standards. 
"Retrato em Branco e Preto," by Antonio Carlos Jobim, is given a rhythmically pliant rendering, with Rava's solo swinging in sultry fashion and Hersch providing a subtle outline of the Bossa Nova, comping with generously attired harmonies and playing  a solo cut from the same cloth as the trumpeter's. When Rava rejoins, the dance picks up slightly and he crafts a solo built out of mid-register melodies. 
An improvisation follows, with Rava playing dissonant lines with trills while Hersch creates treble register material, single lines, glissandos, and tremolos. Rava deftly deconstructs the pianist's material. The final section is spacious, with piano jabs and sixteenths in the trumpet slowly moving to a final, held harmony. George Bassman and Ned Washington's "I'm Getting Sentimental Over You" continues the musical contest. Once again, one is struck by how quickly both players can assimilate each other's material and craft an overarching idea. "The Song is You," by Jerome Kern and Oscar Hammerstein, begins with overlapping cascades of melody. Howling upper register playing from Rava is responded to by Hersch with alternate scales in the upper register; whole tone, the diminished scale, and dissonant tremolos. After this exploration, the two take up the tune in traditional ballad form. The coda returns to the former, outside, demeanor. 
Two originals follow. Hersch's "Child's Song" is a Latin ballad with a gentle melody. Rava plays it with fetching lyricism, then takes a slow solo. The piano notes outline the tune just behind the trumpet, and then take up a limpid minimal ostinato. Midway through, Rava and Hersch perform a chromatic descent, followed by a disjunct trumpet cadenza. Gradually there is a return to the ballad texture, a countermelody appearing in Hersch's left hand, followed by thick chords and a single line melody. Hersch's own cadenza slows the tune down and accompanies it with mixed interval chords. Rava rejoins for a final chorus that gently brings the piece to a close. Rava's "The Trial" is begun by Hersch with punchy two-voice counterpoint. Rava enters, taking up the main melody, which juxtaposes nicely with Hersch's invention. All too soon, the duo complete the piece with a mischievous cadence. 
Hersch takes a long solo on Thelonious Monk's "Misterioso," using its undulating lines to craft a sinuous solo. Rava joins, bringing out the blues quality of the tune. Hersch responds in kind, comping to give the trumpeter room. Eventually the two split up the tune, creating a pendulum of melody. The closer is another Monk tune, "Round Midnight." Hersch approaches the tune playfully, warping the tempo, playing trills, and crafting imaginative chord structures. At the end, Rava once again brings the tune back down to earth to finish.
Rava and Hersch are a simpatico pairing. One could envision them continuing in a duet context or adding some more of ECM's roster to the activities. Hooray for vinyl.
-Christian Carey