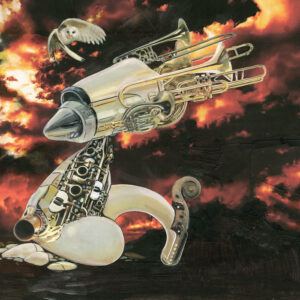 Chamber Music from Hell
Chris Opperman
Chris Opperman, Synclavier, piano 
Kurt Morgan, programming, electric bass 
Mike Keneally, electric guitar 
Ryan Brown, drum set 
Jason Camelio, trombone 
Brianna Tagliaferro, cello 
Marco Minnemann, drum set 
The New Jersey Percussion Ensemble (Peter Jarvis, Payton MacDonald, Mike Aberback, Paul Carroll) 
Ursula Joy Opperman, Synclavier 
Purple Cow Records
When you have two Synclavier players on a recording that begins with a comic spoken introduction ("Where is Everybody?" – these reappear periodically in a robotic voice), it is tempting to suggest that the composer, Chris Opperman, must be writing a post-Zappa homage. Without a doubt, Zappa, Mike Keneally, Adrian Belew, and other artists in the art rock vein are sources of inspiration for Opperman; Keneally even makes a cameo guitar solo, tearing it up  on "Are We Living in a Computer Simulation?" 
These inspirations are only part of the mix, alongside Opperman's own distinctive post-tonal concert music. He creates vivacious, complex, and tautly compact pieces on Chamber Music From Hell. A series of number compositions, each around a minute, are cases in point. They combine an acerbic pitch language with pith and wit. "Shades of Beige" is densely scored, and "Longest, Blackest Scarf" is a windswept piece with the rhythmic challenges that Babbitt posed for the RCA synthesizer: here the music is half live/half Synclavier. "Spider Yo-yo" is a grooving canon,  "Dancing Mimic" an ebullient piece for flute and cello, and "Hooded Stick Thinker" adds synth to this complement, with speedy lines in octaves concluding the set. 
New Jersey Percussion Ensemble performs "Owl Flight," with scratches, timpani thrums, and a slowly stroked cymbal introducing the nocturnal sojourns of this most mysterious bird. This is followed by a mid-tempo rhythm with a florid tabla solo played atop it. A full-throated blast from the whole group ends the piece; perhaps the owl has found its prey. "Waking Up" begins sotto voce, a s synth pad providing a modal ostinato over which soaring string melodies are layered. "The Black Ball" is a polymetric prog rock song with more than a hint of "Supper's Ready" by early Genesis; Ryan Brown plays a rousing drum solo, then joined by bassist Kurt Morgan, and then a full onslaught of keyboards. 
Chamber Music from Hell concludes with another suite, the Cribbage Variations. The first few are examples of Klangfarbenmelodie, with angular melodies corruscating throughout. "Mid-December" includes a puckish flute solo played in canon with synth. "Babbitt Time" also finds the muse of the RCA Synthesizer irresistible; Opperman crafts a compelling rendition of Milton Babbitt's pitch language too. "At the Grave of Anton Webern" adopts the pointillism of the Second Viennese composer and is, of course, short in duration. 
Opperman's piano takes center stage on "The Play," while "Level Pegging" is a series of synth fanfares. "Muggins" features fast flute flourishes and synth brass interjections. "The 144,000" is a piano solo which begins with mid-register ostinato, followed by thunderous octaves, and then a reprise of the gentle repetitions. "Knock knock Bach" is a fugue for synthesizer and trombone, a demented recasting of the second Well-tempered Clavier fugue. Cribbage Variations' finale, "The Show," features dissonant arpeggiations, at first in the soprano register, then in bass octaves. These two registers overlap, and a huge crescendo moves the piece into major with the entire ensemble playing a syncopated groove. The chords are spiced up with extended tones and a gradual diminuendo brings the piece, and album, to a close.
Opperman is an imaginative arranger of the heterodox forces at his command. His music is varied and always distinctive. Recommended.
-Christian Carey