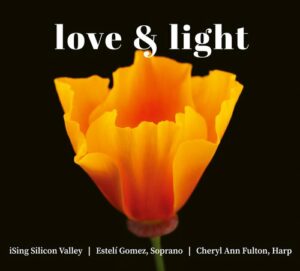 love & light
iSing Silicon Valley, conducted by Jennah Delp Somers
Esteli Gomez, soprano; Cheryl Ann Fulton, harp
Avie Records
On love & light, the girl's choir iSing Silicon Valley performs a program of ancient liturgical chants and Latin motets by contemporary composers. Many include the dulcet accompaniment of harpist Cheryl Ann Fulton, who arranges early music for the harp. Os Mutorum by James Macmillan opens the recording with a gentle spirit, introducing the listener to a program emphasizing healing and uplift. Star power and fetching lyrical singing is provided by soprano Esteli Gomez. Her performance on Kile Smith's Psalm 113 is a particular standout. 
Jennah Delp Somers has fashioned an impressive program with iSing. Consisting of three hundred girl singers, it emphasizes recruiting from different cultures and socioeconomic backgrounds to bring communities together. Not only is this worthy advocacy, but iSing performs beautifully under Delp Somers's direction. Performing challenging yet abundantly appealing works  such as Kenyon Duncan's hocket filled chorea lucis, Gabriel Jackson's ebullient Ubi Flumen Praesulis, and the luscious, harmonically intricate Lux Aeterna by Sunji Hong, the group displays a commanding presence that belies their ages. The latter piece was new to me, and has become a particular favorite.
Like much of Hildegard's music, O Virtus Sapientiae has a wide ranging melody. Gomez sings it with command and  rhythmic fluidity, accompanied by recessed voices carrying a sustained chord for accompaniment. Anonymous early music is arranged for the ensemble and harp. O Maris, Stella Maris, on which Gomez sings the chant, is memorable among these. Also affecting is a harp solo based on O Columba. The group performs Salve Virgo Virginum with immaculate diction and pacing. 
Monstra Te Esse Matrem, by Kile Smith features polychords interspersed with solo sections by Fulton. Soft dynamics are performed with exquisite control. Three pieces by Andrew Smith (no relation), Ave Regina Caelorum, Ave Maria, and Regina Caeli, round out the program. Ave Regina Caelorum combines chant with chordal stacked seconds that in places sounds like the tintinnabuli style of Arvo Pärt. Ave Maria once again harmonizes chant with lush chords. The high-lying soprano line is impressively performed. Regina Caeli begins with the chorus singing chant that is succeeded by overlapping lines and bright harmonies. 
If more communities had this kind of program for young people, that fosters connections but cedes nothing of musical excellence, think of what America's support for the arts would look like. Recommended
-Christian Carey