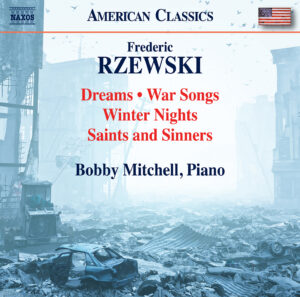 Frederic Rzewski
Late Piano Works
Bobby Mitchell, piano
Naxos
Frederic Rzewski (1938-2021) was a gifted composer and pianist. His oeuvre included pieces in many genres, but it is his piano works that, to date, are best known. Rzewski premiered a number of pieces, but in his later years deputized pianist Bobby Mitchell, dedicating works to him and trusting his talent to be sufficient for their often virtuosic and complex interpretive demands.
Rzewski's pieces combine modernism and vernacular styles, particularly leftist folk songs, often in sets of multifaceted variations. War Songs (2008) includes songs that are both pro and anti-war. It has an Ivesian cast, with the materials layered in a welter of dissonance and complex verticals. Mitchell's performance is vivacious, reveling in the many quotations, pointing up the places where pro and anti-war songs wage their own conflicts.
One of the composer's large piano cycles, Dreams, is represented here by its last two pieces: Ruins and Wake Up. These pieces were written for Igor Levit in 2014, and they provide a contrasting pair. Ruins seems to be a disturbed swath of unrest, filled with dissonant counterpoint, thunderous bass notes, and angular lines. Besides the directive connotation of Wake Up, it is also the title of a Woody Guthrie song that serves as the piece's opening gesture. 
Winter Nights (2014) was composed to celebrate Mitchell's thirtieth birthday. This triptych is inspired by the tale about Bach's Goldberg Variations, in which his student Goldberg played them in order to cure his patron's insomnia. I've often wondered if the vivacity of the Goldergs wouldn't make for toe-tapping rather than snoring. Winter Nights too has long stretches that seem in homage to Carter's Night Fantasies, post-tonal, rife with trills and passagework. Elsewhere are long stretches at extremely slow tempos, with gradually unfurling, attenuated single-line melodies. Mitchell does a superb job rendering these detailed scores in vivid fashion.
The recording concludes with Saints and Sinners (2016). Originally written for Milton Schlosser, it was performed by Mitchell at Rzewski's funeral. A substantial piece cast in a single movement, it recalls mid century neoclassical Americans such as Roger Sessions, Arthur Berger, and William Schuman. In a sense then, it is a piece that comes full circle, recalling Rzewski's initial impetus and training to compose. Late Piano Works is excellent in terms of curation, quality of music, and performance. Recommended.
Christian Carey