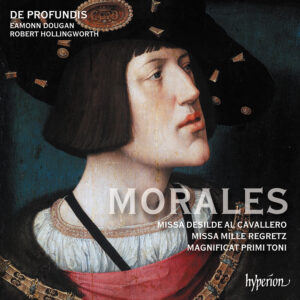 Morales: Missa Desilde al cavallero, Missa Mille Regretz, Magnificat Primi Toni
De Profundis, directed by Eamonn Dougan and Robert Hollingsworth
Hyperion Records
Cambridge's De Profundis has quickly become a go-to ensemble for Spanish vocal repertoire from the Renaissance. An all-male group with a sonorous sound that includes an incomparable bass section (hence the group name), they have released extraordinary recordings of Vivanco, Esquivel, and Ribera. Now De Profundis is turning its attention to Cristobal de Morales (c. 1500-1553), with a projected 12-album project to record his masses and Magnificat settings. The first disc in the collection, released in 2023,  includes Missa Desilde al cavallero, Missa Mille Regretz, and the Magnificat Primi Toni.
Often nicknamed "The Golden Age," the mid-to-late Renaissance was indeed a fertile time for composers in Spain. During the first half of the sixteenth century, Morales was one of the finest of them. His music followed the death of Josquin and preceded that of Victoria, Lassus, and Palestrina. He held prestigious positions as part of the Papal Choir and at Toledo Cathedral, but according to musicologist Kenneth Kreitner, frequently suffered from illness that steadily caused a decline in his ability to perform his duties. Whatever ailment plagued Morales, he continued to compose until near his passing. Even in the sixteenth century, fifty-three-ish would not be considered a ripe old age. Still, Morales left behind a large body of compelling music. It should be exciting to experience it in the De Profundis edition. 
Mille Regretz is a famous chanson by Josquin, performed here with light instrumental accompaniment. Morales uses it to create a cantus firmus mass, a common form at the time in which a pre-existing piece of music was used in long note values throughout a mass. Here, it is offset by a newly composed superius part. There are two versions of the Sanctus and portions of the Agnus Dei, one in an earlier manuscript and then revised movements in the printed copy, which have helpfully been supplied here side by side for comparison. Morales likely preferred the later version, but the canonic material from its earlier incarnation is truly rousing. It is not surprising that this is Morales's most famous mass setting, both for its Josquin hat tip and extraordinarily beautiful music.
During his lifetime, Magnificat settings by Morales were even more highly regarded than his Mass settings. Written during his time in Rome in the Papal choir, Magnificat Primi Toni is quite dramatic in its declamation, particularly the "Fecit Potentiam." The "Quia Respexit" unfurls staggered contrapuntal entrances, a device that is used to stirring effect in a number of passages. Although the bass section has already been lauded, the countertenors sing with exquisite tone and control, as evidenced by the "Quia fecit mihi magna" and "Et misericordia eus." 
After two works among Morales's best known music, the CD concludes with a relatively obscure mass, Missa Desilde al cavallero, found in only a single copy. It deserves wider currency. Based on an anonymous 16th century Spanish song, the mass sits astride cantus firmus and parody types, an amalgam that Morales exploits with insightful creativity. An accompanied solo performance of the song is quite lovely, giving context to the mass that follows. Organ and bajón, an early version of the bassoon, provide accompaniment to the mass as well. The entire performance is compelling, but there are some highlights. The shimmering close of the Gloria, buoyed by corruscating lines, and the finely-tuned chords of the Credo's "Et incarnatus est," leading into a gently rendered Crucifixus. As was the custom, the Osanna sections feature buoyant fuga, followed by the incandescent ambience of the Agnus Dei movements. 
De Profundis will release the next volume of the Morales edition in 2024. In the meantime, revel in its auspicious beginning.
-Christian Carey