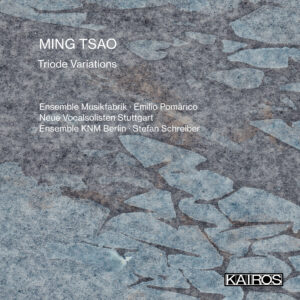 Ming Tsao
Triode Variations
Ensemble Musikfabrik, conducted by Emilio Pomárico
Neue Vocalisten Stuttgart
Ensemble KNM Berlin, Stefan Schreiber, conductor
Kairos Music
Triode Variations is composer Ming Tsao's third recording for Kairos, with another portrait CD on the way in 2024. It is a showcase of a relatively small timeframe, with pieces on it composed from 2016-2020. In his formative years Tsao trained widely, studying violin and viola with Ron Erikson, Guqin (Chinese zither) with Wu Zhao-ji, composition with Chaya Czernowin and Brian Ferneyhough, and electronic music with Mario Davidovsky. He ended up at University of California San Diego, where he received the Ph.D. in Music Composition. Subsequent to this, his music has been commissioned by prominent ensembles and featured at a number of festivals. Much of Ming Tsao's work has premiered in Europe, and three German ensembles record it here. 
The composer uses highly intricate procedures, which are copiously described in the release's liner notes. It involves using preexisting music, reversing and then modifying it to create something nearly unrecognizable to the original. Ming Tsao likens it to multiple palimpsests. Triode Variations (2019-2020) takes as its starting point Arnold Schoenberg's Variations for Orchestra. Over the course of three movements, two interludes, and a postlude, Ming Tsao explores a complex web of angular lines. The Schoenberg layer occasionally is asserted, but only for brief fleeting moments. Triode Variations is played with fine detail and bold assurance under Emilio Pomárico's direction of Ensemble Musikfabrik. 
The composer is fascinated with canonic procedures from the Medieval and Renaissance era, which is displayed in Das Wassergewordene Kanonbuch (2016-2017), in which intricate counterpoint is brought to play in each of the twenty puzzle canons. Once again, a reversal procedure is employed to further complicate the proceedings. The canons reference texts of Paul Celan, a twentieth century poet whose own cryptic procedures are an apt inclusion. Neue Vocalsolisten Stuttgart are required to perform extended techniques alongside complex linear interactions. Once again, the use of palimpsests successively glimpsed in the music is a fascinating technique that creates kaleidoscopic effects. 
Refuse Collection (2017), performed by the Ensemble KNM Berlin, conducted by Stefan Schreiber, is given an incisive, rhythmically taut performance. It is another reverse transcription of Schoenberg, this time his Begleitungsmusik zu einer Lichtspielscene, Schoenberg's only film music. The music is refracted through a metric grid based on the poem Refuse Collection (2004) by J.H. Prynne. 
For those interested in the construction of music by Ming Tsao, consult the detailed liner notes essay on his compositional language. For those who prefer to listen without preconceptions, Ming Tsao's music speaks for itself. 
-Christian Carey