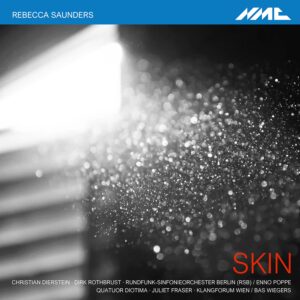 Rebecca Saunders
Skin
Christian Dierstein, Dirk Rothbrust, percussion
Rundfunk-Sinfonieorchester Berlin (RSB), Enno Poppe, conductor
Quatuor Diotima
Juliet Fraser soprano, Klangforum Wien, Bas Wiegers, conductor
NMC Recordings
Berlin-based British composer Rebecca Saunders often creates pieces with the capacities of specific collaborators in mind. Her latest recording for NMC, Skin, features three of her "calling card" pieces from the 2010s, performed estimably by their dedicatees. Saunders is one of the composers sometimes described as part of the Second Moderns, creators who revitalize the tenets of modernism in the light of Postmodernism and New Complexity. Pieces consist of a plethora of extended techniques, alternating aggressive gestures and what Tom Service has described as "evanescent shimmer" with music of "violence, stillness, and violent stillness." Saunders often references the tactility and embodiment central to her work: the pressure on a bow, the weight of different attacks on the piano, the breath, and even the pressing together of shoulder blades before playing the accordion. 
The orchestra piece Void is performed here by percussionists Christian Dierstein and Dirk Rothbrust and Rundfunk-Sinfonieorchester Berlin, conducted by Enno Poppe. They do an excellent job rendering and balancing the complex textures of the work. The prevailing ambience is eerie, led by shimmering metallophones and forceful drumming. In creating their parts, Saunders worked closely with Dierstein and Rothbrust, which is apparent in the complex choreography of shifting instrumental combinations they execute. Brittle harmonies in the strings, angular trumpet lines, and soft wind chords shadow the soloists, combining to create a varied accompaniment.
Unbreathed includes a number of quotes as its performance note,  a list of by Saunders:
Inside, withheld, unbreathed,
Nether, undisclosed.
Souffle, vapour, ghost,
hauch and dust.
Absent, silent, void,
Naught beside.
Either, neither, sole,
Unified.
This is followed by quotes by Marukami and Beckett, who is a particular touchstone for the composer. Performed by Quatuor Diotoma, Unbreather frequently employs glissandos, often overlapping, to create a fluid, microtonal surface. An abundance of special techniques are used, aggressive attacks and alternations of bow pressure prominent among them. The juxtaposition of dynamic levels, from vicious fortissimos to near-silence, as well as the unpredictability of gestures, lends to the idea of a diffuse form. The conclusion is hushed, suggesting a use of anti-climax that too is Beckettian. 
Skin, for soprano and 13 players, is the first piece that I heard by Saunders. It remains inspiring and surprising every time I have listened to  Juliet Fraser's performance of its tour-de-force vocal part. Virtuosity is ubiquitous, with wide-ranging lip trills, sprechstimme, and high-lying sung passages all requiring tremendous control. Fraser delivers, in a robust reading that belies the demands that Saunders requires. Klangforum Wien, conducted by Bas Wiegers, both supports and interacts with Fraser. The trumpet, in particular, often doubles the soprano's held notes, only to distress them with microtones. Emphatic percussion, frequent glissandos, and spectral chords create an ominous atmosphere.
Saunders has written a number of compelling pieces, but the selections on Skin are some of her very best. The disc serves as an excellent introduction to her music. Recommended.
 "A Guide to Rebecca Saunders's Music," by Tom Service. The Guardian, 5 November, 2012.
-Christian Carey