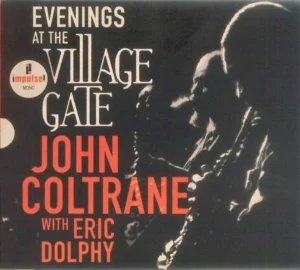 Evenings at the Village Gate
John Coltrane with Eric Dolphy
McCoy Tyner, piano; Reggie Workman and Art Davis, bass; Elvin Jones, drums
Impulse! Records
Evenings at the Village Gate is a rarity that was curated by the New York Public Library. It is taken from test recordings of the Village Gate's sound system by producer Richard Alderson. Recorded on a single ribbon microphone, it documents eighty minutes of John Coltrane's 1961 residency at the venue, performed by the all-too-briefly united quintet lineup that augmented Coltrane's quartet with multi-reed performer Eric Dolphy. Bassist Jimmy Garrison is absent, replaced by Reggie Workman and, on the only live recording of "Africa," the addition of Art Davis to make a two bass grouping. Pianist McCoy Tyner and drummer Elvin Jones complete the group.
Hearing Coltrane and Dolphy soloing on "My Favorite Things" is an inspiring listen, the former's breathless phrasing on soprano saxophone and the latter's flute jabbing at melody notes, juxtaposed with fleet arpeggiations. Dolphy and Jones create a polymetric construction that buoys the tune's excitement. Coltrane played "My Favorite Things" many times. Later in 1961 he would record iconic renditions at the Village Vanguard. However, the version from the Gate finds his response to Dolphy's artistry giving the tune an entirely different flavor.
Dolphy plays the melody on "When Lights Are Low," on bass clarinet and explores the upper register of the instrument with impressive control. Likewise, Coltrane's solo pulls melodic variations out of the stratosphere and brings them down to earth with lightning fast scales. Tyner takes an imaginative solo that explores extended harmonies and variations on the tune. Tyner's solo on Impressions is also a standout, punctuating the rhythms that Jones emphasizes with short motives as well as virtuoso filigrees and seamless octaves.
With the rhythm section laying down a rock solid groove, "Greensleeves" starts with florid elaborations from Coltrane, only later revealing the Dorian tune with fewer adornments, Dolphy interjecting bass notes at its conclusion. Tyner takes an extensive, well-developed solo, once again saving the tune for last. Dolphy's solo plays with an angular tune that he develops in multiple registers, moving to the melodic refrain and then howling high notes. Coltrane matches these with altissimo shredding of his own. The two then join in a colloquy of blindingly fast arpeggios and overblowing. Coltrane takes the tune one last time, followed by a decrescendo from the rhythm section to conclude. Dolphy's addition to the proceedings is felt profoundly.
The recording of "Africa" apparently is the only live rendition extant. This is the only tune from the Village Gate sessions on which Coltrane plays tenor saxophone. In addition to the upper register playing and quicksilver scales he already displayed on soprano, his playing here also involves long melodic lines and low register punctuations. Workman and Davis trade off arco and pizzicato playing, remaining two distinct voices in the music. Jones drops out to allow them the chance for an extended duet. Tyner performs trills, chord solos, and repeating soprano register patterns. Jones is exuberant in exploring tremendously syncopated rhythms, particularly in his own solo turn. Coltrane and Dolphy create a contrapuntal duet to close the tune, rhythm section roaring beside them. It seems a pity that more live versions of "Africa" have yet to be uncovered, as this is certainly a highlight of the recording.
Evenings at the Village Gate is a treasure trove that provides a different perspective on 1961, a pivotal year in Coltrane's development of an extended approach to live performance. Had Dolphy lived longer, one imagines he could have played an integral part in Coltrane's later ensembles and recordings. For now, we must content ourselves with what is here, which is quite substantial and essential listening.
-Christian Carey