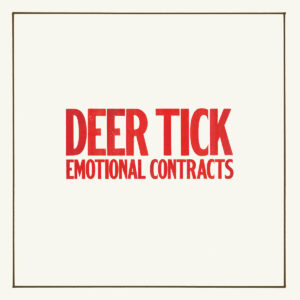 Deer Tick
Emotional Contracts
ATO Records
Deer Tick's first post-pandemic recording, Emotional Contracts (ATO), is produced by veteran Dave Fridmann, who has manned the console for the likes of Sleater-Kinney, The Flaming Lips, and Spoon. It retains many aspects of the sound Deer Tick has developed over the past two decades. A number of the songs are rousing rock anthems with a tinge of alt-country. "If I Try to Leave" falls into this category, but its lyrics chaff against the music's uplifting demeanor, with the narrator asking how they would cope if they left their life, family and all, behind. The lyrics of "If She Could Only See Me Now" are those of a traditional rock breakup ballad, but the music and vocal provide an indignant sneer, suggesting this relationship is truly in the rearview mirror. 
The lineup for Deer Tick has been steady. The band's founder singer/guitarist John McCauley is joined here by guitarist Ian O'Neil, drummer Dennis Ryan, and bassist Christopher Ryan. The group also enlists guest artists, Steve Berlin (Los Lobos), who adds keyboards and saxophone to some of the tracks, and background vocalists Courtney Marie Andrews, Kam Franklin, Angela Miller, Sheree Smith, and Vanessa Carlton.
Deer Tick has a reputation for creating music that is a bit scruff, rough around the edges even after it is recorded. One would imagine that their previous recordings involved tightening things up a bit during their sessions. In something of a role reversal, the band rehearsed (by their own admission, over rehearsed) the ten songs on Emotional Contracts for months in their slapdash rehearsal space in Providence, Rhode Island. When Deer Tick arrived in the studio to record, Fridmann had to encourage them to let go of the process, to allow the songs to redevelop into finished projects. The addition of the aforementioned guests opens up the sound. For instance, "Running from Love" has multiple vocalists and a chorus cooing in the background, and takes on a soul vibe.  The first single from Emotional Contracts was co-written by McCauley and O'Neil, with the latter taking lead vocals. A heavy rock beat on the verse is disrupted on the chorus by a Latin rhythm on the keyboard. The rhythmic juxtaposition is in part because the lyric sends us "South of the border," but it also demonstrates the narrator's fraught emotional state while dealing with trauma from earlier in life. "Grey Matter" leans into Deer Tick's abiding affection for country.
"Once in a Lifetime" isn't a cover. This original by McCauley features a jaunty bassline, tightly interlocked guitar parts, accordion, and dulcet vocal harmonies on the chorus. "My Ship" is a brief, doleful mid-tempo ballad with McCauley's voice placed lower than usual. It includes varied harmonies that allow the band to delve into classic pop territory. 
"The Real Thing, " the final track on Emotional Contracts, is a nine-minute opus addressing depression, from which McCauley has long suffered. He adds an edge to his voice, while the drums and bass hold down an inexorable groove, and guitars overlap and punctuate the proceedings with clarion chords. The middle section amplifies McCauley's voice into a distorted mic, which is then responded to by his regular voice in a pain-filled hook. Guitars crest and then are abruptly cut off, only to have the hook return in full throttle. A nettled version of the melody appears in a guitar solo offset by a new keyboard riff, creating a long, instrumental coda. The song denies easy solutions, instead using the sharing of pain as catharsis. 
On Emotional Contracts, Deer Tick creates a melange of exuberance and pathos. 
-Christian Carey