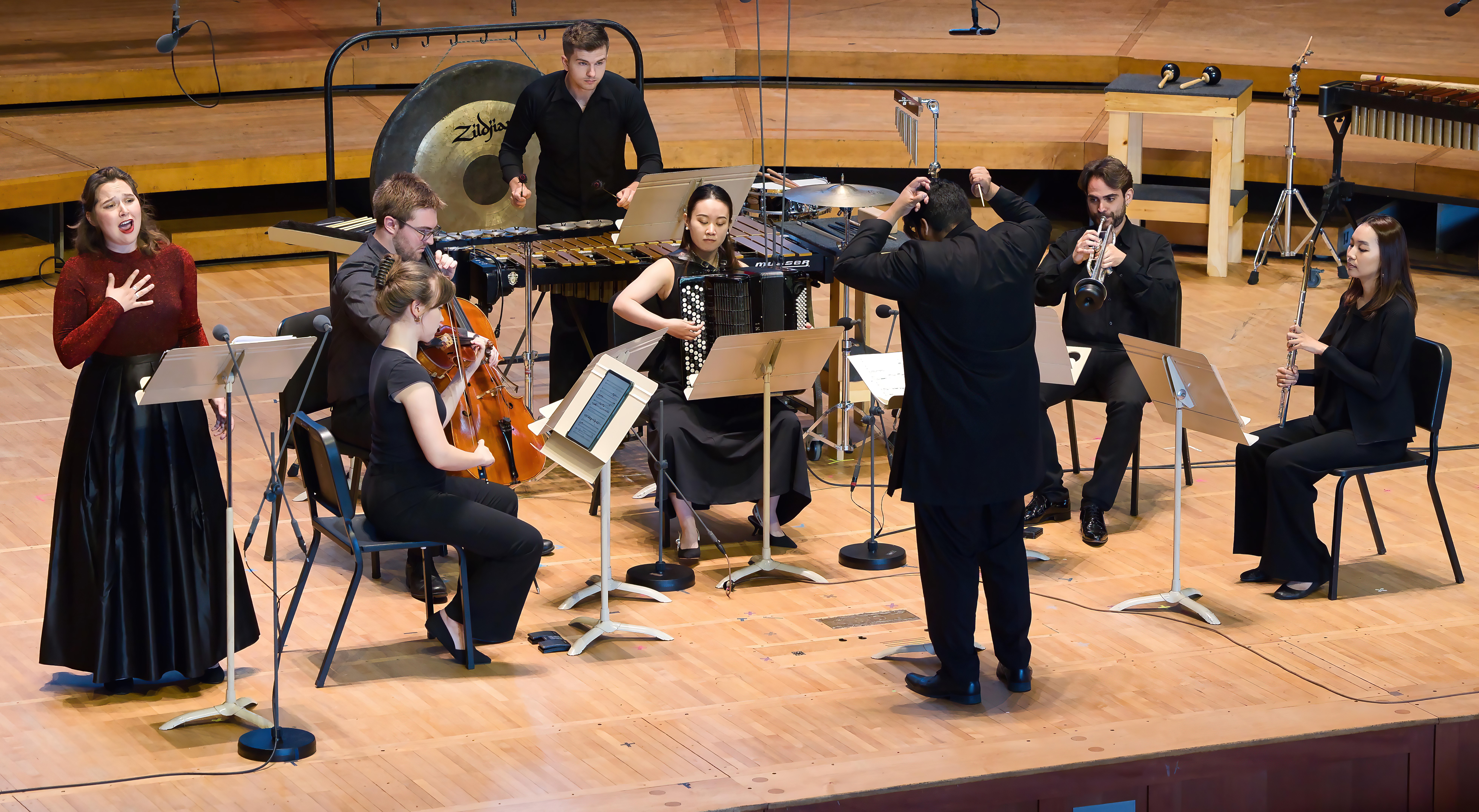 Festival of Contemporary Music
Chamber Music
Sunday, July 30, 2023
LENOX – There were a number of firsts on the July 30th chamber music concert. I have never seen the stage at Ozawa Hall require several minutes of vacuuming up bits of wood, but Malin Bång's Arching, for amplified cello, amplified tools, and electronics, created considerable, if entertaining, mayhem. Another first: hearing "The Wheels on the Bus Go Round and Round," paired in fugal counterpoint with the Brahms lullaby. 
The find for me at FCM was Tebogo Monnakgotla, a Swedish composer who curated Sunday's concert. The aforementioned nursery rhythm fugue was from her considerably charming piece, Toys, or the Wonderful World of Clara (2008). The backstory: when Monnakgotla's child was a toddler, she received all manner of musical toys, and loved to run them all at once. The composer recounted that multiple Brahms-singing toys were terribly out of tune, with themselves and each other (this too was incorporated in the piece, in clusters that distressed the lullaby). The idea may have been whimsical, but its deployment was anything but, the piece creating fascinating swaths of texture and crafty quodlibets. 
Toys is memorable, but by no means representative of the rest of Monnakgotla's programmed pieces. Her early Five Pieces for String Trio juxtaposes open cello strings with glissandos, harmonics, and wisps of sul ponticello. The movements cohere into a well-crafted organic whole. Le dormeur du val, a setting of Rimbaud for soprano and mixed chamber ensemble, has a haunting presence. The poem depicts a soldier who appears to be resting near the field of battle. It is only at its very conclusion that we learn of his wounds and realize that he is not resting, but deceased. Monnakgotla employs trumpet calls and vigorous drums to create a bellicose background. The vocal part contrasts this with a feeling of doleful detachment. Soprano Juliet Schlefer did a fine job presenting the ending's swerve without overselling, and she was equally sensitive when interpreting with the rest of the poem. Schlefer has a lyric voice of considerable beauty: I would love to hear her again.
Two other composers were programmed on the concert. Bent Sørensen's compact string quartet, The Lady of Lalott, reveled in banshee-like distant howls and prevalent extended techniques. South African composer Andile Khumalo's solo piano piece Schau-fe[r]n-ster II combines spectralist inflections, with shimmering overtones and chords spaced according to registral positioning in the harmonic series, with second modernist hyper-virtuosity. Joseph Vasconi played the work with adroit facility and a depth of understanding that belied his student status at Tanglewood. Khumalo's language is distinctive. One presumes and welcomes that we will hear much more from him. 
After every one of her pieces, Monnakgotla took to the stage to warmly greet and thank the performers. It was clear that this affection was returned, and that mutual artistic respect played a role in the concert's success. Tanglewood students at FCM benefit much from the mentorship of senior composers, and it was clear that this collaboration was quite successful.
 The concert ended with a reflective piece by Monnakgotla, Companions (seasons) (2021), for solo violin. It represents the various stages of a professional string player's career as seasons: The ebullient spring of a young student, the prodigy's successes during a long, hot summer, artistic maturity and the demands of performing and teaching in autumn, and, finally, the winter of retirement, in which the violinist's instrument is like an old friend. The music is ambitious yet touching, and was played with assuredness and grace by Connor Chaikowsky. A stirring valediction to a memorable concert. 
____
On Friday, August 28th, FCM devoted a curated concert to Anna Thorvaldsdottir, an Icelandic composer who is regularly commissioned by some of the best orchestras in the world. The highlights of the concert were two ensemble works, Hrim and Aquilibria, coached and conducted by Stephen Drury, and the closer, the ensemble work Ró, conducted by Agata Zając. Thorvaldsdottir's music blooms with effervescent overtones, and addresses elements of tonality in novel and frequently surprising ways. 
-Christian Carey