"I remember first reading Robert Fanning's poetry in 2014; it was as if he was able to give voice to feelings and experiences in a way that made them feel like my own. His words reveal a world of profound beauty that transcends the page." 
– David Biedenbender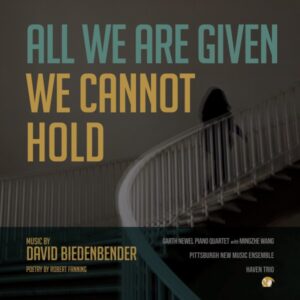 David Biedenbender
All We Are Given We Cannot Hold
Blue Griffin CD
Lindsay Kesselman, soprano; 
Pittsburgh New Music Ensemble, Kevin Noe, Artistic Director;
Garth Newel Piano Quartet with Mingzhe Wang, clarinet; Haven Trio. 
If a composer is able to find a poet who is a muse, they are fortunate indeed; a living poet, doubly so. David Biedenbender engaged in close collaboration with Robert Fanning in creating two vocal pieces that are programmed on his Blue Griffin CD All We Are Given We Cannot Hold. Soprano Lindsay Kesselman has bonded with these works in a special way as well, imparting both words and music assuredly, her beautiful voice, dynamic control, and impressive upper register making her an ideal advocate for Biedenbender's work. 
Shell and Wing is for soprano and chamber group, here the Pittsburgh New Music Ensemble. Kesselman treats Fanning's poetry sensitively, delivering a rousing performance in "Shell" and imparting "Wing" with touching delicacy. The use of pitched percussion and piano is noteworthy here and elsewhere in Biedenbender's music, with Ian Rosenbaum's vibraphone and pianist Oscar Mikaelsson performing overlapping rhythms. Strings and winds create corresponding passages, with multiple strands of activity yet a strong sense of support for the vocal line. The piece ends in a hushed fashion, Kesselman's singing down to a whisper.
Biedenbender composes in a language that encompasses extended tonality and chromaticism, with a particular interest in varieties of rhythmic expression. "Red Vesper," performed by Garth Newel Piano Quartet and clarinetist Mingzhe Wang, doubles a sustained string harmonic and repeated piano notes, to which a clarinet melody and pizzicato are added. Quickly, the sense of repeated notes is supplanted by a modal chord arpeggiated in various ways with pitches slowly accumulating. String harmonics once again take notes from the harmony, extending them into a sustained melody. Sliding tone in the strings and the clarinet tune surround a wide-ranged version of the piano's harmonies. The intensity builds, with the repeated patterns corruscating into a multifaceted surface. Thick piano chords and an emphatic cello solo begin the last section, which then concludes with each separate strand successively evaporating.  
Solstice was composed for the Garth Newel Piano Quartet. The four-movement piece depicts the seasons' solstices. Each has a different demeanor: "Summer" lazily and gradually unfolding into exuberance, filled with harmonics, repeated note patterns, and added note harmonies; Autumn elusive, replete with colorful chords, string glissandos and more repetition of single notes, with a romantic melody arriving partway through; Winter mournful, rife with dissonant intervals in pointillist textures and sul ponticello strings; Spring glistening with post-minimal figuration and slabs of bright harmony. One of the most interesting facets of this piece is the composer's use of varieties of rhythmic overlap: Hocketing figures, doublings, contrapuntal interactivity, and ostinatos that land together and apart. Biedenbender's love affair with the voice notwithstanding, his instrumental music is equally compelling.
Kesselman is part of the group Haven Trio. Joined by clarinetist Kimberly Cole Luevano and pianist Midori Koga, the soprano performs all we are given we cannot hold, a song cycle with settings of Fanning. "The Darkness, Literal and Figurative" features an oscillating two chord pattern in the piano, descending lines in the clarinet, and a delicately delivered yet rangy vocal line. "One and a half miles away" is declamatory, with repeated piano bass notes. "Watching my Daughter through the One Way Mirror of a Preschool Observation Window" is one of the most touching of Fanning's poems, analogizing the view of his young child with the view he hopes to get of his grown children from the beyond. A duet between Kesselman and Luevano alternates segments of the main melody, while Koga plays swaths of harmony. The distant thunder of bass octaves and a clarinet cadenza accompany a recitative from Kesselman in "Model Nation," ultimately replaced by piano ostinatos and scalar mirroring from the clarinet to reframe the high-lying singing into flowing melody. The cycle's final song begins with dissonances from piano and clarinet; upon Kesselman's entry these are filled in with pantonal harmonies. There is a winsome character present, with the narrator observing the clippings from his children's haircuts; rather than sweeping them up, allowing the wind to take them. "The wind will take what we forget to sweep. And cannot keep." An allied sentiment to watching his daughter in preschool, the sense of impermanence delivered with seamless line from Kesselman and lyrical rejoinders from Luevano and Koga. all we are given we cannot hold is one of the finest song cycles I have heard this year. Biedendbender's music should gain wider currency. Recommended.
-Christian Carey