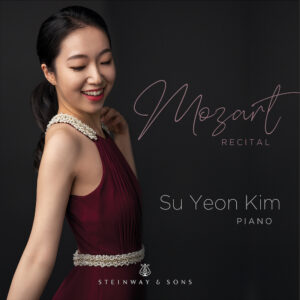 Mozart Recital
Su Yeon Kim
Steinway & Sons CD
During her studies, pianist Su Yeon Kim has kept Mozart close. She studied for a decade at Mozarteum University, won first prize at the Concours international de Montréal in 2021 and second place in the International Mozart Competition in Salzburg. Kim has lived for some time in Salzburg. In 2023, she will also reconnect with her hometown Seoul as Artist-in-Residence of Kumho Art Hall. 
For her Steinway & Sons Mozart Recital, Kim plays two sonatas and a number of smaller pieces, some obscure and seldom performed. Even in these latter works, her artistry makes a strong case for their relevance to Mozart's legacy. Eine Kleine Gigue, which opens the recording, is filled with thorny counterpoint and syncopations, which the pianist imparts with fleet zest. The Allegro in G minor is also delivered at a quick pace, but with clarity in every motive and passage.
 Four of the Twelve Contredanses for Count Czernin are presented in a variety of tempos with elegant ornamentation. Variations on "Unser dummer Pöbel meint" is a substantial set. Kim outlines the original theme with forceful clarity, accompanying it in assured fashion with countermelodies and passagework, in later variations never obscuring the tune's mutable game of hide and seek. Her rendition of Adagio in B minor is poignant, employing rubato to good effect, as does her performance of Franz Liszt's transcription of Ave Verum Corpus.
Kim plays two sonatas, Sonata No. 9 in D and Sonata No. 12 in F Major. Her tempos are well-selected and use of embellishment judicious and executed with finesse. The D major sonata is enthusiastically imbued with the con spirito marked in the first movement. The Andante con espressione is played tenderly, with lovely dynamic shadings. Kim's playful interpretation of rubato lends to the Rondo finale's appeal, as do the whirling dance rhythms and quick scalar passages. The Sonata in F is played with as much drama as its relatively compact framework will hold, each of the motives unfurling like a miniature aria. The second movement Adagio is not taken too slowly, and is played with suavity. The Rondo finale shows off Kim's considerable chops, as well as the joyous demeanor with which this whole program is played. Recommended.