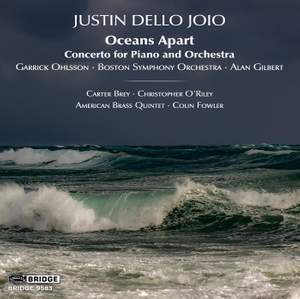 Justin Dello Joio – Oceans Apart (Bridge Records)
Composer Justin Dello Joio enjoys a top flight slate of performers on Oceans Apart, his latest recording for Bridge. The title work is a piano concerto, performed live here by the Boston Symphony, conducted by Alan Gilbert, with Garrick Ohlsson as soloist. A short bit of applause is left on the tail end of the recording, otherwise one would never be the wiser. The quality of the rendition and recording are excellent.
Dello Joio conceived of Oceans Apart when watching surfers being challenged by massive waves. The concerto translates this image into a piece with a muscular orchestration trying to overwhelm the soloist. The scoring is vivid and varied, with imaginative use of harp, percussion, muted brass, and string effects to create the undulating feel of the surf. As the piece builds, it swells and indeed threatens to subsume the pianist. It is appreciated that Dello Joio has his own take on "water music:" no ersatz Debussy here. 
Ohlsson is a marvelous interpreter, undertaking the role of vying against the orchestra instead of, as is traditional, being supported by it. That said, in places where the soloist is intended to blend in with certain cohorts of the ensemble, such as pitched percussion flurries, shimmering and well-coordinated passages result. His solo turns reveal formidable virtuosity. The final cadenza finds the pianist challenged over and over again by violent interruptions, which is succeeded by a supple denouement. Not to overstress the program, but I have to wonder if the surfer went underwater. Oceans Apart is one of Dello Joio's best orchestral pieces to date, with a versatile language and well-planned trajectory. 
The other two works on the CD are for chamber forces. Due per Due is played by NY Philharmonic principal cellist Carter Brey and pianist Christopher O'Riley. The first movement, "Elegie (To an old musician)," is dedicated to Dello Joio's father, Norman Dello Joio. One can hear a clever co-opting of the elder composer's use of pantonality and dissonant counterpoint. At the same time, Justin Dello Joio's voice is an unmistakable part of the piece; it is far more intricately shaped and complexly hued than any piece by his father. The second movement is a moto perpetuo, but one that is far more developed and intricate than many pieces written in this style. Brey and O'Riley are an excellent pairing of performers. One could easily imagine them recording and touring a program of contemporary works.
Blue and Gold Music concludes the recording (the title takes the colors from Trinity School, a K-12 preparatory school that Dello Joio attended). The American Brass Quintet and organist Colin Fowler are ideal interpreters for the ebullient, fanfare-filled piece. It demonstrates how far Dello Joio can stylistically stretch while retaining his own distinctive approach. Copland-esque Americana with a twist is an ideal vehicle for the American Brass Quintet, and Fowler is a good addition to the proceedings.
The concerto is one of my favorite works of 2023, and the entire recording is highly recommended.
-Christian Carey