I recently watched the film
Rivers and Tides: Working With Time
(2001). It's a portrait of the artist Andy Goldsworthy, who works exclusively with materials found in nature, like stone, wood, leaves, and ice. His work is stunning. Ephemeral. Fragile. Trascendent. Beautiful. It's all of those things. But what also struck me about Goldsworthy was his absolute engagement with his sculpture. His concentration is immense. He is completely engrossed in the moment while at work, highlighting both the beautiful and ephemeral in his pieces. Time seems suspended even though as the sun comes up or the tide comes in you are acutely aware that time is indeed elapsing, while also threatening to destroy his creations.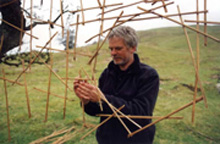 Goldsworthy's appraoch to his art reminded me of
Slowness
by Milan Kundera. In the novel, Kundera proposes that we not race from one thing to the next to the next to the next to the next and eventually on to "no thing," as Eric Owen Moss puts it. There's no focus in that race. No satisfaction. No destination. Only the next destination.
It's important to be in the moment. To be completely immersed in and devoted to the task at hand whether it's practicing, writing, composing, painting, sculpting, reading. If you ever have the sense that you're becoming a part of the race--as I sometimes do--watch this film. It's inspiring.