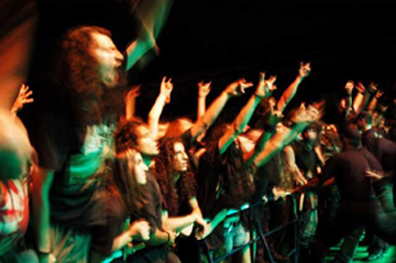 I noticed something from my last post. Six out of the ten solos I listed were recorded live. I don't think that's a coincidence. There's something about the energy, excitement, intensity, immediacy, and spontaneity of a live performance that simply cannot be captured in a controlled and sterile studio environment.
You don't hear live classical recordings that often. Occasionally you'll run into one--Lang Lang's "live" Carnegie Hall recital CD comes to mind. Although who knows just how much splicing and editing was done from the dress rehearsals. You don't see live classical albums nearly as often as live jazz or rock albums. Even Steely Dan, the rock and roll studio kings of the 1970s and 1980s, cut a live album not too long ago. (In fairness to Mr. Lang, there's
a well-hidden but still audible edit
in "Peg" on the Steely Dan album right before the final guitar solo--listen closely, you'll hear it.)
So why don't people make live classical albums? They're scared to, that's why. Who wants to take a chance at releasing an album with a wrong note (or two)? Imagine the humiliation and shame you'd feel in front of your peers, who never mess up. Today's advanced editing techniques have made it possible to create perfect, flawless, almost superhuman sounding recordings. You can even speed up a passage if you can't play it fast as you'd like to. Over time, the bar has been set continually higher for the polish and perfection of classical recordings. And that's not entirely bad. I think this high standard has spurred amazing advances in instrumental technique. But who can play flawlessly all the time? And what about the synergy between artist and audience?
Walter Benjamin talks about certain aspects of this phenomenon in his essay, "The Work of Art in the Mechanical Age of Reproduction." In one instance, he compares the stage actor's performance to that of a screen actor. The stage actor presents his/her artistic performance to the public in person. The screen actor's artistic performance is presented by the camera. And the camera that presents the performance to the public doesn't need to respect the performance as an integral whole. The editor chooses the sequence of events, camera angles, and close-ups, which then constitutes the completed film. One consequence of this is that the film actor lacks the opportunity to adjust to the audience that the stage actor does. This allows the audience to take the position of a critic without expreiencing any personal contact with the actor. Everybody's a critic.
While I've been up on my soapbox, I have to admit that my recordings contain editing. It's an accepted practice and everyone does it (sure sounds like peer pressure). In the end, it comes down to each artist's integrity. They've got to live with what they've chosen to do. Catholics might have a harder time with this than others. Someone could make an amazing sounding recording with a little (or a lot of) studio magic. However, if they've really pulled a fast one on everybody in the studio, the truth will inevitably come out in live performance. My next album won't be "clean" but one of these days I'll make a live album. Mark my words.
(Actually, not all of my recordings have editing.
This one
, which features me on alto saxophone with the Larry Teal Saxophone Quartet, was recorded live in concert.)