---
Edgar Meyer:
Composer,
Bassist,
MacArthur
"Genuis Award"
Winner
---
Edgar Meyer, a bassist and composer of charming folksy ditties that have been the source of several unlikely best-selling CDs in partnership with Yo Yo Ma, Joshua Bell and others, was named a MacArthur Fellow and will receive $500,000 in "no strings attached" support over the next five years.

Meyer, who received a B.M. (1984) in double bass from Indiana University, is a multifaceted musician whose expansive artistry is altering the way string instruments are played, the MacArthur Folks say. "As a bass virtuoso, he accepts no limits for the instrument and no boundaries for his music. He is equally comfortable in jazz, folk, country, and classical styles. His music is a complex, intricate amalgam, creating a unique musical voice that broadens the technical potential of the bass and stretches the instrument's stylistic possibilities."

His recent recording, "Bach: Unaccompanied Cello Suites Performed on Double Bass", transforms the bass into a solo classical instrument. His collaborations with established figures in classical music have infused elements of bluegrass into the traditional canon.

"Blending the lines between musical genres as both a performer and a composer, Meyer is crafting a uniquely American lexicon for symphony orchestras and chamber ensembles. His music communicates an inventiveness and intelligence, yet remains beautiful and infectious, opening the doors to new and changing displays of creative musicianship."

From 1986 until 1992, Meyer was a member of the progressive bluegrass band, Strength in Numbers. In 1994, he joined the Chamber Music Society of Lincoln Center. Meyer is currently Visiting Professor of Double Bass at the Royal Academy of Music in London and Adjunct Associate Professor of Double Bass at the Blair School of Music, Vanderbilt University.

In 1994, Meyer became the only bassist to win the Avery Fisher Career Grant and, in 2000, the only bassist to receive the Avery Fisher Prize. He is the winner of numerous competitions and honors, including Grammy awards for best classical crossover album in 1999 for Appalachian Journey and in 2002 for Perpetual Motion. Meyer's own compositions have enjoyed premieres by the Emerson String Quartet, the St. Paul Chamber Orchestra, and the Boston Symphony Orchestra.

Meyer said the award won't affect his immediate plans. "I'm quite happy doing what I'm doing … writing music, playing and recording." The award will enable him to look at more options over the next five years, he said, but as for "a fundamental change, it won't happen."

Meyer, who has a studio in his Nashville home, does have a goal in mind. "The one thing I'm staring at with some money right now is getting a spectacular piano. I have a very nice place where I work, but I'd like to get a wonderful piano." The piano, he said, is more for pleasure than for work.
---
THE COST OF SILENCE: Mike Batt included one minute of silence on his latest album, and called it One Minute of Silence, listing himself and John Cage as the authors. Cage's estate sued the rock musician, claiming Batt had violated the copyright to Cage's 4' 33", a silent piece. Now Batt has paid the John Cage Trust a "six-figure" fee to settle the case. A spokesperson for the Trust said "the publishers were prepared to defend the concept of a silent piece because it was a valuable artistic concept with a copyright." Nando Times (AP) 09/24/02
HOMAGE OF RIGHTS: "I can see Mike's side, but I think he should see our side more clearly. He is a creative artist—he has a vested interest in a system that protects creative work—so in some ways he's sawing at the legs of the very stool he's sitting on." The New Yorker 09/23/02
HOW ABOUT BUILDING ONE FOR THE PRESENT? "Canadians will be able to take a simulated train voyage through the country's past, immerse themselves in the sights and sounds of "the concert hall of the future" and gaze at displays dedicated to prime ministers and Order of Canada recipients, according to documents obtained by the Citizen that reveal the federal government's $100-million plans for a Canadian History Centre at the old railway station in downtown Ottawa." Yes, that was the Concert Hall of the Future, designed to "encourage visitor participation in and experience of the performing arts and Canadian culture in a novel and meaningful space using wall-sized interactive display technologies along with state of the art sound and visual capabilities." Ottawa Citizen 09/23/02
A ROAD NOT TRAVELED: Pianist Glenn Gould - who would have been 70 this week - is "a figure of legend, even among people who may have heard nothing more than his first, career-making recording of Bach's Goldberg Variations. His life and ideas have provided fodder not just for scholars and biographers, but for playwrights, novelists and filmmakers. But while Gould's influence is feted in the broad culture, it has almost evaporated among musicians. No major pianist follows his lead, either in performance style or in his cavalier attitude toward musical scores." The Globe & Mail (Canada) 09/24/02
ON THEIR OWN: With recording companies all but giving up on classical music, musicians are producing their own discs. "Self-published CDs may never make a massive impact on the classical-record industry, especially in terms of sales, but some observers believe their artistic impact may be lasting." Christian Science Monitor 09/27/02
SAY HEY MIMI! Director Baz Luhrmann is producing a Broadway version of La Boheme, "polishing a dusty classic with so much manic elbow grease that it doesn't just shine but gives off a highly marketable bling-bling sheen. The production is in rehearsal for a San Francisco tryout before moving on to a six-show-a-week schedule in New York. "With Boheme we want to de-theatricalize the production because, if anything, opera these days is overdone and tired in its level of theatricality. We want to make it accessible, clear." San Francisco Chronicle 09/29/02
SAN JOSE MIGHT LOSE MUSIC SCORES: Bankruptcy is not going well for the San Jose Symphony. It looks like the orchestra might lose its music library, accumulated over 100 years of performances - "more than 1,000 scores, some irreplaceable, all with conductors' and players' markings" to satisfy creditors since the orchestra has failed to raise enough money. San Jose Mercury News 09/25/02
GOOD NEWS, BAD NEWS IN PHILLY: The Philadelphia Orchestra sold 99% of its available seats last season after opening up a beautiful new concert hall in the heart of a thriving entertainment district. The orchestra is ending a successful run with music director Wolfgang Sawallisch, and eagerly anticipating the arrival of new baton-twirler Christoph Eschenbach. But even in Philadelphia, the economy is taking it's toll on the bottom line - the organization ran a $3.5 million deficit last season, and it's endowment has dropped to $68.5 million, one of the smallest among major U.S. orchestras. Management envisions boosting the endowment to $150 million in the next 5 years, but those numbers are awfully optimistic... Philadelphia Inquirer 09/26/02
LOOKING FOR MEANING IN MEGA-OPERA: Bad sound, poor sight lines, huge artistic compromises, and a loss of any theatrical intimacy - big arena stagings of popular operas have attracted thousands in recent years. But are the compromises worth it? The Times (UK) 09/23/02
M-A-R-I-A: It's 25 years ago this week that Maria Callas, the greatest diva of all, died. She "could fairly be described as one of the greatest global celebrities of the post-war era. Everything about her life became the subject of intense interest, to the point of obsession. But the story of Callas is itself the story of obsession. Legends abound about her hunted personality, her relentless drive for perfection in everything that she did - brought about by a huge inferiority complex." The Scotsman 09/22/02

Last Week's News

---
Record companies, artists and publicists are invited to submit CDs to be considered for our Editor's Pick's of the month. Send to: Jerry Bowles, Editor, Sequenza 21, 340 W. 57th Street, 12B, NY, NY 10019 Also, feel free to nominate your favorite composer-- even if it's you--for Spotlight of the Week.
---
---
NAXOS AT 15:
STILL ONE OF A KIND
---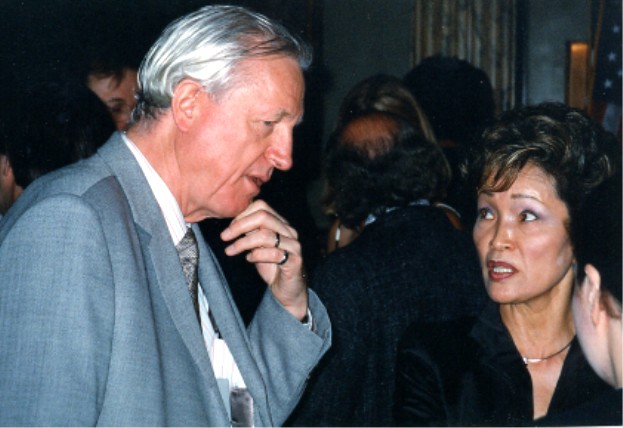 Klaus Heymann met his future wife, the Japanese violinist Takako Nishizaki when she came to play as a soloist with the Hong Kong Philharmonic during its first professional season. The concerto she played on that occasion was the Second Concerto by Henryk Wieniawski... the couple's only son was therefore named "Henryk."
Klaus Heymann doesn't read music or play an instrument. No one will ever pay money to hear him sing Paliacci at the Met or lead the Berlin Symphony in Mahler's 5th. But, as the founder and guiding force of Naxos, the world's best-selling classical music label, Heymann is the undisputed heavyweight champion of an industry where savvy marketing is rare and commercial success elusive.

A rumpled bearish man with an impressive shock of white hair, Heymann is a somewhat aloof figure who admits he'd rather be the subject of a Harvard Business Review case study than be given an honor for having made a treasury of great music accessible to millions of people at an affordable price.

When he launched Naxos in Hong Kong 15 years ago, Heymann figured he had a window of maybe 50 CD releases before the large record companies caught on and started issuing high-quality, budget-priced CDs of their own which would drive him out of business. He over-estimated his rivals big time.

"When I started the Naxos label my ambition was to make classical recordings available on CD at a price comparable to that of LPs," he says. "Not in my wildest dreams did I expect my humble creation to become the world's leading classical label in just 15 years. Now, I am amazed to see how Naxos has revolutionized the record business to become the best-selling classical label in the world"

The Naxos catalogue now comprises more than 2400 releases - the largest catalogue of available unduplicated repertoire anywhere, offering music lovers a veritable encyclopedia of classical music. Today Naxos dominates classical music sales in the UK, Germany, and Scandinavia with 30%-80% of the per unit classical market. Last year Naxos sold over 10 million CDs.

The Heymann formula is simple to define—virtually impossible to emulate. Naxos produces first-rate CDs using little-known orchestras and performers. No temperamental sopranos, no podium-smashing conductors. Production is excellent but strictly budgeted. Staff levels are low are deliberately kept that way. Cover art? Brochures? What'sare they? Heymann never records the same piece twice—why compete with yourself in the marketplace?

What makes the Naxos story most remarkable is not simply that a smart and penny-pinching German businessman was able to develop and grow a huge global market for budget classical recordings but that he has done so while maintaining an extraordinarily high level of quality. Naxos recordings have over 350 top 3-star recommendations in the Penguin Guide and have been awarded more than 35 Gramophone Editor's Choices. In 1999, Naxos won its first Gramophone Award. In many cases, the Naxos version is not only the best version available, it's also the only version available—particularly in chamber music where no other record company has as extensive a repertoire.

Insiders say that Naxos high artistic quality is a direct result of close attention paid to each release by Heymann and his wife, the Japanese violinist Takako Nishizaki. Heymann is likely to shrug. "Maybe the other Independents know music but they don't handle the business so well. We do a good job on both."

Whatever Naxos is doing right, let's hope it continues with great success for a long time. --JB

---
Classical Grammy Winners
---
Previous Interviews/Profiles
Simon Rattle,
Michael Gordon,
Benjamin Lees,
Scott Lindroth,
David Felder,
Mark-Anthony Turnage,
Erkki-Sven Tüür,
John Luther Adams,
Brett Dea
n,
Judith Lang Zaimont,
Meyer Kupferman,
Evan Chambers,
Poul Ruders,
Steven R. Gerber,
Gloria Coates
Previous Articles/
Busoni The Visionary
The Composer of the Moment: Mark-Anthony Turnage
Electronic Music
Voices: Henze at 75
Henze Meets Emenim
On Finding Kurtag
Charles Ruggles: When Men Were Men
Ballet Mécanique
The Adams Chronicles
---