Tomas Svoboda
A Bearable Lightness
by Duane Harper Grant
Tomas Svoboda (b. 1939) is not a well-known name in the ranks of modern day classical composers. Why this is so poses a discussion of greater scope and length than this profile and review. But, he is a major and prolific composer of six symphonies and numerous works for chamber orchestra, chamber ensembles of varying instrumentation and choral works. Indeed, his catalogue includes 180 works. This is the first CD in major distribution that features just Svoboda¹s works. For this reason alone it is a standout recording and a great discovery for fans of unjustly neglected new music.
The CD features three excellent compositions for orchestra written at different times in Svoboda¹s career and features James DePreist and the Oregon Symphony performing the works. Svoboda, DePriest and the Oregon Symphony have been long time collaborators and this fact is evident on this recording. The recording opens with Svoboda¹s "Overture of the Season" which over the years has become his most popular and widely played piece. It is an appealing set of off-kilter rhythms, orchestral colors and dare we say, melody. While Svoboda does not carry the title and the cause of the modernist or post modernist school of composition per se, he possibly could be thought of as neo-romantic or neo-classicist. His favorite composer is Beethoven and he tends to favor melodic and rhythmic expressionist sensibilities.
Concerto for Marimba and Orchestra is an engaging and intriguing piece of writing for an instrument not often heard in a concerto setting. Again, you get a dramatic sweep of rhythms, of movement and an interesting and intimate journey into a land of this melodically and harmonically versatile percussion instrument. Neil DePonte, who has been the principal percussionist in Oregon Symphony for many years and does guest conducting as well, is deft and dynamic with all the intricacies of the marimba part.
The third piece is Svoboda¹s Symphony Number 1 (Of Nature), which was first presented in concert when the composer was only 16. Unable to take formal classes in composition during his first years at the conservatory, Svoboda nevertheless composed this amazingly polished 36 minute work at that time. It was premiered by the prestigious FOK Prague Symphony Orchestra, Vaclav Smetacek, conductor.
Svoboda was born in Paris of Czech parents. He spent his early childhood in Boston, but returned to Czechoslovakia with his parents after the World War II and was admitted to the Prague Conservatory in 1954 at the age of 14 as its youngest student. By the time he graduated, with degrees in percussion, composition and conducting in 1962, he already had numerous performances and radio broadcasts of his music to his credit. This brought him wide national recognition, establishing him as a major talent there, with a place in the formidable legacy of Czech composers.
In 1964, the Svoboda family escaped communist Czechoslovakia and settled in the United States, He entered the University of Southern California as a graduate student where he graduated in 1966 with honors. Svoboda retired in 1998 from Portland State University in Portland, Oregon where he taught composition and music theory for 27 years, You can read his full bio and peruse many, many pages of his music and other writings on his website.
This is a recording worthy of many listenings and one that I find endlessly pleasurable.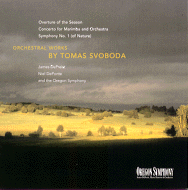 Orchestral Works
Composer: Tomas Svoboda
James DePreist Conductor
Neil DePonte Marimba
Oregon Symphony Orchestra
Albany Records, CD cat# Troy 604
Two Concerts of Chamber Music
By Steven R. Gerber
---
Generation Media and Jeffrey James Arts Consulting will present two concerts of the chamber music of New York composer Steven R. Gerber on Friday, November 7 and Friday, November 21, 2003 at Faust Harrison Pianos, 205 W. 58th Street, just west of 7th Avenue in New York City. Both concerts will begin at 8:00 PM.
The November 7 concert will feature the World Premiere of Gerber's Fantasy, Fugue, and Chaconne for 2 celli, as well as his Three Songs Without Words for solo violin, Elegy on the Name "Dmitri Shostakovich" for solo cello, as well as a selection of his songs and works for solo piano. Performers for this concert will include the composer on piano, cellist Arash Amini, violinist Grigory Kalinovsky, with others to be announced.
The November 21 concert will feature another World Premiere - 3 Folksong Transformations for piano trio, along with Notturno for piano trio, Words for Music Perhaps for soprano and 2 violins, 3 Pieces for 2 violins, Fantasy for solo violin, Three Songs Without Words for solo violin Elegy on the Name "Dmitri Shostakovich" for solo cello. Performers for this concert will also include the composer on piano, cellist Arash Amini, violinist Cyrus Beroukhim, with others to be announced.
Tickets for the November 7 and 21 concerts are $15. Reservations are suggested. For tickets, reservations or more information, please contact Generation Media at (917) 217-3584 or info@generation-media.com.
Ned Rorem, American Classic "Rorem's works have been criticized, even dismissed, for not being more memorable. More to the point, as much as he seems to occupy the creative moment 100 percent, Rorem doesn't haunt. The music is there and gone, leaving few if any footprints on your brain. As listeners, we're not used to that." Philadelphia Inquirer 10/19/03

Ligeti At 80 Gyorgy "Ligeti has a unique place in the history of 20th-century music: an avant-gardist who is familiar to a wide public (even if he has Stanley Kubrick's use of his music in 2001 to thank for that popularity), and an uncompromising modernist whose music revels in its connections with other cultures, other art forms, and the music of earlier centuries." The Guardian (UK) 10/17/03

La Scala Appoints a Referee...Er, "Artistic Director" La Scala has appointed a new artistic director to mediate between music director Riccardo Muti and general manager Carlo Fontana. Muti has fought against what he characterizes as Fontana's attempts to "dumb down" the famous company. "Mr Fontana had been criticised for introducing popular fare such as West Side Story to fill the 2,600 seats of the Arcimboldi theatre, built on the industrial outskirts of Milan to host La Scala's performances while its city-centre premises undergo a £40m refit. Tension between the two men burst into the open in July when Mr Muti snubbed the official presentation of the opera's new season." The Guardian (UK) 10/13/03

Disney-High Ambitions LA's Disney Hall opens next week. "For all the energy and playfulness of this $274 million piece of civic sculpture, Disney Hall also bears a heavy burden as an instrument of this city's heady ambition. Sixteen years in the making, it represents Los Angeles' determination to shake off its perpetual No. 2 status, to be recognized, along with New York, as an international cultural heavyweight, yet on its own highly theatrical terms." San Francisco Chronicle 10/16/03

Why Must Music Be Transcendant? Classical music, and opera in particular, is often held up as a beacon of transcendant, other-worldly beauty, in a culture obsessed with speed and reduced to communicating through sound bites. But that perception doesn't often square with reality, says Anne Midgette, and the fact that listeners aren't being transported to a higher realm on an average night at the Met doesn't mean that the music has failed, simply that our expectations are misplaced. "Opera deals in human emotions, not divine and ethereal ones. When singing is sublime, it's partly because it amplifies those emotions with a kind of inner purity." The New York Times 10/19/03

Is Classical Music Racist? The audience for traditional classical music is overwhelmingly caucasian, whether in Europe or North America, and despite paying frequent lip service to the vague concept of "diversity," few practitioners of the art have made any serious attempts to widen the appeal of the genre. So why does classical music receive such a huge percentage of available public arts funding? "This has always been the case, but now that cultural diversity has moved to the top of the funding agenda, it's become a serious political embarrassment. There's something disquieting, in 2003, about the sight of an all-white orchestra playing to an all-white audience." The Telegraph (UK) 10/18/03

Recordings - The Politics Of Price "As musical recordings have increasingly shed their physical form, the record industry and its customers have been at odds over what it all should cost. Music fans complain of high CD prices and copy more music illicitly than they purchase legally, while the record companies rail against the devaluation of their product and take file-sharers to court. Since legal ways to experience online music are only now becoming widely available, there is no established record of what the market will bear or how these innovations will be received. Will each song purchased online represent the loss of a whole CD sale in the store? Or will customers respond to the ease and selection of e-commerce by buying more, overall?" The New York Times 10/12/03

Detroit's New Digs: Spending Money To Make Money The Detroit Symphony Orchestra could very well have chosen to spend the last few years hiding under a pile of the Motor City's ever-present downtown rubble, and hoping that the financial roof wouldn't fall in. After all, orchestras are in terible shape just about everywhere, and Detroit is hardly a model for the type of forward-looking urban development that orchestras must embrace to make strides in an increasingly diverse entertainment universe. Instead, the DSO took a big, beautiful chance, and invested millions in a newly revitalized concert hall in one of the city's most blighted neighborhoods. No one yet knows if the plan will succeed, but thank God someone is still trying, says William Littler. Toronto Star 10/18/03
Last Week's News

---
STEPHEN HARTKE WINS
CHARLES IVES LIVING AWARD
---
Stephen Hartke will receive the next Charles Ives Living award, effective for a three-year term beginning in July 2004.

The $225,000 Ives Living is paid in annual installments of $75,000; its purpose (as with the MacArthur Foundation's famous "genius grant" fellowships) is to free the recipient from the need to worry about earning a living so that he or she can concentrate fully on composition.

The Charles Ives Living was inaugurated in 1998, with Martin Bresnick as the first three-year recipient. Chen Yi received the award in 2001; her term ends next June. The fellowship is funded by royalties from Charles Ives's music, bequeathed by his widow to the American Academy to establish a fund for prizes in composition. The American Academy administers the award, and nominations are accepted only from Academy members. This year's jury consisted of five American composers: Ezra Laderman, Samuel Adler, John Corigliano, Yehudi Wyner and Ellen Taaffe Zwilich.
Christopher Theofanidis
Wins Masterprize 2003
American composer Christopher Theofanidis is the winner of the 2003 Masterprize Award, the prestiguous international composing competition.
His winning composition, Rainbow Body, is based on a chant from a work by medieval mystic Hildegard von Bingen.
The competition concluded at a gala event at London's Barbican Centre last Friday night, at which Daniel Harding and the London Symphony Orchestra performed all six finalists' works. A jury made up of representatives from across the classical music world then cast their votes, as did the members of the LSO and the audience. These votes were added to those received from members of the public over the previous month. Theofanidis receives £25,000. The five runner-up composers each receive £750.
Theofanidis was born in Dallas in 1967. His studies have included a DMA and MMA from Yale University, an MM from the Eastman School of Music and a BM from the University of Houston.
He has held the positions of composer-in-residence for the California Symphony and the Norfolk Chamber Music Festival. He is also on the faculties of the Peabody Conservatory at Johns Hopkins' University and the Juilliard School in New York City.
His compositions have won numerous previous awards, including the Prix de Rome, a Guggenheim Fellowship, the Barlow Prize, a Charles Ives Fellowship from the American Academy of Arts and Letters, the Columbia-Bearns Prize, a Fulbright Fellowship to France, and six ASCAP Morton Gould Prizes.
His music has been performed by several orchestras, including the Atlanta, Houston, National, Brooklyn, Monte-Carlo, Oregon, Madison, Fort Worth Symphony Orchestras and the Oslo Philharmonic. He has also been performed by chamber music ensembles including the Moscow Soloists, Speculum Musicae, the Absolute Ensemble, and SONYC as well as the Cassatt, Alexander, Muir, Henschel and Cuartetto Latinoamericano String Quartets.
Current projects include a viola concerto for Kim Kashkashian and the Pro Arte Chamber Orchestra, a ballet for the American Ballet Theatre, and an opera for the Moores School of Music.
For more information about the finalists, their works, the competition, and to hear Theofanidos' winning entry visit the Masterprize web site.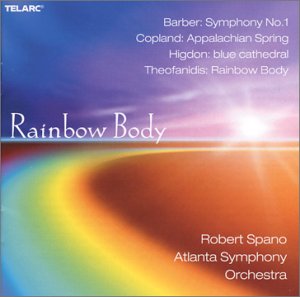 Rainbow Body
Composer: Christopher Theofanidis, Samuel Barber, et al.
Conductor: Robert Spano
Atlanta Symphony Orchestra
Telarc
---
Previous Interviews/Profiles
Simon Rattle,
Michael Gordon,
Benjamin Lees,
Scott Lindroth,
David Felder,
Mark-Anthony Turnage,
Erkki-Sven Tüür,
John Luther Adams,
Brett Dea
n,
Judith Lang Zaimont,
Meyer Kupferman,
Evan Chambers,
Poul Ruders,
Steven R. Gerber,
Gloria Coates,
Tobias Picker
Previous Articles/
Busoni The Visionary
The Composer of the Moment: Mark-Anthony Turnage
Electronic Music
Voices: Henze at 75
Henze Meets Emenim
On Finding Kurtag
Charles Ruggles: When Men Were Men
Ballet Mécanique
The Adams Chronicles
---
What's Recent
An Interview with Tobias Picker
Handmaid Tale's Debuts in English
Rautavaara Joins B&G
Who's Afraid of Julia Wolfe
Derek Bermel's Soul Garden
The Pianist: The Extraordinary
True Story of Wladyslaw Szpilman
John Adams' Atomic Opera
A Bridge Not Far Enough
Turnage Signs With B&H
Sophie's Wrong Choice
Copland's Mexico
On Being Arvo
Rzewski Plays Rzewski
Praising Lee Hyla
David Lang's Passing Measures
Three Tales at BAM
Naxos at 15
On the Transmigration of Souls
Dead Man Walking
David Krakauer's The Year After
Steve Reich/Alan Pierson
Record companies, artists and publicists are invited to submit CDs to be considered for our Editor's Pick's of the month. Send to: Jerry Bowles, Editor, Sequenza 21, 340 W. 57th Street, 12B, NY, NY 10019
Our writers welcome your comments on their pieces. Send your witty bon mots to jbowles@sequenza21.com and we might even publish some of them here. And, don't forget--if you'd like to write for Sequenza21 (understanding that we have no money to pay you), send me a note. JB