---
Robert Erickson's
Pacific Sirens
---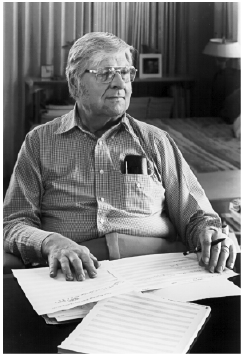 Robert Erickson (1917–1997) is one of the more unjustly neglected American composers of the latter half of the twentieth century. He was also a revered teacher and author of two important books on music. Early in his career, under the guidance of his teacher Ernst Krenek, he flirted with then abandoned atonality. After relocating to California in 1956, he developed the characteristics for which his work became most recognized: a heightened interest in the atmosphere of a piece, an obsession with timbre, ways of varying the sound of a work with experiments in new technique, and explorations into the new worlds uncovered through the invention of tape recording.

He was one of the first American composers to work extensively with sounds recorded on tape, both for its own sake and as combined with live performers on conventional instruments; and he
wrote distinguished music requiring improvisation, by both solo instruments and ensembles. In later years he moved away from the pioneering experiments of the 1960s and '70s toward a simpler, ultimately stripped-down style, characterized by frequent drones, long slow passages, and hypnotic rhythms which were influential on a number of younger "minimalist" composers.

Erickson composed for virtually every medium except opera, and was performed and commissioned by the Minneapolis, San Francisco, Oakland, and Los Angeles Symphony Orchestras, the American Composers Orchestra, and such celebrated ensembles as the Arch Ensemble, Continuum, the Kronos Quartet, and SONOR. He received fellowships from the Ford Foundation and the Guggenheim Foundation and awards from the National Endowment for the Arts, the American Academy and Institute of Arts and Letters, and, in 1985, the Friedheim Award for chamber music for his string quartet Solstice, performed at the Kennedy Center.

He taught at the College of St. Catherine's in St. Paul, the University of California at Berkeley, and the San Francisco Conservatory of Music, before becoming one of the founders of the Department of Music at the University of California, San Diego, in 1967. He also served as Music Director of KPFA Radio in Berkeley from 1955 to 1957 and as a director of the Pacific Foundation, KPFA's parent body, for several years thereafter. He was the teacher of Paul Dresher, Pauline Oliveros, Terry Riley, Loren Rush, Charles Shere, and Morton Subotnick, among others.

Erickson published two books: The Structure of Music: A Listener's Guide in 1957 and Sound Structures in Music in 1975. Many of his compositions were recorded, and he was the subject of two biographies, by John MacKay and Charles Shere, both of which appeared in 1996.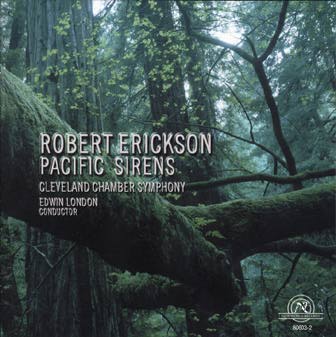 Pacific Sirens
Composer: Robert Erickson
Performer: Cleveland Chamber Orchestra, et al.
New World Records #80603
---
Copyright Extension Discourages Performers The recent decision of the US Supreme Court to uphold the extension of copyright terms to 95 years might be a good thing for music publishers. Might. But it discourages performers, particularly small non-profit school ensembles, from performing music written in the past century. And that can't be good in the long run, even for publishers. Rocky Mountain News 01/26/03

Acoustics Vs. Democracy? "Many acousticians agree that the safest way to ensure a good sound environment for orchestral music is to emulate the old, aristocratically modeled halls of 18th and 19th century Europe: a shoebox shape, with a proscenium arch and a horseshoe of ornate boxes to diffuse the sound. The current wave of concert halls, though, favors a 'vineyard' style, featuring terraced seats rising above the stage and arrayed around its flanks and rear. This arrangement is acoustically risky (though it has also produced wonderful results in the Philharmonie in Berlin), but socially desirable. It blurs visual borders between different sections of the house and brings each seat much closer to the stage than is possible in a traditional 'shoebox,' thereby creating a feeling of intimacy even in a very big room." Newsday 01/23/03

Calgary Mounts New Opera While the Calgary Philharmonic is languishing, the Calgary Opera is blazing away, ready to stage a $1.3 million production of new original opera. "The opera is set in southwestern Alberta during Prohibition and is based on the true story of an Italian immigrant who becomes entangled in bootlegging and murder. The woman was eventually hanged in 1923. The music and English libretto are by Calgarians John Estacio and John Murrell, respectively." Toronto Star 01/25/03

The Evolving Opera Opera continues to stretch as an artform. How about a "not-so-underground music world that lives the boundary-less, non-hierarchical ethic of communal musicmaking, an ethic that some classical opera composers might hold up as an ideal but have rarely put into practice with any success. 'Nitrate Hymnal' is described by the Washington Performing Arts Society as multimedia, interactive, post-punk, hybrid and several other things as well, which adds up to: You have to see it to know what it's about." Washington Post 01/19/03

Twenty Years Of Opera Supertitles Twenty years ago the first supertitles were used at the Canadian Opera Company in Toronto. "The first titled opera was Strauss's 'Elektra': As Orestes busied himself axe-cleaving his mother and stepfather to death, the audience -- its eyes cast upwards at the titles -- understood opera as never before. There were a few dissenters, but for most it was love at first sight. We had purists who said, 'I'm German-speaking, I already understand every word.' And some people said, 'I have to look up, and it takes away from the action.' But in an audience poll, approximately 80 per cent gave their approval." The Globe & Mail (Canada) 01/21/03

Bail-Out For English National Opera The British Arts Council has decided to bail out the English National Opera. "The decision was rushed through in less than 24 hours and comes as stalwarts of the ENO audience threatened to show their anger over the management's cutbacks during tonight's Coliseum premiere of Mussorgsky's opera Khovanshchina." How much money will be coming the ENO's way was not revealed, but the council said it would be enough to "stabilize" the company's operations. The Guardian (UK) 01/23/03

A Bevy Of Bohemes One night a few weeks from now, the stars will align and three productions of Pucinni's "La Boheme" will take to the boards in New York City. That's "more than 8200 seats to unload on a quiet, midweek evening" on Broadway, at the Metropolitan Opera and at New York City Opera. "Are that many New Yorkers going to be up for an evening of fake snow and chilly, Parisian garrets after five months of their own winter nastiness?" The Age (Melbourne) 01/23/03

Opera In Your Living Room "Ask the man on the street to define opera and you're likely to get adjectives like grand, foreign, expensive. Ask a New York opera patron about opera beyond the Metropolitan and City Operas, and you might get a mention of the Amato Opera, the stalwart 107-seat theater on the Bowery that's been putting on tiny productions of classic operas since 1948. But none of these quite covers the broad spectrum of indie opera companies that produce fully staged opera around New York City in living rooms, church basements and city parks." The New York Times 01/24/03

Prokofiev Reconsidered Fifty years after his death, Prokofiev is being re-examined. Why did he leave the West to return to the USSR where artists were stifled? "He was only semi-successful in the West. He didn't attain the degree of fame that would satisfy his ambitions. In the West, he tried to be even more avant-garde than he was naturally, and it didn't work. He was going along with the tastes of fashion, but it was against his nature. Then, when he returned to Russia, he wrote the ballet Romeo and Juliet, identified with it and produced an absolute masterpiece." The Telegraph (UK) 01/23/03

Last Week's News

Record companies, artists and publicists are invited to submit CDs to be considered for our Editor's Pick's of the month. Send to: Jerry Bowles, Editor, Sequenza 21, 340 W. 57th Street, 12B, NY, NY 10019 Also, feel free to nominate your favorite composer-- even if it's you--for Spotlight of the Week.
Julliard FOCUS! 2003
Highlights Western Composers
---
The best musical bargain in New York this week is FOCUS! 2003, The Juilliard School's nineteenth annual festival of contemporary music directed by Joel Sachs, which got underway on Friday night with Lou Harrison's Concerto in slendro and continues all this week with a festival that surveys music Beyond the Rockies and pays a belated 85th birthday tribute to Harrison by exploring the music of the Western United States and Canada.
The festival includes music from the last hundred years, including composers such as Henry Brant, Henry Cowell, John Cage, Lou Harrison, and Dane Rudhyar among others. It also includes works by the refugees from Nazi Europe such as Stravinsky, Schoenberg (whose A Survivor from Warsaw will be featured on the concluding concert), Krenek, and Juilliard faculty member Pia Gilbert, as well as an electic group of more contemporary composers such as John Adams, Virko Baley, Robert Erickson, Melissa Hui, Joan La Barbara, Roger Reynolds, Terry Riley, Chinary Ung, Joji Yuasa, plus others.
Beginning tonight, January 27, the festival will feature four nights of chamber and solo music. Monday's concert includes Henry Brant's Four Doctors in a world premiere version for trombones, Pablo Ortiz's Five little Milanguitas, John Luther Adams', Red Arc/Blue Veil, Harrison's Pieces for Solo Cello, John Cage's Bacchanale, Morton Subotnick's Axolotl, for cello and electronic ghost score, Joan La Barbara's Sunbird's Dance, Into the Light, and Igor Stravinsky's Septet.
Tuesday evening begins at 7 PM with a roundtable discussion on "Western Music" with composers Roger Reynolds and Walter Blanton. The concert follows at 8 PM with a program that includes Darius Milhaud's String Quartet No. 13, Op. 268, Robert Erickson's, High Flyer, Jocelyn Morlock's Lacrimosa, the world premiere of Walter Blanton's Jackson Street After Dark, selections from Lou Harrison's Six Cembalo Sonatas, the U.S. premiere of Roger Reynolds' Process and Passion for violin, cello, and live electronics, and Terry Riley's Cinco de Mayo.
On Wednesday evening the program features Elinor Armer's Oasis, an excerpt from Alvin Curran's Schtyx, William Kraft's Momentum, Lou Harrison's Varied Trio, the New York premiere of Yumiko Morita's Bamboo Bending in the Snow, Gordon Mumma's 5 from the Sushi Box, a work by Dane Rudhyar, and Spirals and Interpolations by Juilliard faculty member and composer Pia Gilbert.
Thursday evening's concert includes Leon Kirchner's Duo for Violin and Piano, Henry Cowell's Three piano pieces, Ernst Krenek's Sonata for Harp, Op. 150, Lou Harrison's Suite for Cello and Harp, as well as Janice Giteck's Agrarian Chants, Seán Heim's sö pa, Joji Yuasa's Viola Locus, and the U.S. premiere of Carlos Sanchez-Gutierrez's Cinco para cuatro.
The concluding concert of FOCUS! 2003, takes place on Friday, January 31 at 8 PM in the Juilliard Theater when Dutch conductor Reinbert de Leeuw, the noted specialist in contemporary music who led the concluding concert of last year's festival, returns to conduct the Juilliard Symphony in a program that includes John Adams' Slonimsky's Earbox, the New York premiere of Chinary Ung's Grand Spiral - Desert Flowers Bloom; two works by Lou Harrison - A Parade (1995) and his Elegiac Symphony (1941-45; revised 1988); and, finally, a special performance of Arnold Schoenberg's A Survivor from Warsaw, Op. 46, featuring the Juilliard Choral Union under the direction of Judith Clurman with Daniel Gross, narrator.
All concerts this week are free and do not require tickets. Check the Julliard Calendar for details.
---
Classical Grammy Winners
---
Previous Interviews/Profiles
Simon Rattle,
Michael Gordon,
Benjamin Lees,
Scott Lindroth,
David Felder,
Mark-Anthony Turnage,
Erkki-Sven Tüür,
John Luther Adams,
Brett Dea
n,
Judith Lang Zaimont,
Meyer Kupferman,
Evan Chambers,
Poul Ruders,
Steven R. Gerber,
Gloria Coates
Previous Articles/
Busoni The Visionary
The Composer of the Moment: Mark-Anthony Turnage
Electronic Music
Voices: Henze at 75
Henze Meets Emenim
On Finding Kurtag
Charles Ruggles: When Men Were Men
Ballet Mécanique
The Adams Chronicles
---