Oliver Knussen Does America
| | |
| --- | --- |
| Oliver Knussen's monthlong tour of America kicked off last week in Philadelphia when the British composer/conductor led the Philadelphia Orchestra in the North American premiere of his Symphony in One Movement. | |
Knussen's Symphony is a new reworking of his early Concerto for Orchestra, written in 1969 when the composer was only 17. Unperformed since its premiere that year in Florida, Knussen substantially revised the work for his 50th Birthday Portrait Concert, given by the BBC Symphony Orchestra last November.
It provides a fascinating glimpse back to the origins of Knussen's mature style – though it is not without surprises, including some jazzy piano solos (played at the premiere by André Previn).
Following the 2002 unveiling Paul Driver wrote in The Sunday Times: "[It] has a sheer aural delectability that made one long for an immediate repeat performance."
On Saturday, November 15, Knussen conducts Miami's New World Symphony in his highly acclaimed new Violin Concerto, with William Preucil as soloist.
Saturday, November 22 brings a Carnegie Hall "Making Music" feature at Weill Recital Hall, in which Knussen discusses his music with moderator Ara Guzelimian, and several of his chamber and vocal works are performed. More than a dozen distinguished performers will take part, including Soprano Lucy Shelton, flutist
Tara Helen O'Connor, and cellist Fred Sherry. The program includes the U.S. premiere of Secret Song, in a new version for solo violin and chamber ensemble.
On Wednesday, November 26, Knussen conducts the Minnesota Orchestra in a program featuring his Flourish with Fireworks. Oliver Knussen's works are published by Faber Music.
Born in Glasgow on June l2, l952, Knussen has lived most of his life near London, where his father was Principal Doublebass of the London Symphony Orchestra for many years. It was with the LSO that he made his conducting debut in April 1968, with his First Symphony (1966-7), substituting at short notice for the indisposed Istvan Kertesz. Oliver Knussen studied composition initially with John Lambert, and later in the USA at Tanglewood and in Boston with Gunther Schuller. It was during this period that he composed a series of chamber works which have subsequently been taken into the repertory of ensembles all over the world: the Second Symphony (Margaret Grant Prize, Tanglewood 1971), Hums and Songs of Winnie-the-Pooh (1970-83), Ocean de Terre (1972-3), Ophelia Dances, Book 1 (Koussevitzky centennial commission, 1975).
The 1980s were largely devoted to the operatic double-bill written in collaboration with Maurice Sendak and commissioned by Glyndebourne Festival Opera, Where the Wild Things Are (l979-83) and Higglety Pigglety Pop! (1984-90). Wild Things, since its London premiere in the National Theatre by Glyndebourne and the London Sinfonietta, has been seen in productions at Glyndebourne, in Amsterdam, Minneapolis, Chicago, Kansas City, New York City Opera, Los Angeles Music Center, Nuremburg and Munich.
Faber Music

Rachel Garcia Opens
Chamber Music Now Season
by Deborah Kravetz
Chamber Music Now of Philadelphia opened its second season presenting soprano Rachael Garcia in a program of world premieres and recent compositions surrounding music by Rachmaninoff and Debussy based on comparable texts—which only proves a good art song is not hard to find these days. Here, the texts are as equally important as the music, and even more emphasized with their presentation and grounding in present day vernacular.

The highlight of this concert was "Three Songs" by Zhou Tian. " Wind", a vocalise accompanied by chords is almost too staccato to be wind, but the singer's vocal production becomes airy at the end. The color of joy is represented by the liveliness of the antic "Yellow Bird" and is freely sung with relaxed passion and a light tone. The " Transcience" of a moment is presented simply, a capella in the first section, and then with lightly flowing accompaniment. This set, sung in Chinese and accompanied by the composer, was the most relaxed and confident on the program, presented without being over-sung, with text and music most commensurate.
Almost as memorable was "Which Way Home," by Drew Hemenger set to poems by Anne Sexton. This set is an almost operatic biography with dramatic variations in each episode. There is a perfectly "crazy" sense to the blend of music and text, which are in different styles but do well by the colloquial lyrics; from a rollicking music hall tune, the singer's precise diction puts the insanity of a "happy family" over nicely and she seemed to be having fun telling the story. The eerie up and down scales of "Her Kind" were effectively dramatic vocally, as was the jazzy, jagged rhythm of "Us."
Songbook selections by Jennifer Higdon stood out for their simplicity and bounce. Higdon has a dance in each of these simple and skillfully constructed love songs, from the quiet lullaby of "in our quiet," to " threaded" and ending with the joyful "Hop & Toe Dance."
In between these pieces, Juliette Stango's "Vorrei Vedere Il Ciel" had way too much ornate melody for such light and simple text about butterflies, kites and light blue eyes and skies. The singer projected a lovely sound, but the emotional projection of the sense was buried in too much vibrato from Garcia's rich, warm timbre, and I would have preferred crisper consonants and lighter tone to shape the text.
Chamber Music Now!
Presents Rachael Garcia
Philadelphia Ethical Society
October 30, 2003
Reprinted from Penn Sounds
Where's The "People" In The "People's Opera"? New York City Opera has been "aggressively lobbying to be named the flagship institution in the new cultural presence at ground zero. To its evident surprise, it has encountered resistance. As of this writing, no decision has been announced, but the downtown powers seem to want a greater diversity of artistic expression. City Opera represented that last flush of idealism in which the common man was to be bettered by high culture. What caused the erosion of that old sense of obligation, and why does our 'people's opera' no longer seem popular — or even welcome — at ground zero? The answer, not to be judgmental about it, is the rise of popular culture." The New York Times 11/09/03

New Jersey Opera Festival Calls It Quits The well-regarded Opera Festival of New Jersey, a summer music fiestival, has announced it is closing because of financial pressures. "The festival, which was founded in Lawrenceville, N.J., 20 years ago and has been praised by critics as a highlight of the region's summer classical music season, has been troubled by debt since it moved to the McCarter Theater in Princeton five years ago. A spokesman said the festival ended its 2003 fiscal year just under $700,000 in debt." The New York Times 11/07/03

A Music Museum For Washington DC? Plans for a $200 million music museum to be built in Washington DC, were unveiled this week. "Supporters want a 155,000-square-foot museum included in the 10-acre redevelopment of the old D.C. Convention Center site six blocks east of the White House. The museum would contain three theaters, with 3,200, 750, and 250 seats for different types of performances. It would have 50,000 square feet of exhibit space for memorabilia and artifacts, many contributed by the Smithsonian Institution and the Library of Congress." New Jersey Online (AP) 11/07/03

Sing Out That Protest Can classical music play a role in political proitest, wonders Kyle Gann. "No one can doubt that music has a big role to play in the world of political protest. The controversial musicians we read about in the papers, though, are mostly from the pop and folk genres. It's not only that those musicians are more visible, though that's certainly true as well. Classical music and jazz seem to have a more long-term, measured, even sublimated approach to political protest, slower to react and more deeply embedded in the structure of the music itself." NewMusicBox 11/03

Ragtag Iraq Symphony Soldiers On "The orchestra recently had to move its rehearsals from Ribat Hall in the city center to the U.S.-protected Baghdad Convention Center, in part because electrical outages were forcing musicians to practice on a dark, stuffy stage. Despite a much-heralded June concert here, no additional performances have been scheduled in the capital because the director fears that even loyal fans would be afraid to venture out for a nighttime concert. And the orchestra is having second thoughts about plans to perform in December at the Kennedy Center in Washington amid criticism in the local press that the musicians are kowtowing to an occupying force." Los Angeles Times 11/06/03

Cincinnati Hall Ready For Renovation A proposed $3.8 million renovation of Cincinnati's Music Hall got a big boost this week, as the county approved $2 million in new bonds to go towards the project. "Of that, $1.5 million will go toward the Music Hall renovation to create a new space for Cincinnati Opera, and $500,000 will pay for new stage lighting." Cincinnati Post 11/06/03

Time For A New Name For New Music? Greg Sandow thinks it's time to rename contemporary classical music. "I think we might need another term for what we talk about here. Our genre, obviously, is 'new music' — but what does that mean? The words themselves don't say very much. There are all kinds of new music—new salsa, new merengue, new Christian rap, new Mariah Carey remixes. Which 'new music' do we mean? Well, new classical music, I guess." But that's not very accurate either...NewMusicBox 11/03

Grinding Axes In Minneapolis This summer, the Minnesota Orchestra appointed a new president following a nationwide search, and expressed confidence that Tony Woodcock was just the man to lead the 100-year-old ensemble into its second century. But it seems that not everyone on the orchestra's board was happy with the way things turned out. "In August, Eugene Sit, a 12-year member who was head of the executive-search committee, resigned," claiming that "decisions were made by one or two people that should have been made by the board." The chairman of the orchestra's board has dismissed Sit's allegation, pointing out that "out of nearly 60 votes, he could 'count on one hand' the number against Woodcock." The Star Tribune (Minneapolis) 11/02/03

Tilson Thomas Out Front Again Since Michael Tilson Thomas took up the reins of the San Francisco Symphony nearly a decade ago, the group's national profile has steadily increased, and the partnership between conductor and orchestra has led to several critically acclaimed projects designed to bring symphonic music back to cultural prominence. Next year, the SFS will launch a major new multimedia project designed to increase audience understanding of classical music. In addition to national TV broadcasts, "the project will also include the development of a web site and the creation of DVDs. The Symphony is working with Minnesota Public Radio to develop a radio series designed to air concurrently with the TV series." San Francisco Chronicle 11/05/03
Last Week's News

---
"Swales and Angels" – An Evening of the Music of Beth Anderson – November 19 at Weill Recital Hall
---
"Swales and Angels", a major concert of the music of American composer Beth Anderson will be presented on November 19, 2003 – 8 PM at Carnegie Hall's Weill Recital Hall, 154 W. 57th St. in New York.
Belgium's Rubio String Quartet will perform a series of Ms. Anderson's Pennyroyal Swale, Rosemary Swale, January Swale and March Swale quartets and Joseph Kubera will be soloist in her Piano Concerto for string quintet, percussion and piano. Andrew Bolotowsky will be the soloist in Flute Swale and New Mexico Swale, the latter for flute, percussion and strings. The Angel will be sung by soprano Jessica Marsten with harp, celeste, 2 violins, viola and cello (words by Hans Christian Andersen and Anthony Calabrese).
Other performers will include conductor Gary Schneider, percussionist David Rozenblatt, harpist Andre Tarantiles and string bassist Darren Campbell.
Tickets are $20 and are available through CarnegieCharge at (212) 247-7800 or online through Carnegie Hall's web site . For more information about composer Beth Anderson, including a bio, list of works, discography and much more, please visit her web site.
Erkki-Sven Tüür:
A Major Talent Expanding
"Erkki-Sven Tüür's music sounds as if it had strolled through the history of music assimilating theoretical inspiration and practical experience along the way. Then it seems to have wrapped itself up in a cocoon immune to the outside world, there to develop its own contours." (Wolfgang Sandner)
(See S/21 archives for an interview with Tuur).

Exodus is the newest release of music by Estonian composer Erkki-Sven Tüür on ECM's New Series. The recording features three compositions; Concerto for Violin and Orchestra, Aditus and Exodus.

Tuur¹s compositions on this recording have a commonality and theme of a
more sonically intense and denser orchestral writing. The first piece, Concerto for Violin and Orchestra is a formidable, three movement work that over all uses large gestures of energetic sounds and patterns generated first by the soloist, Ms. van Keulen and then permutated into various abstractions by the orchestra.

The progenitor to this sonic complexity and attention to the patterns and movements of and between levels of energy was Tuur¹s Concerto for Cello and Orchestra from the ECM CD Flux. The difference between the two is intensity and density. Hearing it one may think that the cello concerto is more lyrical and comparatively sonically transparent although Tuur¹s sound masses come into the ears focus many times, juxtaposing lyricism with sonic swirling, mixing and dissolving with each other in the end. But the Concerto for Violin has a kind of different lyrical quality to it. Here the violin is set in motion almost throughout the three movements. Although resting in a tranquil largo for a spell in the second movement, it uses propulsive rhythmic motives and angular lines to build rhythmic tension.

The Violin Concerto also develops more so, the juxtaposition of sonic structures and back and forth energy shifts. Rather than motivic development we hear shifts of energy levels and physical sonic structure. Thematic density and sound moving at different levels are key factors to focus on while listing to this piece and also to this entire recording.

Aditus is written as a dedication to Tuur¹s close friend and mentor the Estonian composer Lepo Sumero. It uses a large-scale orchestral pallet of color, raw sound, shapes and energy. Tuur has an expansive knowledge and use of orchestral timbre, which is again evident in this piece and throughout this CD. There is a lot of information for the ear to take in. Here again we hear strings in propulsive rhythms, energy swells and sweeps and grand gestures of sound.

Exodus is in a way a culminating piece of the CD. Here Tuur shows his hand a little and reveals an underlying theme; rhythm and large sound. What comes to my mind? The energy and sensibility of rock music. In this case because of Exodus¹s rhythmic complexity, jazz-rock. It¹s Cream mixed with Mahavishnu Orchestra but it¹s really about energy and intensity as when the trap drum set enters to provide a culminating thrashing climax. Part of Tuur¹s musical history was as a composer and instrumentalist for the progressive Estonian chamber rock ensemble, In Spe. His roots in rock music are also shared by the piece's dedicatee, long time friend and at one time fellow rock musician, Paavo Jarvi. It is very fitting that they are collaborating on this recording. Jarvi understands this music probably like no other conductor. The communication is very good between them.

Overall, Exodus the CD, is an energetic quantum leap in the expansion of Tuur¹s trademark use of juxtaposing ideas and types of musical structure. It is challenging writing but it rewards in the way it makes sense. Isabelle van Keulen attacks and caresses the passages in the Concerto for Violin brilliantly. The CBSO¹s sounds is bold and cohesive led by a deft and daring Paavo Jarvi. --Duane Harper Grant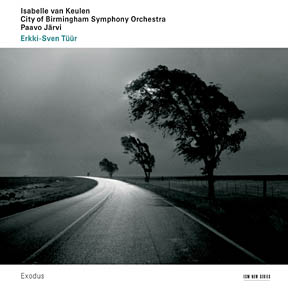 Exodus
Erkki-Sven Tüür
Concerto for violin and orchestra / Aditus for orchestra / Exodus for orchestra
ECM
---
Previous Interviews/Profiles
Simon Rattle,
Michael Gordon,
Benjamin Lees,
Scott Lindroth,
David Felder,
Mark-Anthony Turnage,
Erkki-Sven Tüür,
John Luther Adams,
Brett Dea
n,
Judith Lang Zaimont,
Meyer Kupferman,
Evan Chambers,
Poul Ruders,
Steven R. Gerber,
Gloria Coates,
Tobias Picker
Previous Articles/
Busoni The Visionary
The Composer of the Moment: Mark-Anthony Turnage
Electronic Music
Voices: Henze at 75
Henze Meets Emenim
On Finding Kurtag
Charles Ruggles: When Men Were Men
Ballet Mécanique
The Adams Chronicles
---
What's Recent
An Interview with Tobias Picker
Handmaid Tale's Debuts in English
Rautavaara Joins B&G
Who's Afraid of Julia Wolfe
Derek Bermel's Soul Garden
The Pianist: The Extraordinary
True Story of Wladyslaw Szpilman
John Adams' Atomic Opera
A Bridge Not Far Enough
Turnage Signs With B&H
Sophie's Wrong Choice
Copland's Mexico
On Being Arvo
Rzewski Plays Rzewski
Praising Lee Hyla
David Lang's Passing Measures
Three Tales at BAM
Naxos at 15
On the Transmigration of Souls
Dead Man Walking
David Krakauer's The Year After
Steve Reich/Alan Pierson
Record companies, artists and publicists are invited to submit CDs to be considered for our Editor's Pick's of the month. Send to: Jerry Bowles, Editor, Sequenza 21, 340 W. 57th Street, 12B, NY, NY 10019
Our writers welcome your comments on their pieces. Send your witty bon mots to jbowles@sequenza21.com and we might even publish some of them here. And, don't forget--if you'd like to write for Sequenza21 (understanding that we have no money to pay you), send me a note. JB