John Harbison
On 'Reconciliation'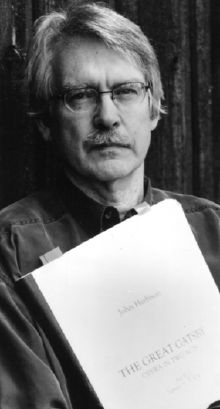 Photo by Katrin Talbot
John Harbison has been commissioned to compose a sacred motet, Abraham, to be premiered on January 17, 2004 at a concert at the Vatican on the theme of "Reconciliation Between Jews, Christians, and Muslims." Gilbert Levine, who conceived the event, will conduct the Pittsburgh Symphony and singers from the London Philharmonic, Krakow Philharmonic, and Ankara Polyphonic Choir in the presence of Pope John Paul II. The concert will also include Mahler's Symphony No. 2.
"The concept for a concert in the Vatican built around the ideas of reconciliation and resurrection, as expressed in Mahler's Second Symohony, came from Gilbert Levine, " explains Harbison. "As it took shape and gained the support of Pope John Paul II, with whom Maestro Levine has a long association, I was honored to be invited by Maestro Levine to compose a piece as Prologue, speaking directly in contemporary terms to the themes of the concert."
"The text from Genesis which I suggested presents Abraham as 'father of many nations.' In these difficult times, the music centers on the name and spirit of Abraham as a bridge, a mode of communication, a point of commonality."
The stated purpose of the concert is "to promote the commitment to a peaceful coexistence among all the children of Abraham," according to a statement of its sponsors: the Holy See Commission for Religious Relations with Judaism, the Pontifical Council for Promoting Christian Unity, and the Pontifical Council for Inter-Religious Dialogue. "In a certain sense, the concert next January 17 enlarges the horizon of that multitude of peoples who today more than ever must find in themselves and radiate the strength of fraternity, from which peace arises."
The invited audience will include representatives of international Jewish organizations, of the Churches and ecclesial communities, and of Islam. The Pittsburgh Symphony, which commissioned "Abraham," is the first American orchestra to perform at the Vatican. The concert has been funded by the Knights of Columbus, based in Hartford, Connecticut. Levine has previously conducted several leading European orchestras at the Vatican, but chose an American orchestra for this event because he believes no country better represents the Christian, Jewish, and Muslim faiths and embodies a society of tolerance.
The official Vatican invitation issued via Sir Gilbert Levine to the Pittsburgh Symphony Orchestra read, "This initiative has assumed a special significance in view of the current world context. The event entrusts to the powerful efficacy of music the commitment to reconciliation that all the children of Abraham — Jews, Christians and Muslims — must embrace with conviction."
John Harbison is among America's most distinguished artistic figures. He has received numerous awards and distinctions including two of the most prestigious, the MacArthur Foundation's so-called "genius" award, and the Pulitzer Prize. Harbison has composed music for most of America's premiere musical institutions, including most recently the Boston Symphony and the Metropolitan Opera. He has also served as Composer-in-Residence for the Pittsburgh Symphony Orchestra and the Los Angeles Philharmonic. His commitment to liturgical music spans his entire career, and encompasses major works, e.g. Requiem and The Flight into Egypt. Harbison currently occupies an Institute Professorship at the Massachusetts Institute of Technology, the highest academic distinction MIT offers to resident faculty. He also serves as president of the Aaron Copland Fund for Music. More than 40 of his compositions are recorded commercially. His music is exclusively published by Associated Music Publishers/G. Schirmer, Inc.

New Composers' Prize Created In Evanston Suburban Chicago-based Northwestern University has established a new $100,000 prize for composers, instantly making it one of the most lucrative awards in the industry. "The winner of the biennial Michael Ludwig Nemmers Prize in Musical Composition, one of the world's largest awards for composers, will also be given a four-week residency at the School of Music and a performance with the Chicago Symphony Orchestra, in addition to the cash prize." The Daily Northwestern 11/13/03

Disney As Hard Rock Cafe? Alex Ross goes to Disney Hall: "Gehry's building is enjoying a mammoth wave of publicity, the like of which has not been seen in classical parts since Lenny partied with the Panthers on Park Avenue. My first reaction was of slightly disappointed déjà vu; if more of these silver-winged creations touch down in cities around the world, they will begin to resemble quarter-of-a-billion-dollar Hard Rock Cafés." The New Yorker 11/10/03

Director Moons Booing Audience (Now He Pays The Price) When a Rio audience booed Gerald Thomas' reworking of Wagner's "Tristan und Isolde," he went up on stage and dropped his pants, mooning the crowd. "Now Mr. Thomas, the eternal enfant terrible of Brazilian theater, is paying the price. Acting on a complaint filed by the local chief of police, prosecutors have charged him with public indecency, and on Nov. 11 he is scheduled to appear before a judge who will decide whether there are grounds to proceed with the case." The New York Times 11/11/03

Mozart Mass Reconstructed A lost setting of a mass Mozart wrote for his wedding, has been reconstructed and will be performed for the first time since the ceremony. "Passages plundered for later works, after Mozart decided not to finish the piece, have been re-assembled and a final section written. The jigsaw puzzle has taken two years of research and composition, using records of Mozart's work." The Guardian (UK) 11/13/03

Bye-Bye CD's? "The future of the album - both in its physical form and as a grouping of related songs - is being pondered by everyone from bands who refuse to provide their music to online services to technology analysts, who predict that the CD will become passé within the next five years. It's a pressing concern, given the decline of record sales since 2000 and the popularity of downloading singles by a public tired of paying $15 for an album with one hit and lots of padding." Christian Science Monitor 11/14/03

Hogwood: Opera Amputees - Is It Really Fair? Christopher Hogwood laments the casual way opera directors edit and disfigure operas. "The great liberties taken in opera productions today are often laughable and ludicrous: think of Brünnhilde with her head in a paper bag or cleaning her teeth while Siegfried is declaiming his love, or of the chorus in Verdi's Un Ballo in Maschera sitting on toilets. But such silliness is, strictly speaking, cosmetic: close your eyes and the music proceeds as intended, and eventually she removes the paper bag and they pull up their trousers. But amputate an aria, remove a recitative, reallocate an interval and, even with eyes closed, the structure wobbles fatally." The Guardian (UK) 11/16/03

Classical Music As Racist Institution Charlotte Higgins is unequivocal: Classical music is institutionally racist. The extent to which it is dominated by white faces - audiences, performers, administrators and critics alike - is overwhelming. Black taxpayers may be paying their share of the bill for an important tranche of Britain's cultural life, but few are either participating in it or enjoying it. British theatre may be witnessing a flowering of extraordinary black acting and writing talent, but classical music remains determinedly white. This lack of participation, however, does not reflect lack of appetite." The Guardian (UK) 11/14/03

At Home With Pinchas Zukerman It's been five years since Pinchas Zukerman took over as music director of Ottawa's National Arts Center Orchestra. "Whatever the specific contributions of each of the current administrators, the National Arts Center Orchestra seems to be thriving, and this at a time when many Canadian orchestras are suffering much the same economic woes as their American counterparts. True, it operates on a relatively small scale. With 50 permanent members, it is about half the size of the largest North American orchestras." The New York Times 11/16/03

Rattle + Berlin In America A season after he took over as music director of the Berlin Philharmonic, Simon Rattle is bringing the orchestra to America. "Today's Berlin, Rattle has found, is a lively, slightly dangerous place in which to live. The Russian Mafia, a holdover from the Cold War era, is still in evidence in this gateway to the East. In a strange way the BPO mirrors this rough-and-tumble society, he says. 'They tend to hire musicians that other orchestras reject as being too extreme - people who are chamber musicians rather than orchestra musicians. One of them said to me, `Simon, we're sick of experience. What we want is talent.' However, because the Berlin Philharmonic of 2003 is more heterogeneous in its membership than ever before in its 121-year history does not mean it has lost its distinctive character." Chicago Tribune 11/16/03

One Of The UK's Largest-Ever Private Gifts To The Arts... A London businessman is giving £20 million to be split between the Royal Opera House and the Wales Millennium Centre and form a partnership between the two. It is one of the largest single private donations ever made to the performing arts in the UK. "The gift comes with strings: as well as cooperating with one another, both will be expected to work with opera and ballet companies in South Africa" The Guardian (UK) 11/16/03

Last Week's News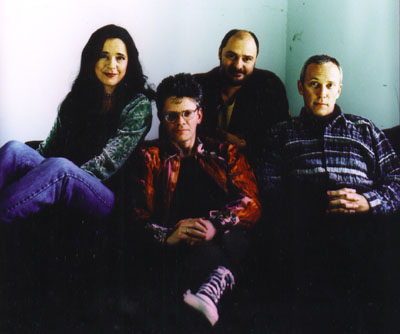 ABSOLUTE KRONOS. Jennifer Culp, cello; David Harrington, violin; John Sherpa, violin; and Hank Dutt, viola
---
Kronos Quartet Makes
Visual Music at Zankel Hall
---
How do they do it? On Friday night, the hearty souls that make up the Kronos Quartet played in Dijon; a couple of days before that, in Paris; the previous week in Amsterdam. But, there they were last night (Sunday) at the sold-out Zankel Hall with the New York premiere of a strange and intriguing program called Visual Music made up of a nonstop melange of works by Steve Reich, John Zorn, Scott Johnson, Mark Grey, Bernard Herrman, Colon Nancarrow, Krzystof Penderecki, Terry Riley, and the Icelandic pop rock group, Sigur Ros.

I especially liked John Zorn's Cat o' Nine Tails (Tex Avery Directs the Marquis de Sade), which has 51 distinct "moments" (as Zorn calls his indivudal riffs) in less than 15 minutes. It's quick-cut cinematic music that is great fun to hear. Colon Nancarrow's "Boogie Woogie #3A" is a manic player piano piece translated for string quartet by the composer and sound sculptor Trimpin, who designed an electronic system that could scan player piano rolls and digitize the notes, and further refined by Mark Grey through sampling so the Kronos can play it. Pendereck's wonderful "String Quartet No. 1" anchored the middle portion of the program and gave the players a chance to show what they can do without electronics. What they can do is pretty much whatever they want.

To tell the truth, the program would have been fine if they had simply played each piece individually and skipped the film and multimedia elements but when you're trying to sell classical music to people with short attention spans, every little bit of theater helps. (Or, maybe, the Kronos members are so talented that it doesn't distract that much.)

This is difficult, gnarly music and no group around has played it longer or better. When it come to bringing classical music and the MTV, the Kronos Quartet rules.--Jerry Bowles
---
Previous Interviews/Profiles
Simon Rattle,
Michael Gordon,
Benjamin Lees,
Scott Lindroth,
David Felder,
Mark-Anthony Turnage,
Erkki-Sven Tüür,
John Luther Adams,
Brett Dea
n,
Judith Lang Zaimont,
Meyer Kupferman,
Evan Chambers,
Poul Ruders,
Steven R. Gerber,
Gloria Coates,
Tobias Picker
Previous Articles/
Busoni The Visionary
The Composer of the Moment: Mark-Anthony Turnage
Electronic Music
Voices: Henze at 75
Henze Meets Emenim
On Finding Kurtag
Charles Ruggles: When Men Were Men
Ballet Mécanique
The Adams Chronicles
---
What's Recent
An Interview with Tobias Picker
Handmaid Tale's Debuts in English
Rautavaara Joins B&G
Who's Afraid of Julia Wolfe
Derek Bermel's Soul Garden
The Pianist: The Extraordinary
True Story of Wladyslaw Szpilman
John Adams' Atomic Opera
A Bridge Not Far Enough
Turnage Signs With B&H
Sophie's Wrong Choice
Copland's Mexico
On Being Arvo
Rzewski Plays Rzewski
Praising Lee Hyla
David Lang's Passing Measures
Three Tales at BAM
Naxos at 15
On the Transmigration of Souls
Dead Man Walking
David Krakauer's The Year After
Steve Reich/Alan Pierson
Record companies, artists and publicists are invited to submit CDs to be considered for our Editor's Pick's of the month. Send to: Jerry Bowles, Editor, Sequenza 21, 340 W. 57th Street, 12B, NY, NY 10019
Our writers welcome your comments on their pieces. Send your witty bon mots to jbowles@sequenza21.com and we might even publish some of them here. And, don't forget--if you'd like to write for Sequenza21 (understanding that we have no money to pay you), send me a note. JB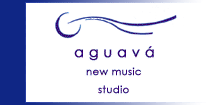 Carnegie Debut for Symphony
Orchestra of Puerto Rico
The Symphony Orchestra of Puerto Rico, under the baton of Music Director Guillermo Figueroa, will make its Carnegie Hall debut on Tuesday, November 18, 2003, 8 PM at the Isaac Stern Auditorium of Carnegie Hall.
Works to be presented will include excerpts from the Requiem by J. I. Quintón, Beyond the Silence of Sorrow, a cycle of songs by Roberto Sierra and the Symphonie Fantastique, op. 14, by Hector Berlioz.
The program will feature distinguished soloists sopranos Ana María Martínez and June Anderson, mezzo soprano Jossie Pérez and the Centennial Chorus of the University of Puerto Rico.
Tickets for this concert are from $20 to $100, and are available at the Carnegie Hall Box Office, online from CarnegieCharge at or by phone at 212-247-7800, 8 AM to 8 PM, 7 days a week.