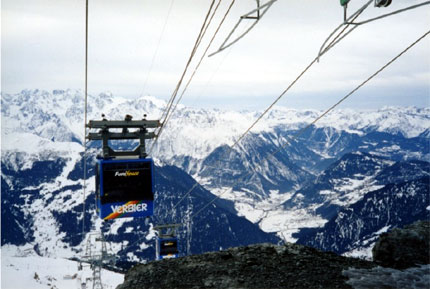 I don't ski.  Asthma.  And fear.  Mostly fear.
I used to party a bit though and because many of my companions were ski buffs, I have socialized, but not skied, at some of the best places in the world.  I have not skied Kitsbuehl and Chamonix and Lillehammer, for example.  I have not skied Aspen and Telluride and Jackson Hole.   Especially, I have not skied Verbier, the favorite hangout of some rowdy Norwegians of my acquaintance.  We have been thrown out of the Feed Club, Verbier's most lively nightspot, not once, but twice over the years, not a record I'm sure but respectable for middle-aged businessmen.
Alas, I have never attended the Verbier Festival, which has become one of the best music festivals in Europe in recent years.  Fortuntately for all of us, they have a terrific web site when you can view all of the performances, including the August 1 premiere of our familiar Avner Dorman's Spices, Perfumes and Toxins, under the direction of Zubin Mehta.  For more Dorman, check out the Metropolis Ensemble's performance last May of his Mandolin Concerto.
And, welcome back to the S21 blogging fold Judith Lang Zaimont.