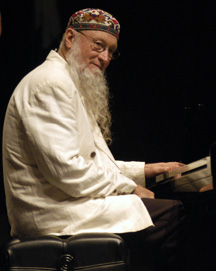 Thursday morning I talked with composer Terry Riley, who is in New York this week to collaborate with the Bang on a Can All-Stars in the US premiere of his work Autodreamographical Tales at Le Poisson Rouge on 8 November.
Riley is famous for being one of the "Big Four" of American minimalist composers (the others: LaMonte Young, Steve Reich, and Philip Glass). But while his early works, such as A Rainbow in Curved Air, Poppy Nogood and the Phantom Band, and the seminal In C, were musical rallying cries during minimalism's ascendance in the 1960s, Riley's been involved with many other important pieces, styles, and activities since then. His palette encompasses North Indian music, jazz, electronics, various intonation systems, and increasingly in recent years, projects incorporating guitar and spoken word.
As an admirer of his music, it's somewhat frustrating to read review after review in which he's asked to talk about the importance of In C and his work is then pigeon-holed as minimalist in style. In planning for the interview, I promised myself that both minimalism and In C would be off-limits. When the composer mentions in passing an upcoming performance of In C (April 24, 2009 at Carnegie Hall, but you didn't hear that from me), I tell him of my secret pact and he enthusiastically agrees! Instead, we focus on recent, current and future projects.
Riley says, "Autodreamographical Tales started out a while ago as a piece for radio in which I narrated and played all the instruments. There were overdubs and samples. The Bang on a Can All Stars wanted me to create a new version of the piece to perform with them. My son Gyan, who's also a guitarist and composer, helped me to orchestrate the piece. While there are still a few samples, we've figured out how to perform live many of the things that were looped or overdubbed."
"The piece is based on a dream journal that I was keeping at the time. Some of my dreams had evocative images and stories that I felt would work well in the piece for radio and, now, in this new version for Bang on a Can. We got together and rehearsed it this past summer during a week-long residency in Italy. A performance there was the world premiere and this one in New York is Autodreamographical Tales' second performance."
Riley also spent time this past summer in New England at Bang on a Can's Summer Music Festival at MASS MoCA. "It was an inspiring setting: a number of talented composers and performers, the galleries, and so many excellent concerts."
We return to the subject of his son, a talented musician in his own right who encouraged the elder Riley to explore composing for the guitar. "Gyan came home with all of these recordings of the guitar: he was just crazy about it and wanted to share his enthusiasm with me. We listened to all sorts of players, especially classical and Brazilian artists."
During the past two decades, Riley has created a number of works for the instrument, including the solo collection Book of Abbeyozzud and Cantos Desiertos, a beautiful set of pieces for flute and guitar. When I comment that Riley has managed to combine expected, idiomatic passages with some very fresh-sounding guitar writing, he replies, "It was challenging to write for the guitar as a non-guitarist. I really worked hard to learn about the instrument: there's a lot to know in order to compose effectively for it."
New music guitarist David Tanenbaum, Gyan's principal instructor, has also been the beneficiary of several recent works for the instrument, including a 2008 piece for national steel and synthesizer entitled Moonshine Sonata. Riley says, "The national steel for which I wrote the sonata is a special model, redesigned so that it's tuned in just intonation. The company that made the instrument for David loaned me one while I was composing the piece; it's amazing how resonant, how loud it is all by itself – it doesn't need amplification!"
Tanenbaum and Gyan Riley, along with violinist Krista Bennion Feeney, premiered another 2008 Riley work: the Triple Concerto Soltierraluna. The concerto form is one to which Riley is drawn of late: a project in the pipeline is a violin concerto commissioned by a symphony orchestra in Bari, Italy for soloist Francesco D'Orazio. "I don't approach the concerto form in the conventional manner, as this heroic thing; I like to find ways to integrate the soloist into the ensemble; to foster interactions between them that you don't get in the big Classical or Romantic pieces. In a sense, what I'm writing is more akin to the concerto grosso form."
Since the 1970s, Riley has frequently collaborated with the Kronos Quartet, producing a number of pieces for them. He's currently at work on another, titled Poppy Nogood and the Transylvanian Horns. The title refers to one of Riley's best known early works, Poppy Nogood and the Phantom Band; but this successor also includes the Kronos group playing some newly adopted instruments. The "Transylvanian horns" in question are called "stro instruments:" string instruments fitted with trumpet or trombone bells. The composer seems to relish the challenge of learning about and composing for these hybrid instruments. Even when called upon to revisit ideas from his past, Terry Riley is ever eager to try something new.