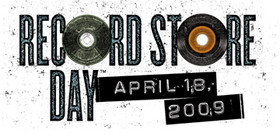 April 18, 2009 is National Record Store Day. Despite the embattled state of the "brick and mortar" retail record business, dozens of shops are planning a host of events, including in-store performances, giveaways, and the sale special products (including limited edition 7" vinyl singles) to celebrate the day. A website has been set up, listing participating stores and events occurring on the 18th.
Last year, Kay and I had a grand time on Record Store Day in New Jersey, visiting Vintage Vinyl, Princeton Record Exchange, and Jack's. This year, we're planning to check out the aforementioned, plus Sound Station in Westfield or another contender in NJ/NYC.
Check out File Under ? throughout the week for updates on instores and promotions.
Making an appearance on Record Store Day? Let us know in the comments below.